June 23, 2015, 12:30 pm — 2:30 pm

The 50th anniversary of Medicaid is an opportunity to explore the role of the program in triggering and then disseminating innovation in the healthcare system. Medicare often receives attention for the development of innovative payment and delivery systems, while Medicaid is viewed primarily in terms of expanding coverage. Few in the policy world recognize the role Medicaid has played in the development of various types of delivery and payment reforms, enrollment and outreach improvements, person-centered care initiatives, and administrative advances.
At this afternoon symposium, a panel of Medicaid experts discuss the program's history, with a focus on past, present, and especially future innovations in the program. With CMS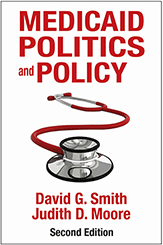 and state policy today strongly focused on innovations in financing and delivery of Medicaid services, it's especially important to highlight current initiatives, as well as the potential for Medicaid to drive important health advances, which will be a centerpiece of the discussion. Speakers also highlight changes in Medicaid over its half-century history, the program's growth in cost and coverages, and the number and types of vulnerable people served over the years.
This event is held in conjunction with the release of an update of the seminal publication, Medicaid Politics and Policy, authored by David Smith and Judith Moore, originally published in 2008. The updated version, with added chapters covering the period through the implementation of the Affordable Care Act in 2014, will be released in June 2015 by Transaction Publishers.
Program and Speakers
Overview of Medicaid history and Medicaid's Contributions:
Diane Rowland, Executive Vice President, Kaiser Family Foundation and Chair, MACPAC

Past, Present, and Future Medicaid Innovation:
Cindy Mann, Partner, Healthcare Industry Practice, Manatt Phelps & Phillips, LLP and former CMS Deputy Director and Director of Medicaid and CHIP Services (2009-2015)

Medicaid's Importance to Vulnerable People:
Cindi Jones

, Director, Department of Medical Assistance Services, Commonwealth of Virginia
Medicaid Services for People with Disabilities:
Henry Claypool, Claypool Consulting, and former Executive Vice President of American Association of People with Disabilities
Medicaid and Long Term Supports & Services
David Smith, co-author of Medicaid Politics and Policy and Professor Emeritus, Swarthmore University

Moderator: Judith Moore, co-author of Medicaid Politics and Policy, Health Policy Consultant and former Commissioner, MACPAC
---
Throughout 2015, the National Academy of Social Insurance is commemorating the 50th anniversary of Medicare and Medicaid with a series of special activities, including this symposium. Working with a variety of partners, the Academy is committed to providing the public and the policy community with a platform for educational dialogue around the history and future of these two vital programs. Learn more about the Academy's celebration of the 50th anniversary of Medicare and Medicaid, and stay tuned for additional events.
The Academy's Medicare and Medicaid at 50 and Beyond Celebration Program is made possible thanks to support from

and the Robert Wood Johnson Foundation President's Grant Fund of the Princeton Area Community Foundation.