April 19, 2017, 3:30 pm — 7:00 pm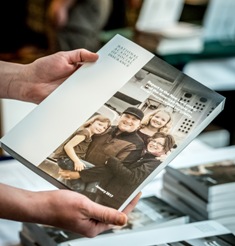 Join the National Academy of Social Insurance in the Bay Area/San Francisco for an interactive discussion on the nation's social insurance programs and how they are addressing – and could better address – the challenges posed by growing inequality. The forum (3:30pm-5:30pm) will be followed by a networking reception with wine and hors d'oeuvres (5:30pm-7:00pm).
This forum will:
Bring together a diverse array of California's experts and stakeholders -- including policy analysts and researchers, political scientists, economists, actuaries, students, journalists, legislative staff, business and industry leaders, labor union representatives, program administrators, advocates, grassroots organization leaders, and concerned citizens.
Summarize policy options outlined in the Academy's recently published Report to the New Leadership and the American People on Social Insurance and Inequality.
Deepen the discussion with remarks from several Academy members and other distinguished policy experts.
Provide attendees with a unique opportunity to delve into the current and future role of social insurance in addressing issues of inequality in California and the nation as a whole.
Speakers and discussants include:
William Arnone (Introductory Remarks), CEO, National Academy of Social Insurance
Thomas Rankin (Moderator), President Emeritus, California Labor Federation, AFL-CIO
Benjamin Veghte, Vice President for Policy, National Academy of Social Insurance
Carroll Estes, Professor Emerita of Sociology, University of California-San Francisco
Laurel Lucia, Director, Health Care Program, University of California Berkeley Labor Center
Christopher McLaren, Workers' Compensation Senior Research Associate, National Academy of Social Insurance
Christine Baker, Director, California Department of Industrial Relations
Frank Neuhauser, Director, Center for the Study of Social Insurance, University of California, Berkeley
The presentations and discussion will include both strengthening and/or modernizing existing programs – such as Social Security, Medicare and Medicaid, Workers' Compensation, and Unemployment Insurance – and addressing significant risks not currently covered by our social insurance infrastructure – such as caregiving, long-term care, and contingent work.
Co-sponsored by:
State Fund
University of California, San Francisco, Institute for Health & Aging
University of California, San Francisco, School of Nursing, Department of Social and Behavioral Sciences
About the National Academy of Social Insurance
Since its inception 30 years ago, the Academy has hosted convenings that have offered visionary insights and rigorous inquiry into the functioning of our nation's social insurance programs and how they can continue to meet the changing needs of American families, employees, and employers. Participants leave Academy events with valuable takeaways, including the latest research findings in the various fields of social insurance, who's who in the field, and which organizations are most engaged in these issues.