William Arnone, Chief Executive Officer
In celebration of Women's History Month, we are reflecting on the many contributions women have made to our Academy over its nearly 35 years of existence. We also look forward to more women shaping the evolving social insurance infrastructure that protects all of us.
(To commemorate International Women's Day in 2017, we reviewed the critical roles that women have played in the development of social insurance in the United States.)
Female leadership at the Academy's founding
The Academy's Founding Board of Directors included three women – each was instrumental in developing our mission and helping launch our work in 1986. The late Elizabeth Wickenden, fondly known as "Wicky," held key posts in a range of New Deal agencies. Alicia Munnell, who served as the Academy's first President, now directs Boston College's Center for Retirement Research. Nancy Altman leads Social Security Works and serves on the Social Security Advisory Board. All three have made a lasting mark on social insurance policy, and Alicia Munnell and Nancy Altman (both recipients of the Robert M. Ball Award) continue to influence and bolster the Academy's work.
Passing the Torch from one generation of (female) leaders to the next
After the Academy's founding, women continued to lead our work. The Academy's first staff hire in 1987 was Pamela Larson. Pam, first working closely with Bob Ball, Bob Myers, and the Academy's other founders, went on to serve for nearly 30 years as our Executive Director, Executive Vice President, and first Chief Executive Officer. Her dedication and devotion to the Academy continue to have lasting effects on much of our work. Currently retired, Pam now resides in her home state of Minnesota.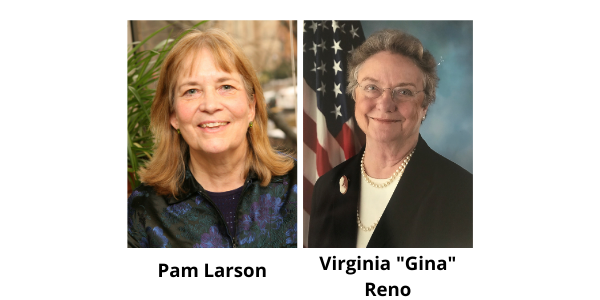 For nearly twenty years, Virginia Reno served as the Academy's Vice President for Income Security. In her 2020 Ball Award acceptance speech, Reno recounted how Ida Merriam played a pivotal role at the start of her 50-year career in social insurance:
"I interviewed at a number of places. To my dismay, a common response was: 'You should talk to the lady in charge of our typing pool.' The exception was [when] I talked to the people at Social Security. They said – 'the Research Office is hiring.' So I met with Ida Merriam, who was then Associate Commissioner for Research and Statistics. She was very kind and no-nonsense. She offered me a job as her special assistant. What a learning experience it was. Ida surrounded herself with advisory groups to help her figure out how best to meet all of the new challenges that were coming our way in the Research Office in 1965 and shortly thereafter. First of all, Medicare was brand new and they were hiring like crazy. Disability Insurance was also relatively new…" (Click here to watch Virginia's full 13-minute speech via the Academy's YouTube channel.)
As part of our 30th anniversary celebration in 2017, Founding Board Members "passed the torch" to representatives of a new generation of rising social insurance leaders including to: Ramsey Alwin (Chief Executive Officer of the National Council on Aging); Kathryn Edwards (economist, the RAND Corporation and Principal Investigator of the Academy's Economic Security Study Panel); Kathleen Romig (Senior Policy Analyst, Center on Budget and Policy Priorities); and Elisa Walker (Professional Staff Member, U.S. House Ways & Means Committee, Subcommittee on Social Security).
In 1988, the Academy selected its first intern, Brenda Beaton, then with the University of Utah. Brenda now leads her own law firm in Ogden, UT. Today, two of the Academy's five internship programs, which are central to our mission to develop the next generations of social insurance leaders, are named for women:
The Somers Research Internship on Long-Term Care and Aging (the late Anne Somers was a health care expert and pioneer in the field of long-term care); and
The Eileen Sweeney Graduate Internship in Disability Policy (the late Eileen Sweeney was a lawyer and advocate for people with disabilities).
Since then, the Academy has had nearly 500 interns, most of whom are now Associate Members of the Academy, along with previous recipients of our Heinz Dissertation Award. Madonna Harrington Meyer was the first winner of the Heinz Dissertation Award in 1993, for her dissertation on Universalism vs. Targeting as a Basis of Social Distribution: Gender, Race and Long Term Care in the United States. She completed her doctorate in sociology at Florida State University and is currently a professor of sociology at Syracuse University.
The Academy has benefitted in a range of ways from the invaluable contributions made by the women mentioned above (and below). Continuing the rich HERitage of women who helped advance American social insurance programs, we look forward to the ongoing work of women – from researchers and policymakers to grassroots organizers and community leaders – who are making a real difference in enhancing the effectiveness of social insurance policies and programs.
Steady female leadership
We would also like to recognize and thank prominent women who have had leadership roles at the Academy. Marilyn Moon, who served as the Academy's eighth President in 2005, was succeeded in 2007 by Margaret Simms, who was in turn succeed by Janice Gregory in 2009. Lisa Mensah served as Chair of the Academy's Board of Directors from 2010 to 2013.
A diverse group of women have served on the Academy's Board including (in alphabetical order): Christine Baker; Kathleen Buto; Ngina Chiteji; the late Susan Daniels; Carroll Estes; Judith Feder; Marty Ford; Jennie Chin Hansen; Karen Ignagni; Kilolo Kijakazi; Olivia Mitchell; Patricia Owens; Jill Quadagno; Anna Rappaport; Maya Rockeymoore-Cummings; Jane Ross; and Nancy Shor.
This tradition of female leadership continues with the Academy's current Board, which includes: Cecilia Conrad; Merrill Friedman; Josephine Kalipeni; Renée Landers; Aparna Mathur; Alaine Perry; and Rebecca Vallas. Before Kilolo Kijakazi joined the Biden Administration earlier this year, 42% of the Academy's Board was female.
Today, nearly two-thirds of the Academy's staff – and four-fifths of our Management Team – are women: Bethany Cole (Policy Analyst); Julia Crooks (Director of Finance & Administration); Devin Cowens (External Relations Manager); Barbara Goldschmidt (Program Coordinator); Meghan Griffin (Digital Communications Associate); Gloria Kim (Director of Member Relations); Kristine Quinio (Director of Development & External Relations); and Elaine Weiss (Director of Policy). In addition to staff roles, a number of women have served as Academy Distinguished Visiting Fellows, Visiting Scholars, or Senior Fellows: Fay Lomax Cook; Joan Entmacher; Sarah Jane Glynn; Kilolo Kijakazi; Renée Landers; Barbara Manard; Anne Montgomery; Sara Rix; and Mikki Waid.
Female innovators and educators who shaped (and are shaping) our social insurance system
Each year, the Robert M. Ball Award is presented to an individual whose recent work has made a significant impact on the U.S. social insurance system. Since the Award was created in June 2003, to celebrate Bob Ball's 90th birthday, seven women have received it:
2009: Alicia H. Munnell, Director, Center for Retirement Research, Boston College
2013: Alice M. Rivlin, Senior Fellow, Economic Studies and the Center for Health Policy, Brookings Institution (Alice died in 2019.)
2014: Marilyn Moon, Institute Fellow, American Institutes for Research (AIR)
2015: Karen Davis, Eugene and Mildred Lipitz Professor, Department of Health Policy and Management and Director of the Roger C. Lipitz Center for Integrated Health Care, Bloomberg School of Public Health, Johns Hopkins University
2018: Nancy Altman, President of Social Security Works and chair of the Strengthen Social Security Coalition
2019: Carroll Estes, Policy Advocate and Professor Emerita of Sociology at the University of California, San Francisco
2020: Virginia Reno, former Deputy Commissioner for Retirement and Disability Policy at the Social Security Administration
The female recipients of the Ball Award, as well as the women mentioned above and many others, remind us that women are at the forefront of shaping all areas of social insurance policy, driving improvements across programs, and strengthening the social insurance system as a whole.