Bob Rosenblatt, Special Correspondent
Welcome to Covered: A Week-by-Week Look at the 1965 Politics that Created Medicare and Medicaid. Bob Rosenblatt, a Senior Fellow at the National Academy of Social Insurance, former Los Angeles Times Washington correspondent, and editor of the website HelpWithAging will blog on the maneuvers that led to the enactment of Medicare and Medicaid on July 30th, 1965 the first major expansion of U.S. social insurance to health care.
---
Johnson Seeks Broad Right to Health Care, Beyond Just Welfare
January 17, 1965
Washington, D.C. – Political and economic pressures are mounting in Congress this week to figure out how to help the elderly cope with their rising medical costs.
New figures show the menace of inflation: the daily cost of a hospital room jumped from $29 to $40 over the last four years – more than double the growth in family income over the same time period. The rapid rise in the cost of health care is particularly hard on the elderly who are more likely to live in poverty than the non-elderly, according to government data.
The Johnson Administration is considering ideas to create new medical coverage through the Social Security system. But many doctors continue to be deeply suspicious of federal government involvement in health care. The Administration is focusing on hospital coverage in an effort to avoid a political clash with the American Medical Association (AMA), remembering that organization's all-out effort against President Kennedy's Medicare plan. After the 1960 election, the AMA distributed millions of pamphlets, aired radio and TV commercials, and launched "Operation Coffee Cup" – an effort to generate a wave of constituent letters to members of Congress in opposition to Medicare.
The AMA is promoting an alternative to Medicare that it calls "Eldercare." This would use state and federal revenues to subsidize the purchase of private policies. For the poorest elderly, there would continue to be the Kerr-Mills program, which covers some doctor and hospital expenses. Kerr-Mills was created in the 1960s to assist low-income patients who had high medical expenses but did not qualify for state welfare programs.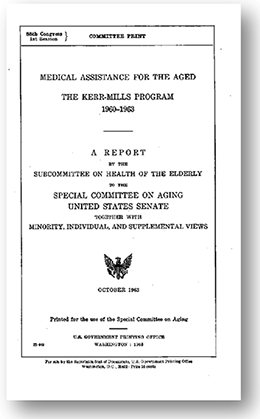 Advocates of Kerr-Mills predicted it would expand quickly to cover 2 million people, but only 28 states participate and only 264,687 of the nation's 12 million people over 65 are currently covered. Five states – New York, Massachusetts, California, Pennsylvania, and Michigan – dominate the Kerr-Mills program, accounting for 62 percent of all those enrolled. After three years, it is not a national program and there is no reason to expect that it will become one in the foreseeable future, according to a 1963 report by the health subcommittee of the Senate Aging Committee.
Even in states that do participate, there are a number of hurdles to getting help. One is the estate recovery rule that allow states to sell the home of a participant that has died and use the proceeds to repay medical bills not covered by the Kerr-Mills program. "Americans of retirement age equate 'free and clear' ownership of one's home with self-respect," the report said. "The idea of a State taking a claim on that home is completely abhorrent" to most people, according to the report.
The other major drawback is the "responsible relative" provision. This allows state to require the children of participating individuals to disclose their income and explain how much of the participant's bills the children are prepared to pay. These rules "deter many proud people from seeking the care they need because they do not want to involve their families," the Senate noted. A number of elderly people in Buffalo, for example, withdrew their applications as soon as they learned of this requirement. "I don't want my son questioned," one person told the state welfare office. This rule discourages truly needy people from seeking help, the welfare commissioner in New York told the Senate committee.
Congress and the President have a real challenge ahead: how to help elderly people to afford health care without making welfare the only alternative.
►See the next post in the COVERED series: "Health Coverage for Poor in Political Mix," January 23, 1965
► Learn more about the Academy's celebration of the 50th anniversary of the enactment of Medicare and Medicaid