Bob Rosenblatt, Special Correspondent
Welcome to Covered: A Week-by-Week Look at the 1965 Politics that Created Medicare and Medicaid. Bob Rosenblatt, a Senior Fellow at the National Academy of Social Insurance, former Los Angeles Times Washington correspondent, and editor of the website HelpWithAging will blog on the maneuvers that led to the enactment of Medicare and Medicaid on July 30th, 1965 the first major expansion of U.S. social insurance to health care.
---
State Welfare Directors Press Mills on Health Assistance to the Poor
February 13, 1965
By Bob Rosenblatt, Special Correspondent
Washington, D.C. — Rising hospital bills for low-income people are consuming more of state welfare budgets, cutting into the money for children and other populations, state welfare directors told members of the powerful House Ways & Means Committee meeting in executive session.
Congress should extend the program that provides Medical Assistance for the Aged across the board – "to cover all people who states determine to be medically indigent," according to the testimony of Thomas G. Bell, the executive director of Colorado's welfare program.
Paying the health care bills of all people under the age of 65 would cost about $255 million a year in new federal funding, according to Rep. Wilbur Mills (D-AR), the powerful committee chair who appeared supportive of the notion.  His questions appeared to be prodding the welfare directors to explain the financial pressures that lead to denial of assistance to poor people under the age of 65.
Each state sets an income threshold to determine eligibility for welfare payments that can be used to cover medical bills. The rising cost of hospital care, which is increasing faster than incomes, is diverting more funds into paying the bills for people 65 and older, who are most likely to have health problems resulting in hospitalization.
All states have a problem with the growing number of people who are medically indigent but not yet 65 years of age, Mills said after hearing testimony.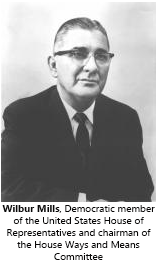 "Our medical programs for children are substantially more limited than they are for the aged and we have been seeking for some time to find ways and means of improving these programs," Oklahoma welfare commissioner Lloyd Rader told the committee hearing. Oklahoma spent $28 million for medical care in the past three years, with most of the money, $20 million, going to the bills of people 65 and over.
The Johnson Administration proposal would be limited to paying the hospital bills for people 65 and over under an expansion of the current Social Security systems. Workers and their employers would pay a new tax on their earnings. The money would go into a federal fund to pay for 60 days of hospitalization and up to 240 days for home care visits for people who had been hospitalized.
Supporters of the administration plan contend that their proposal would also help states with medically indigent people under the age of 65. With this new funding going to pay hospital bills of seniors, the states would have more funds to spend on care for people under age 65, an administration official argued.
In Colorado, for example, making the Administration proposal into law "would take 90% of our hospitalization expenses and move them over to Social Security," state welfare chief Bell told the committee.
The state needs help, Bell said. "The problem we are experiencing in Colorado is a problem of funding these programs, not determining that there is need."
With prompting from Chairman Mills, the Colorado official talked about how states were unable to meet the needs of people in need. "We are not providing medical care for indigent people in these other categories," said Bell, referring to Colorado residents under age 65. That is true even though "we are taking advantage of every federal dollar that is available and matching that."
Chairman Mills, who has strong control over his committee, seems intent on a major expansion of federal spending to help poor people of all ages with their health care bills. Such an effort goes far beyond the Johnson Administration plan for covering hospital bills for Americans 65 and older and would be a departure from the norm of American politics. President Harry Truman's plan for national health care was rejected by a Republican Congress and President John F. Kennedy call for national health care drew strong opposition from the American Medical Associatin and conservative members in both the Democratic and Republican parties.
A proposal by the Johnson Administration to cover medical bills for people 65 and over passed the Senate last year, but Mills refused to bring it to a vote in his committee. Encouraged by his landslide election, and the addition of increased numbers of liberal Democrats to the House and Senate, Johnson is offering legislation again this year. But it has been limited to hospital bills only, and not including bills for care by doctors outside the hospital.
Mills more expansive approach is a surprise for the White House, and for Mills' fellow legislators. When Wilbur Mills talks about expanding the playing field of health care politics, people are bound to listen.
► See the next post in the COVERED series: "This Won't Hurt A Bit – White House Reassures Docs, Hospitals on Medicare," February 20, 1965
► Learn more about the Academy's celebration of the 50th anniversary of the enactment of Medicare and Medicaid