The Academy's 32nd annual policy conference explored the implications of using Medicare as a coverage expansion platform for the overall health care system. Below are a few highlights and key takeaways from the convening.
Speaker slides and more info can be found on the conference page.
Healthcare and the 2020 Elections
Moderated by Katie Keith, Principal at Keith Policy Solutions, this opening panel featured Chris Jennings, Founder and President of Jennings Policy Strategies, and Rodney Whitlock, Vice President of McDermott+Consulting. The panel discussed various drivers of the renewed interest in health care reform, reflected on the ten-year anniversary of the Affordable Care Act, and hypothesized as to how the health care debate will continue to play out as we approach the November election.
What is driving today's reform debate?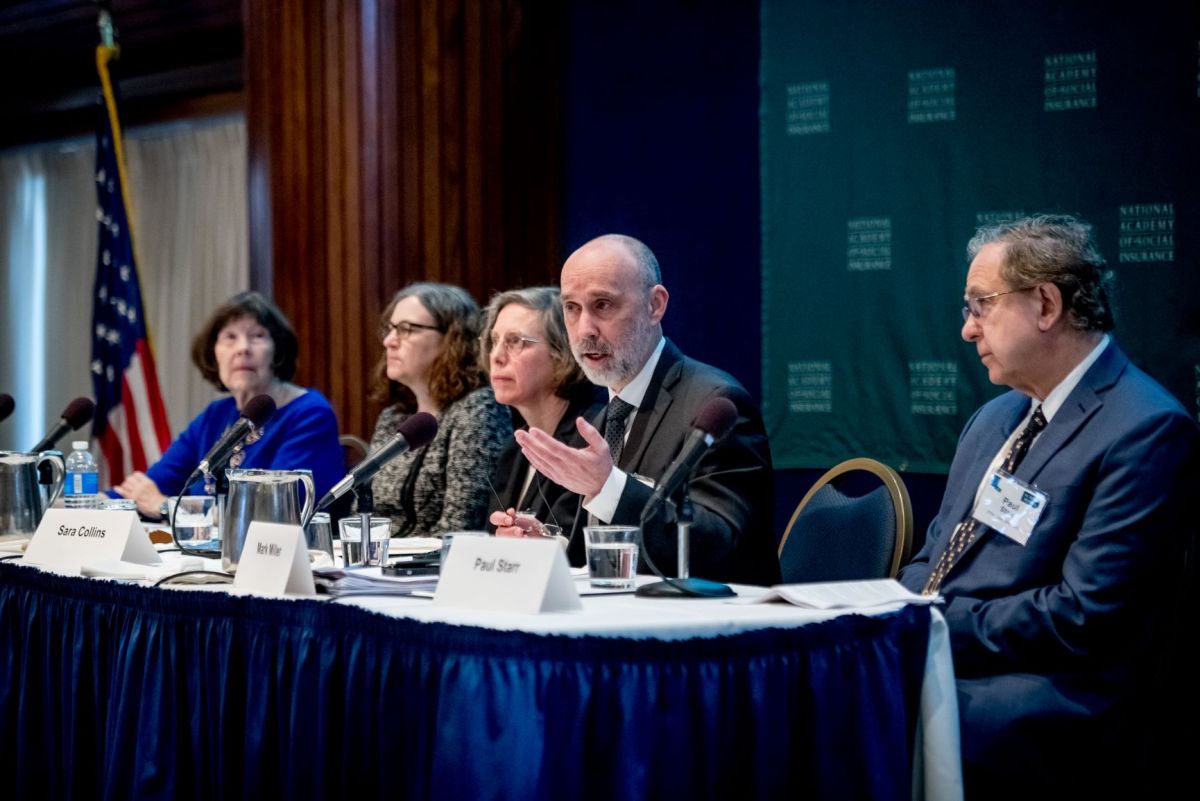 Moderated by Cori Uccello, Senior Health Fellow for the American Academy of Actuaries and Marilyn Moon, retired, American Institutes for Research, Panel 1 provided an overview of current health policy issues, including persistent problems of uninsurance and underinsurance, affordability challenges, health disparities and inequities, and the rising cost of health care in the United States. Sara Collins, Vice President for Health Care Coverage and Access at the Commonwealth Fund, began the session with an in-depth analysis on the status of U.S. health insurance coverage. Building on Collins' remarks, Mark Miller, Executive Vice President of Health Care at Arnold Ventures, discussed the rising problem of high health care costs for households, business, and the federal and state governments. As we continue to debate which policies would best address these issues, professor of sociology and public affairs at Princeton University Paul Starr's presentation on the history of Medicare reminded us that there are lessons to be learned from previous health reform efforts. Audience questions focused on the prioritization of health policy goals and cautions from previous health reform debates that policymakers should consider.
What are the key equity priorities for health care reform?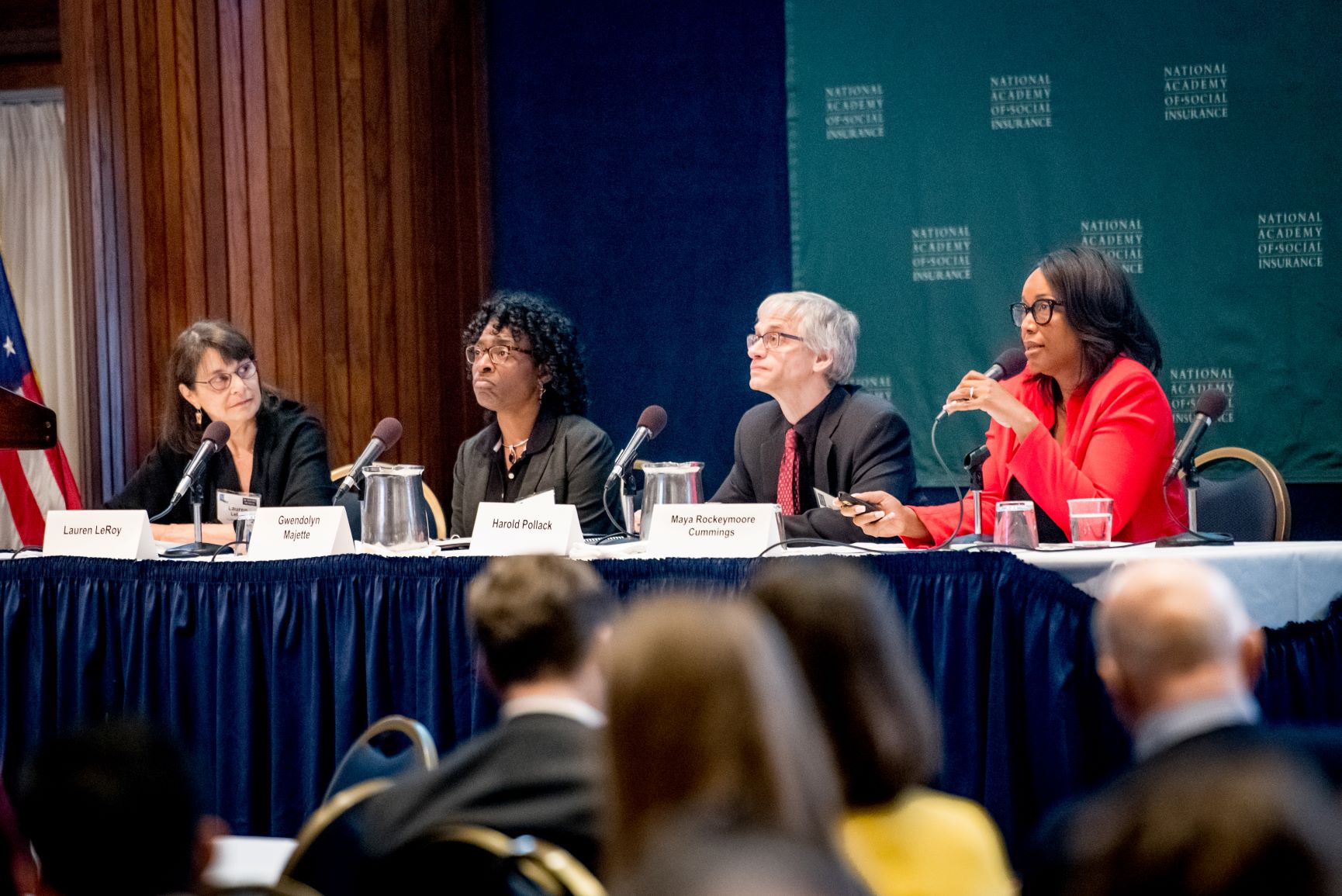 Lauren LeRoy, Strategic Adviser for LeRoy Strategies, moderated Panel 2 and emphasized how the Affordable Care Act provides broad benefits for all segments of the population, including generally improving equity, but noted that the benefits are still unevenly distributed and politically fragile. Gwendolyn Majette, Associate Professor of Law, Center for Health Law and Policy at the Cleveland-Marshall College of Law, continued this discussion with an overview of health care reform progress and shortcomings over the last 50 years. She pointed to improvements in health for people of color, explained how the ACA laid the groundwork for a pathway to achieve equity and eliminate disparities, and highlighted the equity priorities that should be considered in proposals to expand Medicare eligibility. Harold Pollack, Helen Ross Professor at the School of Social Service Administration, University of Chicago, followed with his presentation on the disability "blind spot" in health care reform. Although there has been great progress in improving access to health care and services for persons with disabilities, Pollack emphasized that the disability community has been marginalized in the current healthcare reform debate, noting that disability policy alone is as costly and complicated as the rest of health policy combined. Maya Rockeymoore Cummings, former Chairwoman of the Maryland Democratic Party, discussed advances in equity as a result of the ACA and the pros and cons of building upon the ACA to achieve universal coverage. Following the presentations, audience questions steered the conversation to the intersection of health care, social assistance, education, and criminal justice reform in addressing disparities and achieving equity.
What are the challenges and implications of broad cost-containment efforts?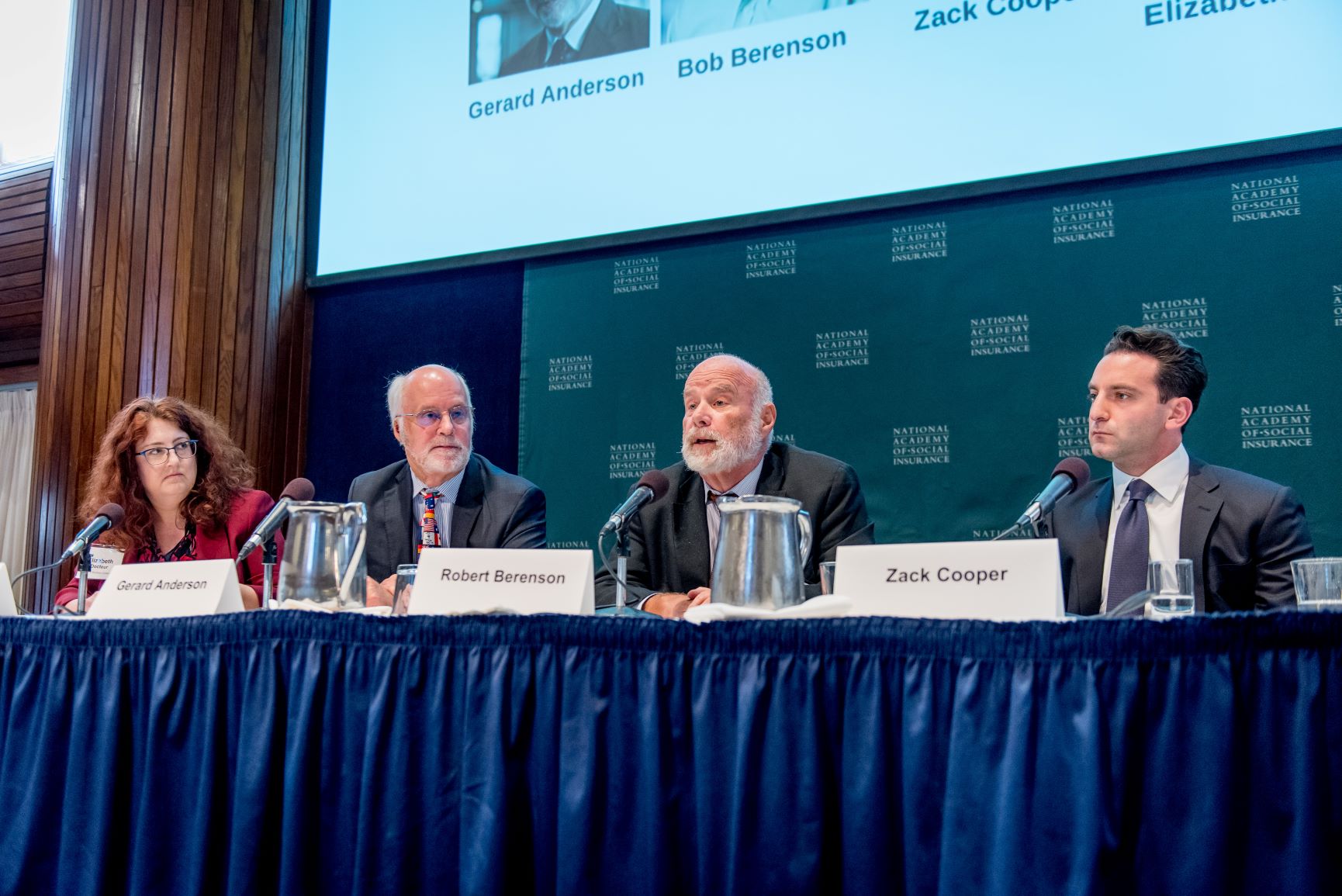 Panel 3, moderated by Elizabeth Docteur, principal of Elizabeth Docteur Consulting, discussed Medicare's potential appeal as a platform to contain costs through lower payment rates, payment innovations, increased administrative efficiency, and additional cost-containment strategies. Gerard Anderson, professor of health policy at Johns Hopkins University, began the discussion with his recent paper, It's Still The Prices, Stupid: Why The US Spends So Much On Health Care, And A Tribute To Uwe Reinhardt. Anderson emphasized why the United States is unique in its very high spending on health care. Then, Zack Cooper, associate professor of health policy and economics at Yale University, discussed the political challenges of implementing health care cost-control policies. Robert Berenson, MD, Institute Fellow at the Urban Institute, gave a presentation on the potential for cost-control through realigned incentives for social services investment, as well as what might be achievable in savings from administrative simplification. Q&A included the role of health policy experts in shaping reform, Medicare reimbursement rates, and the cost of medical education.
How compatible is the business of healthcare with patient health?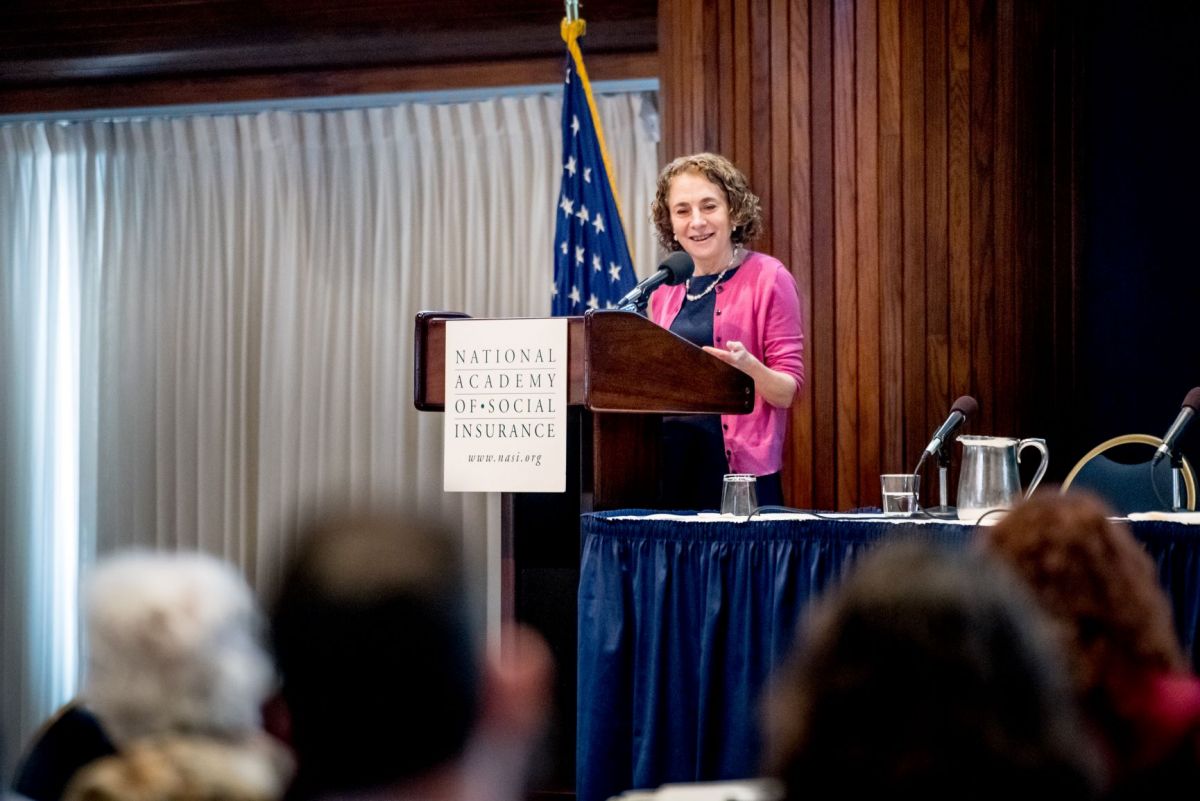 The luncheon presentation by Elisabeth Rosenthal, MD, Editor-in-Chief for Kaiser Health News (KHN) and author of An American Sickness: How Healthcare became Big Business and How You Can Take it Back, explored the question of why health care is so expensive in the United States. Through real stories of patients' outrageous medical bills, Rosenthal examined how the healthcare industry has come to be more about finances rather than patient health.
What are the key design implications for select health policy approaches?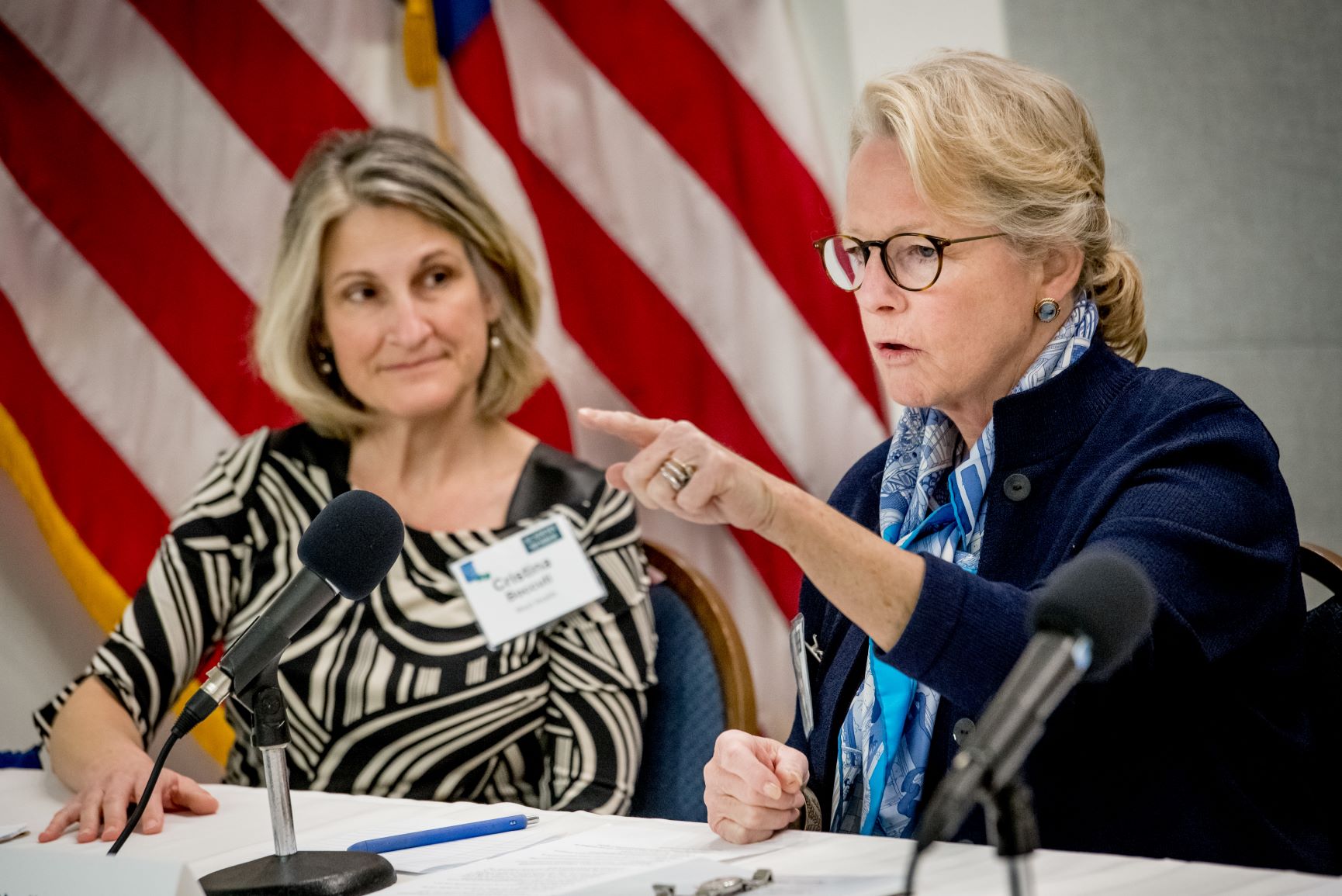 After the luncheon keynote, conference participants moved to breakout sessions, each focusing on a particular set of health policy proposals.
Transitioning to Medicare for All: Impact on Consumers, Employers, Private Insurers, and Providers
Moderator: Renée M. Landers, National Academy of Social Insurance Vice Chair, and Co-Principal Investigator, Academy Study Panel on Medicare Eligibility

Peter Arno

, Senior Fellow and Director of Health Policy Research, Political Economy Research Institute, University of Massachusetts Amherst

Chip Kahn

, Chief Executive Officer, Federation of American Hospitals

Allyson Schwartz

, President and Chief Executive Officer, Better Medicare Alliance

Mike Thompson

, President and Chief Executive Officer, National Alliance of Healthcare Purchaser Coalitions
Establishing a Medicare Buy-in or Public Option: Balancing Beneficiary Choice and Administrative Feasibility
Moderator: Tricia Neuman, Senior Vice President, The Kaiser Family Foundation

Melinda Buntin

, Chair, Department of Health Policy, Vanderbilt University School of Medicine

Christine Eibner

, Chair in Policy Analysis, Director of the Payment, Cost, and Coverage Program, RAND Corporation

Matthew Fiedler

, Fellow, Economic Studies, USC-Brookings Schaeffer Initiative for Health Policy

Steve Zuckerman

, Vice President of Health Policy, The Urban Institute
Reinforcing Current Programs: Incremental Changes to Medicare, Medicaid, and the Affordable Care Act
Moderator: Cristina Boccuti, Director of Health Policy, West Health Policy Center

Sheila Burke

, Strategic Advisor, Baker, Donelson, Bearman, Caldwell & Berkowitz

Tara O'Neill Hayes

, Director of Human Welfare Policy, American Action Forum

Frederic Riccardi

, President, Medicare Rights Center

Sara Rosenbaum

, Harold and Jane Hirsh Professor of Health Law and Policy, School of Public Health and Health Services, George Washington University
How could expansion proposals be financed, and what are the implications of specific financing mechanisms?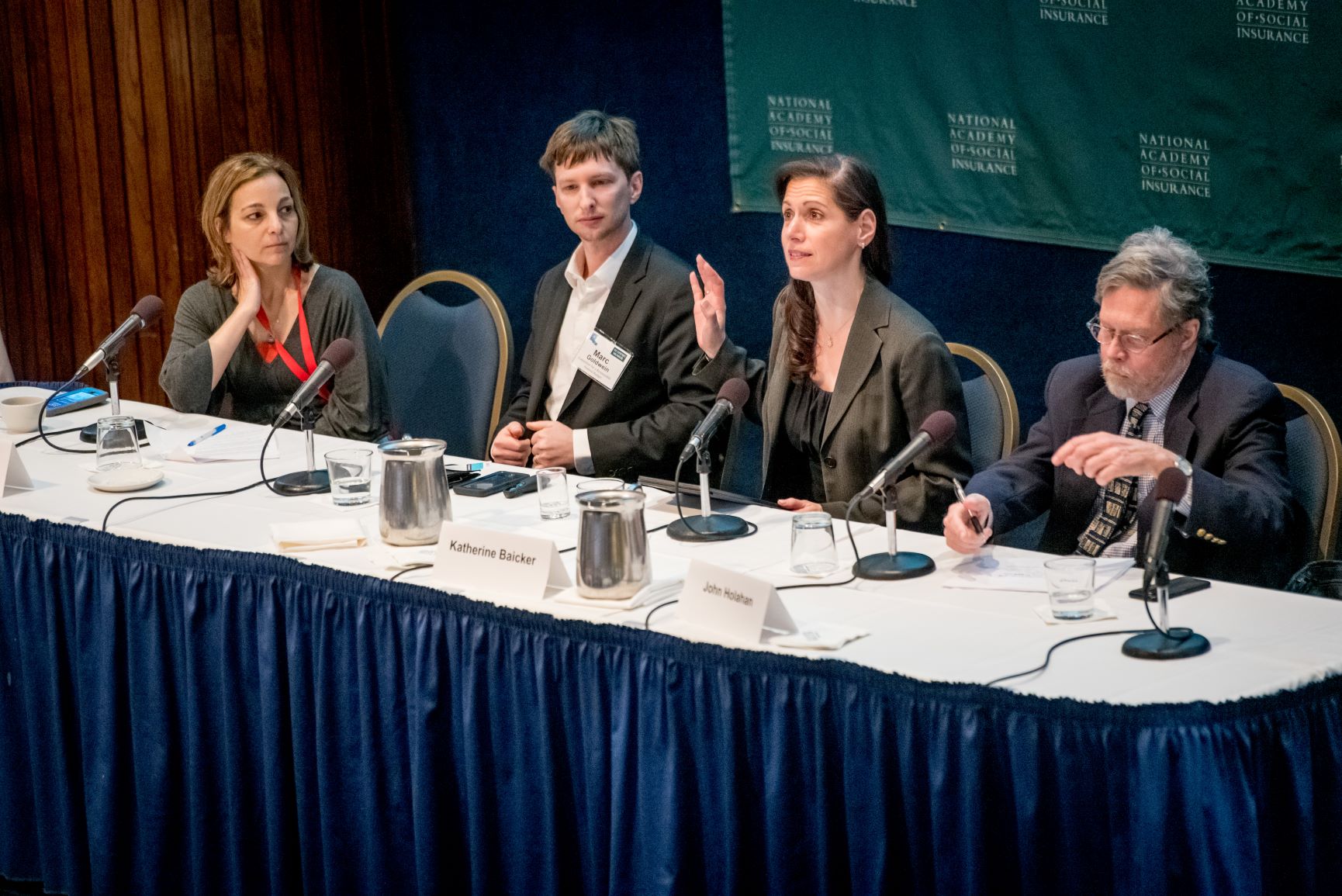 Any Medicare expansion proposal will affect health care costs and the distribution of the financing burden across the population, relieving pressure in some ways and increasing it in others. Panel 4, moderated by Washington Post columnist Helaine Olen, began with a presentation by John Holahan, Institute Fellow at the Urban Institute, which outlined the estimated costs of both incremental and comprehensive proposals. Marc Goldwein, Vice President of the Committee for a Responsible Federal Budget (CRFB), then discussed potential financing mechanisms for Medicare-for-all proposals and their possible impacts on equity and the economy as a whole. Katherine Baicker, Dean of the Harris School of Public Policy at the University of Chicago, discussed the potential impacts of financing methods on the growth in health care spending and on overall economic growth. Panelists then answered audience questions on balancing positive and negative economic impacts of reform proposals, comparisons of international tax systems, and assumptions about administrative savings.   
Quality, Mercy, and the Moral Determinants of Health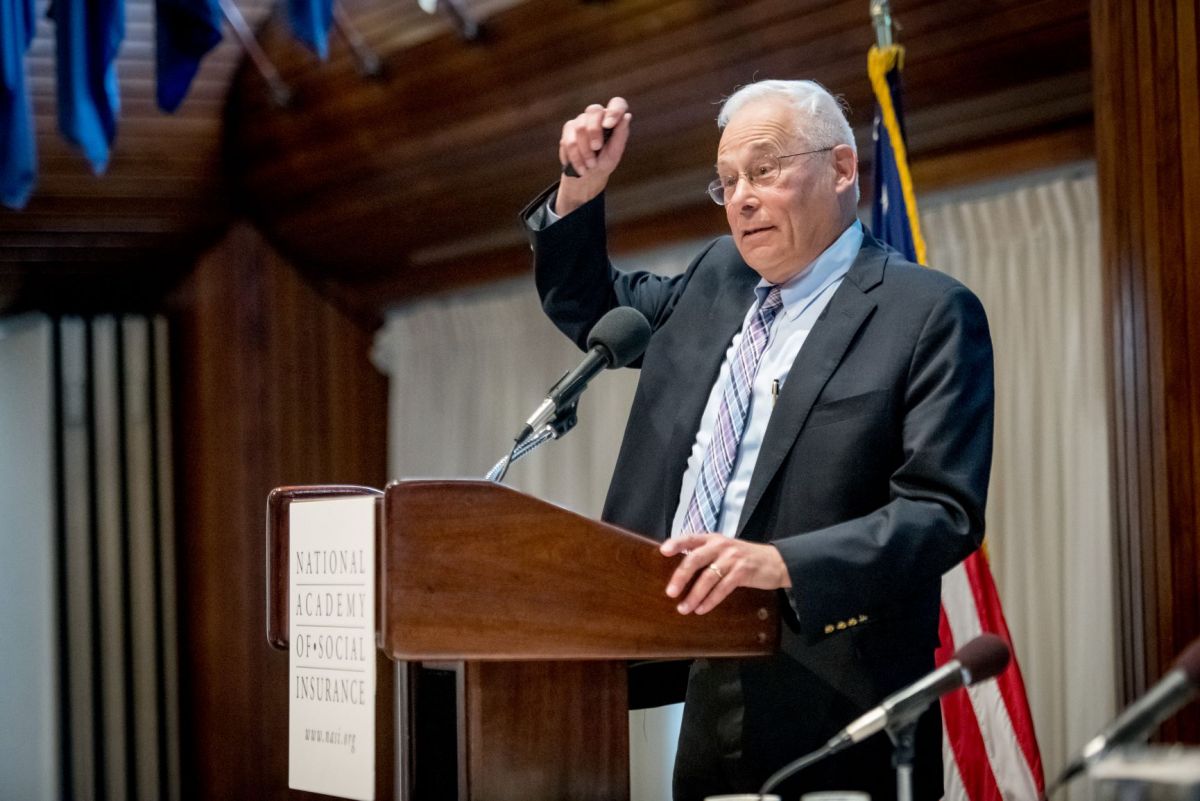 Donald M. Berwick, MD, President Emeritus and Senior Fellow, Institute for Healthcare Improvement, and former Administrator of the Centers for Medicare & Medicaid Services, gave a spellbinding closing keynote. He reminded participants of the core underlying value of mercy in health care, and emphasized the critical importance of placing mercy at the center of discussions about health care reform. In his vision for reform, patients come first, the poor are prioritized, returns from improvements to technology go to patients, and costs are lowered whenever possible. Berwick's call to action, a "Campaign of Morality" to reintroduce mercy, compassion, and inclusion into the policies of the United States, received a standing ovation from conference participants.