William Arnone, Chief Executive Officer, National Academy of Social Insurance
(Alice Rivlin receives the 2013 Ball Award with then Board Chair, Lisa Mensah) 
With deep sadness, we learned of the passing of Alice Rivlin, a Founding Member of the National Academy of Social Insurance, and recipient of the 2013 Robert M. Ball Award for Outstanding Achievements in Social Insurance.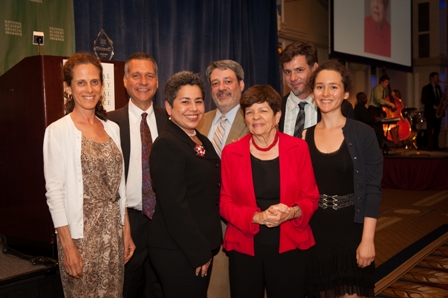 (Alice Rivlin with her family at the 2013 Ball Award) 
As Chair of the 2013 Ball Award Committee that selected Alice Rivlin as that year's honoree, I was pleased that we recognized her as one of the most distinguished and influential voices in economic and fiscal policy dialogues shaping the trajectory of social insurance. I noted at the time:
After considering a number of individuals who have made and continue to make exceptional contributions to social insurance policy, research, and public understanding, it was clear to the Selection Committee that Alice Rivlin's achievements – from serving as founding director of the Congressional Budget Office, to directing the Office of Management and Budget during the Clinton Administration, to serving on President Obama's National Commission on Fiscal Responsibility and Reform – all while maintaining that social insurance plays a critical and indispensable role in the lives of all Americans and in our economy – are truly outstanding and clearly warrant recognition.
(Read a full profile of Alice Mitchell Rivlin from the 2013 Ball Award. Watch Alice Rivlin's 2013 conversation with political scientist, Suzanne Mettler, on "Treating the American Guilt Complex Over Government Benefits.")
The Brookings Institution, Alice Rivlin's professional base for more than sixty years, remembers her as "a trailblazer in the field of economic policy and a civil servant of unparalleled devotion… Rivlin's expertise and skills—and her unique ability to build bridges across political parties—played key roles in the formation of U.S. economic policy for more than half a century."
May she rest in peace.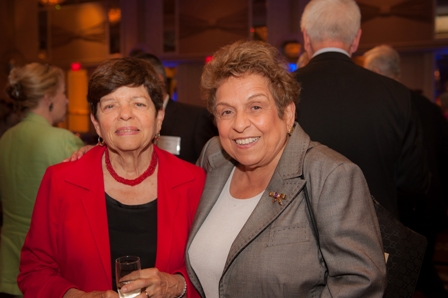 (Alice Rivlin at the 2013 Ball Award with good friend and fellow Academy Member, Congresswoman Donna Shalala, who co-chaired the Event Committee)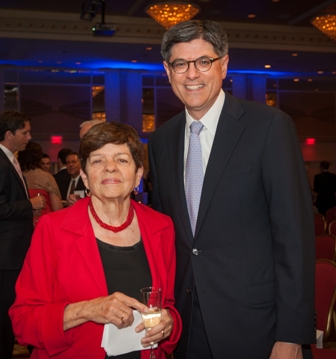 (Alice Rivlin at the 2013 Ball Award, with then Treasury Secretary and fellow Academy Member, Jacob Lew)