William Arnone, CEO, National Academy of Social Insurance
Merton C. Bernstein 
1923 – 2019
Merton Clay Bernstein, Walter D. Coles Professor of Law Emeritus, Washington University in St. Louis died at home in Brewster, MA on August 3, 2019.
His groundbreaking book, The Future of Private Pensions, won the Elizur Wright Award for best book on insurance in 1964 and opened the door for appearances on CBS's 60 Minutes in 1971 and NBC's Peabody award-winning White Paper: Pensions – The Broken Promise (1972), two programs that pushed pension reform onto the national agenda. In 1988 he coauthored with his wife, Social Security: The System that Works, providing the general reader with a positive rationale for the program, its strengths, and its accomplishments.
At Washington University he founded and directed a unique Congressional and Administrative Internship in Washington, D.C. for selected third year law students. His earlier experience in government service informed the classes he taught – especially labor law, social legislation, and arbitration.
In 1993, the Washington University Law Quarterly published tributes to his skills as a teacher, arbitrator, public servant, original thinker, humorist, optimistic doer, and writer with intelligence and imagination. Professor Lance Liebman, Dean and Professor of Law at Columbia noted that in the 1970's almost no one in American law schools taught or wrote about the millions of people affected by various social insurance systems. "The major reason the word is 'almost' and not 'no one' was Mert Bernstein."  Vol. 71, No. 4, p. 1007.
After 25 years at Washington University, Mert and his wife moved to Brewster in 2000 where they continued to write and speak on social insurance. Until he was sidelined by Parkinson's, he was working on tort reform achieved by consolidating all medical services including those arising out of workers' compensation, automobile insurance, product liability insurance, and other medical tort claims into one plan using the economies generated by the elimination of redundant administrative arrangements to finance coverage for the uninsured.
Born March 26, 1923 in New York City, he was educated in the city's public schools, Oberlin College (B.A. 1943), Columbia University Law School (LL.B. 1948), and the U.S. Army (1943-1945). He married his life partner, Joan B. Brodshaug, in 1955. Their four children, Johanna Wilt (Ian Wilt), Inga Bernstein (Christine Nickerson), Matthew (Mac) Bernstein (Barbara), and Rachel Bernstein (Scott Frank), produced eight grandchildren, Alexandra Wilt, Shiloh, Max, and Leo Bernstein, Kaja and Grace Nickerson, and Noah and Carly Frank.
Between 1949 and 1959 he practiced law, served as an attorney at the NLRB and the Office of Solicitor in the U.S. Dept. of Labor, Counsel for the National Enforcement Commission and the Senate Subcommittees on Labor and Railroad Retirement, and was Legislative Assistant to U.S. Senator Wayne Morse of Oregon.
In 1959 he began teaching with stints at the University of Nebraska, Yale, Ohio State, and Columbia. In 1975-76 he received a Fulbright Award and taught at Leiden University in the Netherlands.
In 1982-83 he was principal consultant to the National Commission on Social Security Reform (the Greenspan Commission). He served on the Secretary of the Treasury's Advisory Committee on the Integration of Pensions and Social Security, advised the Committee on Retirement Income for the White House Conference on Aging, chaired the Advisory Committee on Research of the Social Security Administration, and testified numerous times before Congress. In the late 1970's he helped form Save Our Security (SOS), a coalition of organizations that opposed cuts to Social Security benefits. He authored Private Dispute Settlement (1968) and countless articles on social insurance, private pensions, labor, and arbitration in professional journals and the popular press.
In his spare time he conducted labor arbitrations for over forty years and ran for Missouri's Democratic nomination for U.S. Senate in 1991-92, coming in third in a field of fourteen.  His platform: campaign finance reform, single payer health care, and strengthening Social Security.
In the 1980's, Mert, a founding board member of the National Academy of Social Insurance, proposed that the Academy establish an internship now known as the Merton C. Bernstein Internship on Social Insurance. Over 250 students studying economics, gerontology, journalism, political science, public policy, social work, actuarial science and related subjects have engaged in policy development and implementation of social insurance in a 12 week summer program.
Above all, he always had time for his family, his horses, music, photography, and various local boards and committees where he lived. He charmed the world with his smile and wit.
A gathering in memory of Mert for family and friends will be held on Saturday, August 10, 2019, 1:00 at the Brewster Meeting House, First Parish UU, 1969 Main Street (Route 6a), Brewster, MA.
Contributions in Mert's memory may be made to the Merton C. Bernstein Internship in Social Security to carry on his work. Contact Kristine Quinio, Director of Development, National Academy of Social Insurance, 1200 New Hampshire Ave., NW, Ste. 830, Washington, DC  20036, or at kquinio@nasi.org or 202-243-7008, (a 501(c)(3) organization).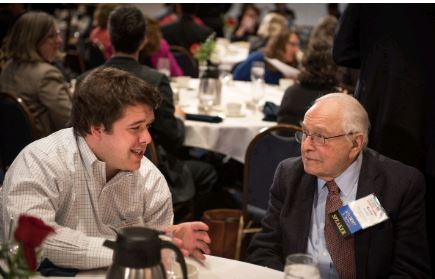 Mert Bernstein speaks with an attendee of the Academy's 2015 Conference.