William Arnone, Chief Executive Officer
Walter F. ("Fritz") Mondale, the 42nd Vice President of the U.S., passed away this week at the age of 93. He also served as a U.S. Senator from Minnesota, as well as that state's attorney general, and as Ambassador to Japan.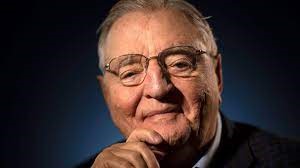 Throughout his career, Walter Mondale had a solid record on Social Security and Medicare. In 1984, he offered this pointed message to those who voted for his opponent in that year's Presidential campaign, Ronald Reagan: "You did not vote to savage Social Security and Medicare."
Mondale selected as his Vice Presidential running mate in that campaign former New York Representative Geraldine Ferraro, my dear friend. She made herstory as the first female Vice Presidential nominee of any major party in the U.S.
In 2002, Mondale described privatizing Social Security as "a dreadful idea, as the recent stock market trends have demonstrated." He ruled out any increases in the Social Security retirement age beyond those already scheduled. (Source: Minneapolis-St. Paul Star Tribune Nov 1, 2002)
Although he served on a commission sponsored by the Center for Strategic and International Studies, which recommended raising retirement ages and converting "social protection schemes from pay-as-you-go to market based financing" in major industrialized countries as a way to deal with the crisis of aging population, Mondale dissented from the majority's position. He wrote: "We do not support the Commission's recommendations that might result in the dismantling of social insurance programs and their replacement with funded schemes. Funded systems should remain an important supplement to existing guarantees, but they should not replace them." (Source: Washington Post Oct 28, 2002)
More information about his views on Social Security, Medicare, and related policies and programs may be found at the University of Minnesota's law library.
Academy Founding Board Member and recipient of our Ball Award in 2019, Theodore Marmor, worked as Mondale's senior social policy advisor during the 1984 presidential campaign, said: "Walter Mondale was for decades a major figure in Democratic politics, linking the values to FDR's New Deal to the agenda of President Biden.  The growth and stability of social insurance programs was a conviction for him, as was his support of progressive policies more broadly.  He will be missed, a gifted American politician with a sense of humor that was so welcome for those who worked for and with him."
Academy Member Lawrence Jacobs, the Walter F. and Joan Mondale Chair for Political Studies and Director of the Center for the Study of Politics and Governance in the Hubert H. Humphrey Institute at the University of Minnesota, who co-taught a course with Mondale, said: "Walter Mondale voted to pass Medicare in 1965 and considered it among his most important.  He considered America's social insurance system a down payment on citizenship and the security and peace of mind owed to all Americans."
One of his memorable quotes embodies the values underlying social insurance: "We don't go it alone. We go with everybody."
May he rest in peace.