Elaine Weiss, Director of Policy
The Academy's launch of a new Task Force to explore options for comprehensive modernization of the Unemployment Insurance (UI) program responds to a particularly challenging moment: Millions of jobless workers across the country are poised to lose $300 in weekly support on March 14, and two other programs providing benefits to unemployed Americans may expire in April.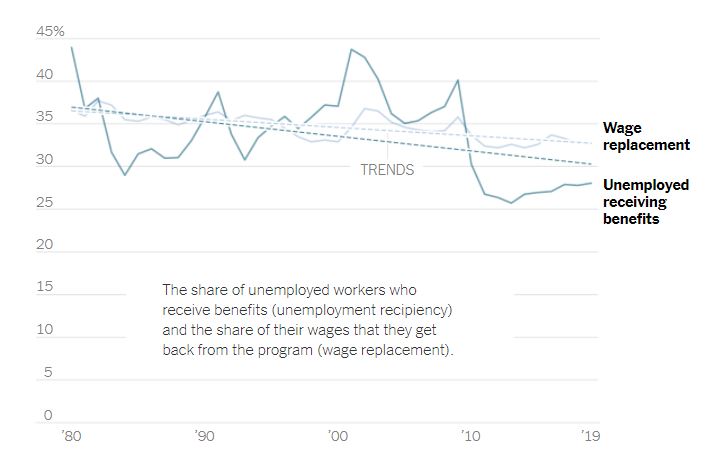 Image Source: How the American Unemployment System Failed, New York Times;  Data: Stephen Wandner, National Academy of Social Insurance and Christopher O'Leary, W.E. Upjohn Institute for Employment Research
Since the COVID-19 pandemic hit one sector after another of the U.S. economy over the past year, and millions of workers were furloughed, saw their time reduced, or were laid off, both the critical importance of UI and large-scale problems with the program have become headline news. Indeed, President Biden's early executive orders expanding support for jobless workers, and his creation of a new position within the Department of Labor to address the flood of new UI claims triggered by the pandemic, are among signals that the Administration sees improving the system as one of its top priorities.
The 20 members of our UI Task Force (see updated list below) bring their expertise in federal UI administration, state UI implementation, Social Security administration, practical support for jobless workers, and actuarial skills, to addressing our overarching goal: ensuring that UI effectively fulfills its dual intended goals of supporting jobless workers – including maintaining their attachment to the labor force – and serving as a strong counter to economic downturns.
Academy Senior Fellow and widely recognized UI expert, Steven Wandner, will serve as Principal Investigator, supported by co-chairs Ben Gitis of the Bipartisan Policy Center, Julia Simons-Mishel of Philadelphia Legal Assistance, and Till von Wachter of UCLA. Together, they will guide the Task Force's review and evaluation of extensive existing research and a range of reform proposals. The work of the Task Force over the coming year will yield a final report of options to address the weaknesses in the UI system that millions of workers are currently experiencing.
(Special shout-out to Academy Member Michele Evermore, who served as co-chair during the early planning and initial launch, for her service. Michele is now a senior policy adviser on unemployment insurance at the Department of Labor, a new position within the department's Employment and Training Administration.)
As one of several Academy initiatives that will feed into our new campaign, Pathways to Economic Security (which launches with our annual policy conference, March 2-4), the Task Force is also inspired by President Franklin Roosevelt's vision of UI as part of "a program of economic security… [that] must have as its primary aim the assurance of an adequate income to each human being in childhood, youth, middle age, or old age—in sickness or in health."
In keeping with our ongoing work on racial equity, and building on the forthcoming findings of our Economic Security Study Panel, modernization strategies set forth by the UI Task Force will also address other critical issues: lack of coverage for many "non-standard" workers; adapting to the reality of longer average spells of joblessness; and disparities in coverage, benefits, and access for workers of color, and immigrant workers.
Indeed, in the group's first two meetings thus far, Task Force members expressed concern about the disproportionate share of women and workers of color in precarious jobs, and noted evidence of racial and gender-based disparities not only in joblessness but in the length of time it will likely take for displaced workers to find new jobs. These conversations point to the urgent need to address problems highlighted in a June 2020 commentary on how the Unemployment Insurance system is failing workers of color.
The range of experiences and perspectives of the members of the Task Force, along with their various professional networks, will enable the collection of additional insights. The three co-chairs also bring a range of opportunities for both expert input and pathways for dissemination of Task Force findings. In addition to drawing on case studies of the experiences of jobless workers during the pandemic, the Task Force will ensure that workers' voices are foundational to both the exploration of problems with the current system and options for addressing them.
This project is made possible with support from the Russell Sage Foundation, Kaiser Permanente, and Challenger & Gray.
Unemployment Insurance Task Force Members (As of February 20, 2021)
Co-Chair: Ben Gitis, Senior Policy Analyst, Bipartisan Policy Center
Co-Chair: Julia Simons-Mishel, Supervising Attorney, Unemployment Compensation Unit, Philadelphia Legal Assistance
Co-Chair: Till von Wachter, Professor, University of California Los Angeles
Principal Investigator: Stephen Wandner, Senior Fellow, National Academy of Social Insurance
David Balducchi, U.S. Department of Labor, retired
Kathryn Bakich, Senior Vice President, The Segal Group
Elizabeth Bauer, FSA, Forbes Senior Contributor and independent actuary
Judy Chesser, Social Security Administration, retired
Calvin Colbert, Vice President, Challenger, Gray & Christmas
Rebecca Dixon, Executive Director, National Employment Law Project
Althea Erickson, Vice President of Global Public Policy & Impact, Etsy
Debra Fitzpatrick, Policy and Legislative Affairs Director, Children's Defense Fund
Heidi Hartmann, Distinguished Economist In-Residence for Gender and Economic Analysis, American University
Shaun O'Brien, Assistant Director, American Federation of State, County and Municipal Employees (AFSCME)
Christopher O'Leary, Senior Economist, Upjohn Institute
Rob Pavosevich, U.S. Department of Labor, retired
Ralph E. Smith, Congressional Budget Office, retired
William Spriggs, Chief Economist, AFL-CIO
Andrew Stettner, Senior Fellow, Century Foundation
James Van Erden, Senior Policy Advisor, National Association of State Workforce Agencies