As part of a larger series titled 'Insult to Injury: America's Vanishing Worker Protections,' ProPublica and NPR recently published three investigative reports:
In response, The Insurance Information Institute (I.I.I) sent a letter challenging parts of the articles.  ProPublica and NPR published a follow-up: 'Insurance Information Institute Challenges our Workers' Compensation Investigation. We Respond'.  It's worthwhile to read both the III letter and the response.
The journalists had spoken to a number of Academy members while researching the articles. Below we present a discuss post by Marjorie Baldwin, Professor, Arizona State University, and Chair of the Study Panel on Workers' Compensation Data of the National Academy of Social Insurance.
Workers' Compensation: Critical Questions, Elusive Answers
By Marjorie Baldwin
ProPublica and NPR have recently published three investigative reports as part of a series titled 'Insult to Injury: America's Vanishing Worker Protections.' The articles report that since 2003, more than 30 states have cut workers' compensation benefits, making it more difficult for injured workers to obtain medical care and shifting the costs from workers' compensation to other programs, namely, Social Security Disability Insurance, Medicare, and Medicaid.
The ProPublica and NPR reports make it appear that workers' compensation is a badly broken system being wrecked by state governments eager to reduce employer costs in order to attract business from other states. But do the articles present a fair and balanced assessment of the state of workers' compensation today?
Much of the reporting relies on horrific stories of individual workers who have been badly injured on the job and had to battle their state workers' compensation systems to obtain the medical care and wage benefits they desperately need and justly deserve. The stories are tragic and should never happen. A fundamental purpose of the workers' compensation system is to provide full and immediate relief — in medical care and compensation for wage losses — to injured workers and their families. The problem with relying on individual stories as evidence, however, is that there are always stories that portray a counter-perspective. In workers' compensation, these are stories of (the small minority) of workers who abuse the system by falsifying claims or magnifying the effects of their injuries.
So let's move beyond the individual stories and examine the evidence presented in the ProPublica and NPR reports. Is it fair, balanced, and complete? Unfortunately, much of the evidence is vague and therefore non-refutable.  For example, "state after state has been dismantling America's workers' compensation system with disastrous consequences for many of the hundreds of thousands of people who suffer serious injuries at work each year."  How many is many? 100? 100,000?  The majority?
Other evidence presented in the reports is incomplete, and gives a skewed picture of the system. For example, the report tells us, "In 37 states, workers can't pick their own doctor or are restricted to a list provided by their employers." The report does not tell us that in at least 10 of those states, workers may switch to a doctor of their choice after their first visit, and their medical costs will still be covered 100%.
Finally, in citing evidence that condemns the workers' compensation system, the authors of the ProPublica and NPR report do not explore other possible explanations for the trends they identify. For example, "employers are paying the lowest rates for workers' compensation insurance since the 1970s… all the while, employers have found someone else to foot the bill for workplace accidents." However, one of the recent trends in the workers' compensation insurance market is toward more 'high-deductible' insurance plans. Just as with individual health insurance or automobile insurance, when you choose a high- deductible plan your premium rates go down. But you are not shifting costs to others; you are assuming more of the risk yourself.
In raising these points, I am not attempting to defend the state workers' compensation systems against all criticism. Assessing the adequacy of benefits paid to injured workers is an ongoing challenge to those of us who grub around in workers' compensation data on a regular basis. But I am asserting that the stakeholders in the system — injured workers, employers, insurers, state governments, and the public — deserve a more informative accounting of how the system performs than the ProPublica and NPR reports provide.
Presenting a balanced picture drawn from the most recent available data is the task that the National Academy of Social Insurance has assumed for the past 17 years.  The Academy's annual report, Workers' Compensation: Benefits, Coverage, and Costs, provides reliable state-by-state data on workers' compensation systems nationwide. The report is the only comprehensive nationwide compilation of its kind and is produced with the guidance of a national expert panel representing all key stakeholder groups: labor, government, business, and academia.
What does the latest report show? In 2012, the most recent year for which data are available, workers' compensation benefits rose by 1.3 percent to $61.9 billion, while employer costs rose by 6.9 percent to $83.2 billion. However, workers' compensation benefits and costs tend to be pro-cyclical, that is, increasing in periods of expansion (as employment grows) and decreasing in periods of recession (as employment contracts). In examining trends over time, therefore, the Academy considers benefits and costs as a share of total wages. Between 2006 and 2012 benefits per $100 of wages were in fact, lower than at any time since 1980-81.
The figure below (Figure 1 in the Academy's report) shows the 30-year trends in workers' compensation benefits and employer costs as a share of wages.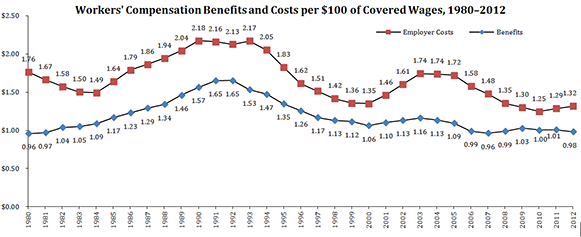 Is the downward trend in employer costs the result of safer workplaces, or of states' legislative and regulatory tightening of eligibility rules?
The answer is not simple. In general, workplaces are certainly safer than in the past — for a variety of reasons, including the fact that fewer workers are employed in high-risk industries such as mining, fishing, and construction. But it is also true that states have sought to curb the rising cost of medical payments, which now account for about 50 percent of total workers' compensation costs. As states seek to rein in medical costs, a complicating factor, according to some experts, is that most cases are "medical-only," meaning that the injury does not require days away from work. That may explain, at least to some extent, the decline in the share of wage replacement payments in recent years.
Workers' compensation provides essential insurance protection for injured and ill workers. Unlike other social insurance programs, however, workers' compensation programs are regulated by states. There are no federal standards for reporting coverage and benefits. That is why — as the ProPublica and NPR series reported — levels of worker protection can vary substantially from state to state, resulting in significant disparities in benefit payments and duration of benefits for the same injury for workers living a few miles apart but across state lines.
The ProPublica and NPR series does raise important issues. Should state workers' compensation programs be subject to federal standards? Are workers with the most serious injuries adequately compensated? Oklahoma recently passed legislation making it the second state — after Texas — to allow employers to opt out of the state's workers' compensation system. With respect to opting-out, does implementation of the Affordable Care Act (assuming it withstands all court challenges) mean that employer-sponsored healthcare should be integrated with workers' compensation? Definitive answers to major questions such as these are elusive. There is no question, however, of the continuing need for close and objective scrutiny of workers' compensation trends — a role that the National Academy of Social Insurance intends to fulfill.