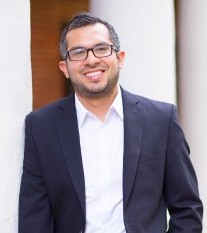 For nearly 25 years, the National Academy of Social Insurance has bestowed the John Heinz Dissertation Award to extraordinary doctoral students contributing to the field of social insurance through their outstanding research. The 2018 Heinz Dissertation Award was given to Sebastian Tello-Trillo, Assistant Professor of Public Policy and Economics at the Frank Batten School of Leadership and Public Policy at the University of Virginia. Professor Tello-Trillo received his doctorate in economics from the Graduate School at Vanderbilt University in 2016.
Q: Please tell us a little bit about your dissertation and why the topic of health economics and health behaviors was important to you. 
Tello-Trillo: My dissertation deals with how people respond to policy shocks (for example, the loss of Medicaid) that are targeted to their health behaviors. When people lose public health insurance, what happens to their health, their health behaviors, and their health care utilization? We had surprisingly little evidence of these aftershocks, and in the current context of health reform in the U.S. I thought it was important to understand what could happen if we started to reduce Medicaid coverage, how people would weather this shock.
Q: What are you currently working on now that you are teaching at the University of Virginia? 
Tello-Trillo: I've been continuing my work on losing health insurance and other outcomes (financial distress, mental health outcomes) and have also started a research agenda in mental health. From the economics point of view this is a relatively less-researched area and I think it deserves more attention as we begin to understand (and better measure) mental health, not only here in the U.S. but around the world.
Q: What did winning the award mean to you? 
Tello-Trillo: I believe it was the most important award in my young career. Having recognition of your work from people of different professional areas means a lot.
Q: How did winning the award assist in launching your career?
Tello-Trillo: I think it was helpful because it provided some attention to my work, and therefore other work that I have.  It helped me meet people and encouraged me to continue this line of work. There are very few pats on the back in this profession, so if I get some that is very encouraging!
Q: How did you hear about the John Heinz Award? 
Tello-Trillo: My advisor (Kitt Carpenter) at Vanderbilt University told me about this opportunity, and then I went to see the list of people associated with the organization and with the award and I recognized a number of them! One of them was in my dissertation committee.
Q: What comments do you have for anyone who is considering applying? 
Tello-Trillo: Apply! I think the "costs" are relatively low for a great reward. We especially need more diversity in who gets these types of awards. The more people who hear about the John Heinz Dissertation Award and the more people who apply, the more likely we'll see a more diverse and exciting pool of applicants.