The Academy is committed to the development and cultivation of future leaders in the field of social insurance. The Leadership Development program inspires and supports budding professionals through its internships, John Heinz Dissertation Award and Associate Membership.
Student Internship Programs
The Academy is uniquely qualified to provide students with challenging opportunities and experiences that cannot be found anywhere else in the country.
Our program covers five distinct internships that are named to honor Members in a particular field of social insurance policy:
The program consists of a 12-week summer internship that usually spans May to August. International students with valid student visas are encouraged to apply.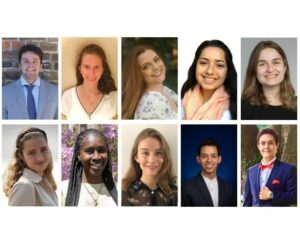 A Young Person's Guide to Social Security
On July 11, 2012, the Academy hosted over 100 interns, students, and young professionals for a free, day-long event to learn the ins and outs of Social Security and how the program works, as well as debate about the future of the program and how it will affect young Americans. Download a copy of a Young Person's Guide to Social Security. This event and video was made possible by the support of the Ford Foundation's Building Economic Security Over a Lifetime initiative. (Produced by Eugenio Salazar of ESVProductions)