The National Academy of Social Insurance is a non-profit, non-partisan organization made up of the nation's leading experts on social insurance. Its mission is to advance solutions to challenges facing the nation by increasing public understanding of how social insurance contributes to economic security.
Social insurance encompasses broad-based systems that help workers and their families pool risks to avoid loss of income due to retirement, death, disability, or unemployment, and to ensure access to health care.
The Academy convenes Study Panels and Task Forces that are charged with conducting research, issuing findings, and, in some cases, reaching recommendations based on their analysis. Members of these groups are selected for their recognized expertise and with due consideration for the balance of disciplines and perspectives appropriate to the project.
Message from the CEO
Academy Chief Executive Officer William Arnone discusses what makes the Academy unique. Read the message.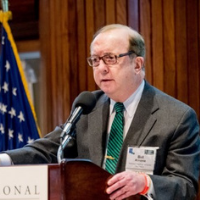 Follow Bill Arnone on Twitter: @arnonwi