By: William Arnone, Chief Executive Officer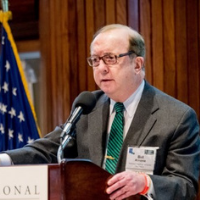 Bill Arnone is Chief Executive Officer at the National Academy of Social Insurance.
One of the most frequently asked questions we receive – by funders, sponsors, policymakers, reporters, and even Members themselves – is:
What makes the National Academy of Social Insurance unique? 
The Key Quality
Trustworthy – this word, from a historical and current perspective, captures the unique role the Academy strives to fill.  
The Academy is committed to fostering a climate that encourages robust debate and does not impugn the motives of those who disagree over solutions. In short, discussions and debate must focus on issues and policy options, not motivations. We welcome a broad range of diverse perspectives. 
Trust is a precious strategic asset that must never be assumed, but rather continuously earned, managed, and assessed. It is the foundation of truly meaningful ongoing connections between an organization and its stakeholders. It requires reliability, transparency, and humility.  
Our unwavering commitment to intellectually honest conversation and deliberation in an intentional atmosphere of inclusion and respect is how the Academy earns the trust of Members and of an expanding ecosystem of stakeholders, with varying perspectives and priorities, who rely on our publications and convenings.  
However, today, attempts at seeking mutually beneficial solutions to national problems are often derided. Such derision usually involves questioning the motives of those with whom we disagree. Each side believes it has a monopoly on morality and principles. Reconciliation appears to be unachievable. 
In view of the extraordinarily divisive times we are in – a deeper dive into the fundamental elements of this approach is warranted.  
What are the key premises of the Academy's policy model?
Central to the Academy's policy model is the premise that Academy Members and others who serve on our Study Panels and Task Forces, or participate in our conferences and other events, share not only a commitment to evidence-based analyses, but also a desire to be inclusive and collaborate collegially.  
Our various policy platforms and convenings provide opportunities for direct cross-ideological contact, which in turn promote greater understanding of different perspectives. Our approach to policy runs counter to the predominant view in our nation today that one side of the political spectrum considers the other side "enemies." When zealotry pervades politics, compromise is viewed as betrayal or traitorous. 
After becoming Chief Executive Officer, I discussed how the Academy was founded on the belief that the nation's discussions and debates about the role of social insurance needed to be based on evidence and facts.  
At the Academy's inception in 1986, when I had the honor of serving as a Founding Board Member, our goal was to fill a need in the nation's policy environment that was missing from the policy landscape. After lengthy deliberations, its original Board of Directors concluded that the Academy needed to be (a) nonpartisan; (b) evidence-based; and (c) nonadvocacy.  
This meant that the Academy would conduct policy research based on evidence (not ideology), engage a broad spectrum of varying political perspectives, and issue reports that analyzed and assessed policy options without making specific recommendations for or against such options. 
We realized back then that this approach to policy would be difficult to implement and maintain. The Academy's multi-year Pathways to Economic Security campaign is our new primary platform for building on, and reinforcing, trust across this ecosystem. The support of engaged Members is indispensable to our continued dedication to the Academy's unique role, especially in these acrimonious times.