The Myers Library at the National Academy of Social Insurance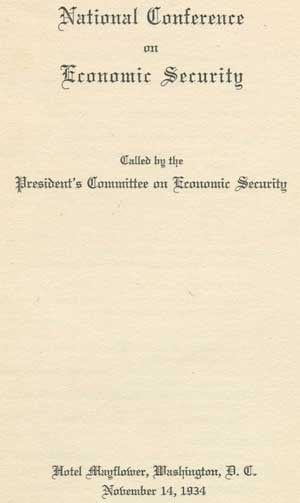 The Myers Library was endowed in 1989 by Robert (Bob) Myers, a founding Member of the National Academy of Social Insurance, and his wife, Rudy Myers.
Bob Myers was a Founding Member of the Academy (1986) and served on its Board of Directors from 1986 to 1997. Myers began working on Social Security in 1934 – the year before the program's enactment – as a young actuary with the Committee on Economic Security. He served in several actuarial positions, becoming Chief Actuary at the Social Security Administration (SSA) in 1947, a position he held until 1970. Myers himself was a prolific writer, author of over 900 articles on Social Security and five books.
There are more than 1,000 books available for Member research. Books cover all social insurance topics, including Social Security, health policy, labor, economics, poverty, inequality, retirement, international programs and more. Most books have been donated by Members of the Academy.
One of the earliest books, the Report of the President's Committee on Economic Security published in 1934, refers to social insurance as "an institution designed to prevent destitution and dependency…The quality of self-respect which perhaps more than any other helps to build and maintain a sturdy community." One of the more recent books, Carroll Estes' 2019 publication, Aging A-Z: Concepts Toward Emancipatory Gerontology, examines modern concepts of aging, identity, knowledge construction, social networks, social movements, and inequalities.
Members of the Academy who wish to use books in the library for reference should contact Member Services: memberservices@nasi.org.