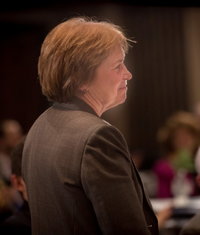 Pamela Larson
Pam Larson was the Academy's first Executive Vice President after the Academy began operations in 1987 and led the organization for its first 28 years. She retired as the organization's first Chief Executive Officer in 2015.  
For the many Academy Members who knew Pam well, she embodied the spirit of the Academy. She had a heart of gold and opened it to everyone, and she approached her work with dedication and passion. She worked tirelessly to fulfill the Academy's mission and vision. 
Read the memoriam written by the Academy's CEO William Arnone and see comments left by many who knew Pam.  
The Pam Larson Legacy Program
Among Pam's many invaluable contributions was her deep commitment to our Members, Associate Members and Interns, Board, and staff. For decades, Pam sought to know each Academy Member and involve them in meaningful ways in the Academy's broad range of activities. 
In collaboration with Pam's family, the Academy will be launching a Pamela Larson Legacy Program to honor Pam's foundational support for the Academy and the many ways she touched our personal and professional lives. 
To donate to the program, please indicate the 'Pam Larson Legacy Fund' for gift designation.