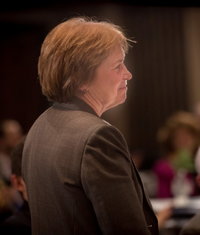 In Memoriam: Pamela Larson
Our beloved Pam Larson has passed away after a lengthy illness. Pamela Larson led the Academy for its first 28 years, first as Executive Vice President after the Academy began operations in 1987, then as our first Chief Executive Officer before her retirement in 2015. For the many Academy Members who knew Pam well – she embodied the spirit of the Academy. Pam had a heart of gold, opened it to everyone, and approached her work with dedication and passion. She worked tirelessly to fulfill the Academy's mission and vision.
After visiting Pam in Minnesota last December to give her a photo collage of memorable Academy moments, Academy Member Laurel Beedon wrote:
"Pam was a dear friend who made a difference in my life and in the lives of so many others. I will always remember her smile, her singing, her pitching in, her willingness to reach out, and her, 'We can do this' attitude. Hers is a life to celebrate. So Pam, 'Here's to you!'"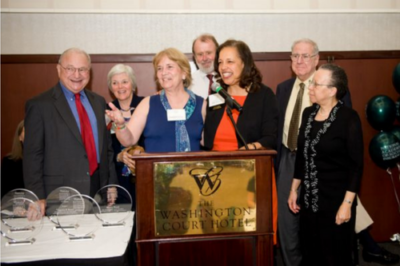 Among Pam's many invaluable contributions was her deep commitment to our Members, Associate Members and Interns, Board, and her staff. For decades, Pam sought to know each Academy Member and involve us in meaningful ways in the Academy's broad range of activities.
In collaboration with Pam's family, the Academy will be launching a Pamela Larson Legacy Program to honor Pam's foundational support for the Academy and the many ways she touched our personal and professional lives.
In the coming days and weeks, we will provide a comprehensive look at all that Pam meant to all of us, and we invite you to help pay tribute to her lasting legacy.
On a personal note, this is the most difficult obituary I've written over the last six years. Pam provided great support to me when I succeeded her as the Academy's CEO. I remain inspired to continue the culture of inclusivity and supportive collaboration that she established.
The goodwill that Pam generated on the Academy's behalf is the core of her legacy and an inspiration for us all.
Please share your reflections on Pam's impact by commenting below or by email at warnone@nasi.org.
May she rest in peace.
– William Arnone, CEO