The application window for
summer 2023 has closed.
In establishing the Rashi Fein Internship in Health Policy, the National Academy of Social Insurance recognizes and honors his long, productive career and his substantial accomplishments. Professor Fein was a prominent participant in the effort to bring about a fair and equitable program of universal national health insurance for all Americans. He played a significant role in the development of the Medicare and Medicaid programs and was unquestionably a lifelong advocate for the social insurance model.
The scope of the Fein Internship reflects Professor Fein's concept of health policy as an expansive field of interest, study, and endeavor that encompasses the work of agencies, organizations, and individuals in the public, private/non-profit, and academic sectors of society. In each sector, the health policy process brings to bear a wide variety of disciplines and analytic methods on a broad array of issues and concerns relevant to the health and well-being of the public.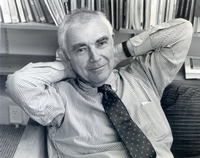 Support the Rashi Fein Internship in Health Policy
Who Should Apply
The Rashi Fein Internship in Health Policy seeks outstanding graduate and upper division undergraduate students interested in promoting equitable access for all Americans to high quality, affordable, cost-effective health care. Students pursuing courses of study in health policy, health economics, public policy, social policy, or related subjects are urged to apply for this 12-week summer semester internship in Washington, DC*.
Eligibility of all internship programs requires applicants to be currently enrolled in a college or university at the start of the internship cycle.
Depending on availability, placement opportunities for Fein interns may include assignments in the legislative, administrative or regulatory agencies of the federal government or private, not-for-profit organizations with interests in health policy. All are stakeholders, to varying degrees in, and with differing perspectives on, the health policy process. In filling out their applications, applicants are invited to express their interests in specific types of internship placements, which will be accommodated to the extent possible.
*As of summer 2022, Academy interns are offered hybrid or in-person work arrangements, which are subject to change depending on COVID-19.  
Compensation
Interns are paid at least $15/hr based on a 35 to 40-hour work week.
Internship Placements
Students who are selected for an internship will then be matched with a placement organization in the DC area, where they will work under the supervision of an Academy Member. Fein interns will be afforded the opportunity to:
Work with leading experts and officials who are recognized authorities on Medicare, Medicaid, the Children's Health Insurance Program, public and private sector employee health benefits programs, health care financing, and related public and private health programs;
Gain valuable work experience;
Make professional contacts and network in their areas of interest; and
Discuss current policy issues and attend Congressional hearings.
Academy interns work closely with the experts in their Washington offices. Our most recent internship placements have included:
AcademyHealth
ADvancing States (former National Association of States United for Aging and Disabilities)
AFL-CIO
Buffin Foundation
Center for Global Policy Solutions
Century Foundation
Community Catalyst
Congressional Research Service
Kaiser Family Foundation
Long-Term Quality Alliance (LTQA)
Medicaid and Chip Payment and Access Commission (MACPAC)
National Academy of Social Insurance
National Committee to Preserve Social Security and Medicare

(NCPSSM)

National Institute for Retirement Security

SCAN Health Plan

Social Security Advisory Board (SSAB)

U.S. House Committee on Ways and Means

 

U.S. Senate Committee on Health, Education, Labor and Pensions (HELP)

Urban Institute
The National Academy of Social Insurance, as a nonpartisan organization devoted to furthering knowledge and understanding of social insurance programs, is uniquely qualified to provide students with challenging internship opportunities. Academy members, recognized experts in social insurance and health policy, offer the interns access to information and experiences found nowhere else. Academic credit may be arranged through the intern's college or university. International students with valid student visas can be placed with non-governmental organizations, if placement projects match their skills and interests.