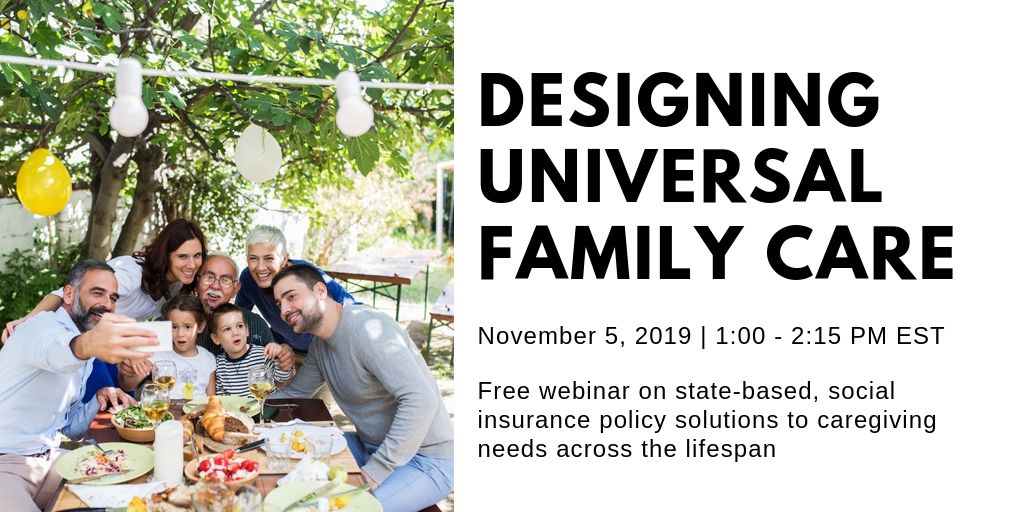 In this free webinar, speakers discussed the policy options identified in the Academy's Designing Universal Family Care report and consider their implications for families, workers, states, and the economy.
Welcoming Remarks: Bill Arnone, CEO, National Academy of Social Insurance
Moderator: Cecilia Conrad, Managing Director, John D. and Catherine T. MacArthur Foundation
Presenters: 
Alexandra L. Bradley, MPH, Lead Policy Analyst, Academy Study Panel on Universal Family Care 
Marc Cohen, Ph.D., Academy Study Panel Co-Chair and Co-Director, LeadingAge LTSS Center @UMass Boston; Research Director, Center for Consumer Engagement in Health Innovation, Community Catalyst
Benjamin W. Veghte, Ph.D., Director of the Academy Study Panel on Universal Family Care and Research Director, Caring Across Generations
Discussants
Ashley Carson Cottingham, Deputy Director, Oregon Office of the Long-Term Care Ombudsman
Indi Dutta-Gupta, Co-Executive Director, Georgetown Center on Poverty & Inequality
Speakers (Speaker list subject to modification.)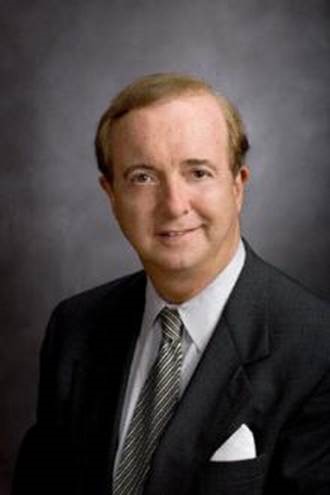 William Arnone
Bill Arnone is Chief Executive Officer at the Academy. As a Partner with Ernst & Young LLP for 15 years up to 2009, he was responsible for the strategic positioning, design, management, marketing, and thought leadership of retirement and financial education and counseling in employer-sponsored programs. Prior to joining Ernst & Young, he was Principal, Benefit Consultant, and National Director of Financial & Retirement Planning Services for Buck Consultants, Inc. (now part of Xerox). He joined Buck in 1981 after serving as Director, Senior Security Services, for the New York City Department for the Aging. He also served as Consultant on Employment of Older Workers for the Florence V. Burden Foundation in New York. He previously was Executive Director of Helping Aged Needing Direction in the Bronx. He also served as a staff associate with the New York City Board of Correction. He is co-author of Ernst & Young's Retirement Planning Guide (John Wiley & Sons, Inc., 2001). He is an Associate Editor of The Columbia Retirement Handbook (Columbia University Press, 1994). He is a Founding Board Member of the Academy and served on the Academy's Board of Directors from 1986 to 1994. He co-chaired the Academy's 2010 conference, "Beyond the Bad Economy." and has served on the Academy's Strategic Planning Committee and chaired its advisory committee for Ford Foundation organizational awards to enable the voices of vulnerable segments of the U.S. population to participate effectively in the debate on the future of Social Security. He received a J.D. from New York University Law School in 1973. He was selected as one of the first Charles H. Revson Fellows on the Future of New York City by the Columbia University School of Business for 1979-1980.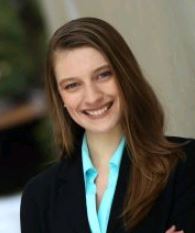 Alexandra Bradley
Alexandra L. Bradley is the Lead Policy Analyst for the Caregiving Study Panel project. For three years, she worked with the National Academy of Social Insurance conducting research and policy analysis on issues related to caregiving and health, including paid family and medical leave, long-term services and supports, Medicaid, and early child care and education. She also has many years of experience providing direct services, and is currently managing the outreach program of a community-based harm reduction organization serving marginalized communities across Washington, DC. Bradley holds a master of public health degree with a concentration in maternal & child health from The George Washington University and bachelor's degrees in psychology and government from Cornell University.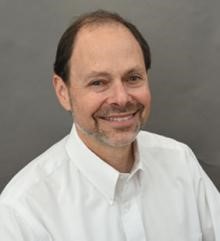 Marc Cohen
Currently a professor at the McCormack Graduate School of Policy and Global Studies at UMass, Boston, Marc A. Cohen was Chief Research and Development Officer at LifePlans, Inc. Over the past few years he has conducted a Congressional Staff briefing on the CLASS Act for the National Health Policy Forum in Washington, D.C and has made numerous presentations to government agencies, insurance industry conferences, and congressional forums. Previously, he was a member of the Governor's Long-Term Care Advisory Committee for the State of Massachusetts, where he provided congressional testimony to the Commerce and Energy Committee on Private Long-Term Care Insurance from 2009-2010. Mr. Cohen has conducted research and analysis on issues regarding the financing and delivery of long-term care services and the development and growth of long-term care insurance. He has published numerous articles in journals such as Health Affairs, the Gerontologist, and Inquiry. Mr. Cohen received his Ph.D. from the Heller School at Brandeis University and his MA from the Kennedy School of Government at Harvard University.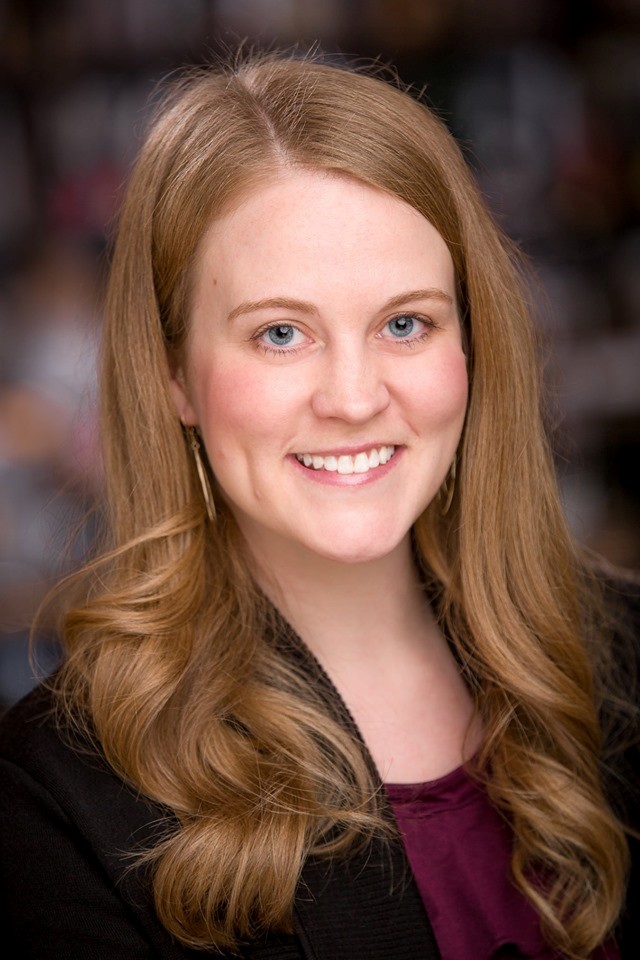 Ashley Carson Cottingham
Ashley Carson Cottingham is a deputy agency director for the state of Oregon's Office of the Long-Term Care Ombudsman, which advocates for individuals living in state-licensed, long-term care facilities including nursing and assisted living facilities, as well as adult foster homes. Carson Cottingham joined the Department of Human Services (DHS) in 2014 as deputy director of the Office of Aging and People with Disabilities. When she was promoted to director in late 2015, she was among the youngest leaders to be named a program director at DHS. Prior to joining DHS, Carson Cottingham worked as the staff director for the U.S. Senate Subcommittee on Primary Health and Aging of the Health, Education, Labor and Pensions Committee. In this role, she worked on Medicare, Medicaid, aging, disability and primary health care issues for the subcommittee chairman, U.S. Senator Bernie Sanders (I-VT). Most notably, her team was tasked with pushing the bi-partisan reauthorization of the Older Americans Act forward. She also worked for the Senate Special Committee on Aging for chairman, U.S Senator Herb Kohl (D-WI), specifically on policies related to preventing elder abuse and strengthening retirement security. She received her bachelor's degree from the University of Oregon and her law degree from the Vermont Law School.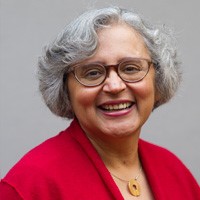 Cecilia Conrad
Cecilia Conrad leads the MacArthur Fellows Program, the MacArthur Awards for Creative and Effective Institutions, and 100&Change, the Foundation's competition for a single $100 million grant to help solve a critical problem of our time. Before joining the foundation in January 2013, she had a distinguished career as both a professor and an administrator at Pomona College, Claremont, CA. She joined the economics faculty at Pomona College in 1995.  She served as Associate Dean of the College (2004-2007), as Vice President for Academic Affairs and Dean of the College (2009-2012), and as Acting President (Fall 2012).  From 2007-2009, she was interim Vice President and Dean of the Faculty at Scripps College. Before joining the faculty at Pomona College, Conrad served on the faculties of Barnard College and Duke University.  She was also an economist at the Federal Trade Commission and a visiting scholar at The Joint Center for Political and Economic Studies. Conrad serves on the Board of Trustees of Muhlenberg College and Bryn Mawr College. She is a past president of the National Economic Association and of the International Association for Feminist Economics. Conrad received her B.A. degree from Wellesley College and her Ph.D. in economics from Stanford University.
Indivar Dutta-Gupta
Indivar Dutta-Gupta is Co-Executive Director at the Georgetown Center on Poverty and Inequality where he leads work to develop and advance ideas for reducing poverty and economic inequality in the U.S., with particular attention to gender and racial equity. Dutta-Gupta is also a member of the Poverty, Employment and Self-Sufficiency Network, funded by the U.S. Department of Health and Human Services, as well as Canada's Ministerial Advisory Committee on Poverty Reduction. Previously, he was Project Director at Freedman Consulting, LLC, leading strategic initiatives for major philanthropies, children's groups, and workers' organizations. Dutta-Gupta served as Senior Policy Advisor at the Center on Budget and Policy Priorities, focusing on budget and tax policies and cross-cutting low-income issues. Earlier, he focused on safety net, tax, and social insurance programs and policies as U.S. House of Representatives Ways and Means Committee Professional Staff. As an Emerson National Hunger Fellow, Dutta-Gupta worked for DC Hunger Solutions and the Center for American Progress. He has been named a First Focus Campaign for Children Champion for Children and was awarded the Congressional Hunger Center Alumni Leadership Award (2016). He was named one of Washington Life magazine's most Influential 40-And-Under Leaders (2013) and Rising Stars 40 and Under (2016). Dutta-Gupta is an honors graduate of the University of Chicago and a Harry S Truman Scholar.



Benjamin Veghte
Benjamin W. Veghte is Research Director at Caring Across Generations. From 2015-18, he led policy work at the National Academy of Social Insurance as Vice President for Policy. There, he launched and serves as Project Director of the study panel, "Designing State-Based Social Insurance Programs for Paid Leave, Affordable Child Care, and Long-Term Services and Supports," chaired by Marc Cohen and Heidi Hartmann. He was formerly Research Director at Social Security Works. He is a member of the Scholars Strategy Network and the National Academy of Social Insurance. His research explores how capitalist democracies can effectively mitigate social inequality, enhance opportunity, and enable individuals and families to balance work and caregiving. Veghte has published on issues related to long-term care, paid family and medical leave, Social Security, retirement security, Medicare, health insurance, social insurance, and housing policy. He holds a Ph.D. in European intellectual history from the University of Chicago and an MPA from the Harvard Kennedy School. He taught comparative social policy and comparative politics as an Assistant Professor of Political Science at the University of Bremen, Germany until 2008, and served as a social policy consultant for the European Union. Since then, Veghte worked as Research Associate at the National Academy of Social Insurance and as Executive Director of the Scholars Strategy Network at Harvard University.
When
November 5th, 2019 from 1:00 PM to 2:15 PM
Contact
| | |
| --- | --- |
| Contact Name | Meghan Griffin |
| Contact Email | mgriffin@nasi.org |