The Academy's 29th Annual Policy Research Conference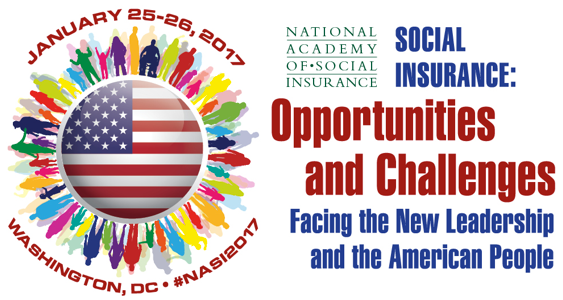 The opening reception of the conference will be held at the Kaiser Permanente Center for Total Health at 700 Second St. NE, Washington, DC 20002 at 5:00pm.
All other sessions will be held at the National Press Club, 529 14th Street, NW, 13th Floor, Washington, DC 20045
Join the National Academy of Social Insurance for its 29th Annual Policy Research Conference, "Social Insurance: Opportunities and Challenges Facing the New Leadership and the American People," on January 25-26, 2017 in Washington, DC.
The conference will center on issues addressed in the Academy's Report to the New Leadership and the American People on Social Insurance and Inequality. It will be the beginning of a year-long initiative to brief the new leadership on the economic security challenges facing the American people and opportunities to address these through social insurance. These opportunities will include both strengthening and/or modernizing existing programs – Social Security and Supplemental Security Income, Medicare and Medicaid, and Unemployment Insurance – and addressing significant risks not currently covered by our social insurance infrastructure – caregiving, long-term care and contingent work.
After an historic election season, the Academy's conference and Report will offer a forum for fact-based, focused discussion of the challenges we need to address.
Panel sessions will explore:
Repeal and Replace? Health Insurance beyond the ACA
Leveraging Medicaid to Foster a Culture of Health
Improving Quality and Cost Control in Medicare: Medicare for All, Premium Support, and Prescription Drug Reform
Reform Social Security in Era of Inequality: Insurance vs. Private Accounts
Caregiving and Social Insurance: Paid Family Leave and Long-Term Services and Supports
As a conference participant, you'll be among 400+ leading experts and stakeholders, including policy analysts and researchers, political scientists, economists, actuaries, students, journalists, Congressional staff, business and industry leaders, labor union representatives, program administrators, advocates, grassroots organization leaders, and more. Your participation will help the Academy underscore the importance of the adequacy and solvency of our social insurance programs for our nation's future.
Since its inception in 1986, the Academy has hosted annual conferences that have offered visionary insights and rigorous inquiry into the functioning of our nation's social insurance programs and how they can continue to meet the changing needs of American families, employees, and employers. Participants leave the conference with valuable takeaways, including the latest research findings in the various fields of social insurance, who's who in the field, and which organizations are most engaged in these issues.
→ View a detailed conference agenda. 
Contacts:
If you are interested in learning more about the Report or conference program, as well as sponsorship opportunities, please contact William Arnone, CEO, at warnone@nasi.org.
If you are leading a current initiative or research project germane to the conference, please contact Benjamin Veghte, Vice President for Policy, at bveghte@nasi.org.
For questions about registrations or group packages, please contact Kristine Quinio, Director of Development and Administration, at kquinio@nasi.org.
When
January 25th, 2017 5:00 PM to January 26th, 2017 5:00 PM
Location
Kaiser Permanente Center for Total Health and the National Press Club
DC
United States
Topics
| | |
| --- | --- |
| Topics | Social Security, Medicare and Health Policy, Long-Term Care, Workers Compensation, Disability, Unemployment Insurance, Workforce Issues and Employee Benefits, International Activities, Poverty and Income Assistance |
Contact
| | |
| --- | --- |
| Contact Name | |
| Contact Email | |