The National Academy of Social Insurance is pleased to announce two recipients of the 2021 Robert M. Ball Award for Outstanding Achievements in Social Insurance: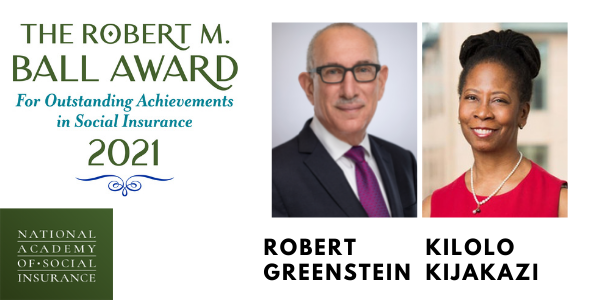 ---
Greenstein has dedicated his life to strengthening social insurance and other programs that enhance economic security. Bob's leadership built the Center on Budget and Policy Priorities (CBPP), which he founded in 1981 and led through 2020, into a major force for helping shape federal and state policy on public programs, from Medicaid to Unemployment Insurance to Social Security and more. Thanks to his leadership and CBPP's impactful work, millions of low-and moderate-income Americans have benefited from evidence-based policymaking. Read his full profile below.
---
Kilolo Kijakazi has been at the forefront of addressing economic and social issues affecting people of color and women, including structural racism and the racial and gender wealth gaps. Earlier this year, Kijakazi became Deputy Commissioner for Retirement and Disability Policy at the Social Security Administration (SSA), bringing her expertise on social insurance and retirement policy to lead the department's policy development and research activities. She has since been named Acting Social Security Commissioner by President Biden. Read her full profile below.
---
"Bob and Kilolo are a natural duo for this year's Ball Award," said William Arnone, Chief Executive Officer of the Academy. "They have worked closely together over the years on key social insurance and related policy issues and have made truly extraordinary contributions to help improve the well-being of millions. Their latest collaboration was their serving so diligently on the Academy's Economic Security Study Panel, whose report will be issued soon. All of us owe them our deep gratitude for their wise insights, and we greatly look forward to honoring them in November."
See a list of previous recipients of the Ball Award.
Download the official 2021 event invitation.
Unable to attend but would still like to support? Please consider making a gift in honor of Kilolo Kijakazi and/or Bob Greenstein to the Academy's Robert M. Ball Fund for Leadership Development. Gifts of any amount are greatly appreciated and are 100% tax-deductible. Receipts will be emailed automatically.
See a list of sponsorship options below or make your contribution today.
Questions? Please contact Devin Cowens, External Relations Manager, at dcowens@nasi.org or at (202) 243-7283.
[TABS_R id=11261]
When
November 9th, 2021 from 5:00 PM to 7:30 PM
Event Fee(s)
| | |
| --- | --- |
| Event Sponsorship | |
| Policy Leader | $10,000.00 |
| Research Patron | $5,000.00 |
| Research Sustainer | $2,500.00 |
| Collaborator | $1,500.00 |
| Friend | $500.00 |
| Regular Registration | $300.00 |
| Online Only | $75.00 |
Contact
| | |
| --- | --- |
| Contact Name | Devin Cowens |
| Contact Email | dcowens@nasi.org |