The 2022 Annual Meeting provided active Members with a better understanding of the Academy's current programs and policy priorities, progress on key goals, and membership participation.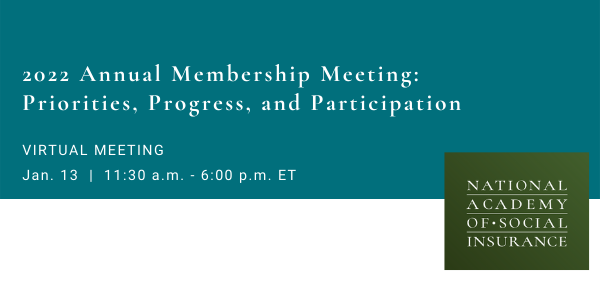 Active Members were invited to join the 2022 Annual Meeting of the National Academy of Social Insurance.
AGENDA OVERVIEW (All times Eastern) 
11:30 am: Opening remarks from the Academy's leadership 
12:00 - 5:00 pm: Program and policy updates, progress on current priorities 
5:15 pm: Virtual happy hour and closing ceremony 
Founded in 1986, the National Academy of Social Insurance studies Social Security, Medicare, Unemployment Insurance, and Workers' Compensation, as well as related issues, including caregiving, long-term care, Medicaid, workforce issues, and poverty issues. As a Member of the Academy, you are among 1,200 of the nation's top experts in social insurance. Thank you for joining the 2022 Annual Meeting as your schedule allows.  
AGENDA
(All times Eastern)
11:30 am: Opening remarks from the Academy's leadership
Meet newly-elected Members of the Academy and hear from colleagues serving in the Biden Administration. Academy leadership will also review how we are renewing our focus on DEI. Speakers:
William Arnone, Chief Executive Officer
Renée Landers, Board Chair and Professor of Law, Suffolk University Law School
Robert Espinoza, Membership Committee Chair and Vice President of Policy, PHI International
Joined by:
Michele Evermore
, Deputy Director of Policy, Office of Unemployment Insurance Modernization, U.S. Department of Labor;
Kathleen Kennedy Townsend
, Secretary's representative on retirement and pension issues, U.S. Department of Labor;
Abigail Zapote
, Senior Advisor, Social Security Administration
12:00 pm: Looking at the bigger picture
–
current policy priorities and goals 
Brief presentations by: (in alphabetical order)
Study Panel on Workers' Compensation: 

Doug Holmes

, President, UWC (Strategic Services on Unemployment & Workers' Compensation)

COVID-19 Task Force: 

Jewel Mullen

, Associate Dean for Health Equity, University of Texas Dell Medical School

Older Workers Retirement Security Task Force: 

Alaine Perry

, Board Member, National Academy of Social Insurance

Economic Security Study Panel and Pathways to Economic Security campaign:

 Rebecca Vallas

, Senior Fellow, The Century Foundation 

 

Moderator: Elaine Weiss, Policy Director
Additional speakers TBA. Presentations will be followed by a 30-minute discussion/Q&A
1:00 pm: The Future of Workers' Compensation – Lessons from COVID-19 and the past 50 years
As Academy Member Michael Duff, Professor of Law at the University of Wyoming recently 
wrote
: 1) Aside from workers' compensation (WC), there is no nationwide short-term disability program in the U.S., and 2) the WC system rigidly resists paying occupational disease claims. WC programs, 
first established in the U.S. in Wisconsin in 1911
, are foundational to the U.S. social insurance infrastructure. Yet, WC is often siloed rather than spotlighted during important income or health care policy debates. Fifty years ago, during the Nixon Administration, a 
national commission on WC condemned the status of current laws
(limited coverages, poverty-level rates) and provided 19 essential recommendations. What happened since? More recently, the opioid crisis has made challenges facing WC programs more prominent. Whether you work on workers' compensation policies, you don't want to miss this timely discussion. 
Speakers:
Les Boden, Professor of Public Health, Boston University
John Burton, Emeritus Professor, Rutgers University School of Management and Labor Relations; and Emeritus Professor, Cornell University School of Industrial and Labor Relations
Griffin Murphy, Policy Analyst
Jay Patel, Policy Analyst
Elaine Weiss, Policy Director
Jennifer Wolf-Horejsh, President and CEO-elect, Minnesota Workers' Compensation Insurers Association, Inc. (MWCIA)
Other s
peakers TBA soon.
2:00-2:45 pm: 

Break

 

 
2:45 pm: Idea to Impact: What does it take to move the needle on key issues?
How can Members help the Academy take a unique perspective on policy exploration and the development? In this session, two Members who are partnering with the Academy on big questions/challenges – supporting older workers facing involuntary and insecure retirements, and aligning employer and employee perspectives to enable meaningful Unemployment Insurance reform – will share how we move from identifying problems to producing potential solutions.   
With: Calvin Colbert, Senior VP, Challenger, Gray & Christmas, and Joel Eskovitz, Director of Social Security and Savings, AARP Public Policy Institute; Moderator: Kristine Quinio, Director of Development and External Relations
3:30 pm: Find your initiative
This session will allow Members to join breakout rooms based on areas of interest and learn about ways to get involved in a current Academy initiative.
With: Barbara Bovbjerg, GAO (retired); Alexandra Bradley, Consultant, Health and Caregiving Policy; and Outreach and Community Education Manager, HIPS; Rebecca Dixon, Executive Director, National Employment Law Project; Jason Fichtner, Vice President and Chief Economist, Bipartisan Policy Center; Maya Rockeymoore Cummings, President, CEO, and Founder, Global Policy Solutions, Louise Sheiner, Policy Director, Hutchings Center on Fiscal and Monetary Policy, Brookings Institution, Benjamin Veghte, Director, Washington Cares Fund 
Additional breakout room leaders TBA
4:15 pm: Keynote: The 9/11 Victims Compensation Fund (VCF) and Lessons for COVID-19
How might lessons learned from the VCF apply to COVID-19? Ken Feinberg, Special Master of the September 11th Victims Compensation Fund (VCF), will be interviewed by Academy CEO Bill Arnone. Ken's work in the aftermath of 9/11 was recently depicted in the Netflix film Worth. (Watch a trailer for Worth, released in August 2021.) Ken Feinberg was elected to the Academy in 2006.
5:00 pm: Virtual happy hour and closing ceremony
When
January 13th, 2022 from 11:30 AM to 6:00 PM
Contact
| | |
| --- | --- |
| Contact Name | Elaine Weiss |
| Contact Email | eweiss@nasi.org |