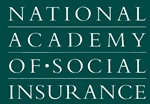 Currently Seeking:
Finance Assistant (Part-time)
The National Academy of Social Insurance is seeking a skilled and motivated individual to serve as its Finance Assistant. The Academy is a nonprofit, nonpartisan public policy organization made up of the nation's leading experts on social insurance. Its mission is to advance solutions to challenges facing the nation by increasing public understanding of how social insurance contributes to economic security. Social insurance encompasses broad systems that help workers and their families pool risks to avoid loss of income due to retirement, death, disability, or unemployment, and to ensure access to health care.
The Finance Assistant plays a key role in the careful stewardship of the Academy's financial records, grants and contracts management, and other routine financial procedures to support the smooth running of the organization's operations and programs. S/he will work closely with a financial management team, involving the CEO, Director of Development, and outsourced accounting personnel, to closely track expenditures and revenues. S/he will provide support across a range of internal accounting functions and financial reporting requirements (including accounts payables, accounts receivables, general ledger entries, reporting and analysis, filing and other tasks). The Finance Assistant will also coordinate with program staff to ensure proper and timely billing/payments to outside parties.
JOB TITLE: Finance Assistant
REPORTS TO: CEO, Director of Development
Primary Responsibilities:
• Monthly account reconciliations (Reconcile activities from all major bank and credit card accounts, payroll, etc.)
• Assist with other monthly, quarterly, and annual financial closing procedures
• Input vendor (A/P) and customer (A/R) contact information and invoices into accounting software (QuickBooks)
• Accounts Payable (A/P) – process vendor invoices and properly code into accounting system (QuickBooks)
• Accounts Receivable (A/R) – prepare invoices and tracking of received/open receivables
• File management (paper and/or electronic) of vendor payments, bank statements, etc.
• Assist with other accounting system procedures
• Other related administrative duties, as assigned
Our Ideal Candidate:
• 2+ years of accounting/administrative experience; preferably for a nonprofit organization
• Bachelor's degree in accounting, finance, or business (or equivalent coursework) preferred
• Proficiency in QuickBooks
• Adeptness in Excel strongly preferred
• Highly organized, with very careful attention to detail
• Ability to work independently and prioritize assignments
COMPENSATION & SCHEDULE: $20-$25 per hour, commensurate with experience. 16-20 hours per week. Schedule flexibility available.
TO APPLY: Please send your resume to Kristine Quinio, Director of Development, at kquinio@nasi.org with "Finance Assistant" in the subject line. No phone calls please.
Application deadline: Tuesday, July 31, 2018