For Immediate Release | October 21, 2011
Contact:
Jill Braunstein at (202) 452-8097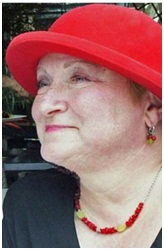 WASHINGTON, D.C.—NASI Board member Susan M. Daniels, 62, died Thursday, October 20 in Washington, DC. She chaired NASI's membership committee and was a life-long champion of efforts to improve the lives of all Americans, particularly those with disabilities.
"We are so fortunate to have had Susan's friendship, intellect, wit and warmth in our NASI community," said Virginia P. Reno, Vice President for Income Security. "She set a high bar for humanitarianism. Her joy in living and her commitment to making the world a better place were contagious."
Daniels joined the Clinton administration in 1994 where she spearheaded Social Security disability reform initiatives that resulted in passage of The Ticket To Work And Work Incentive Improvement Act of 1999 – a law based on the blueprint of benefit and health coverage improvements recommended by NASI's Disability Policy Panel. Daniels led the Administration on Developmental Disabilities in the U.S. Department of Health and Human Services and served on the President's Committee on Employment of Persons with Disabilities. She served on the Advisory Board of The Journal on Disability Income and Work Injury Compensation of the Social Insurance Research Network (SIRN) and was a co-chair of NASI's 18th annual conference, Older and Out of Work: Jobs and Social Insurance for a Changing Economy.
As a principal of Daniels and Associates, she consulted and advocated for innovations to help Social Security and SSI beneficiaries understand their work options and to increase the effectiveness of Ticket to Work employment networks across the country.
According to Barbra Butz, Daniels' business partner, "She left life on her own terms, stopped aggressive treatment, had an iced tea that she had been craving for days, and chose to leave us for the next 'stage.'" Our warmest sympathy goes out to her husband, John Watson, the rest of her family, and large network of friends and colleagues.
Click here to view a clip of Daniels speaking with usual wit and charisma at NASI's 2009 summer intern academy on Social Security.
The National Academy of Social Insurance is a nonprofit, nonpartisan organization made up of the nation's leading experts on social insurance. Its mission is to promote understanding of how social insurance contributes to economic security and a vibrant economy.