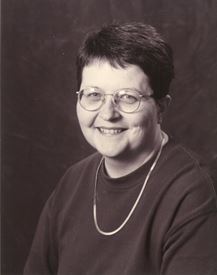 Eileen P. Sweeney was born in Evanston, Ill., the eldest of 10 children, which may have helped shape her future as a protector, organizer, and leader. She received a B.A. in sociology from Northwestern University and a J.D. from Northwestern University School of Law. Her subsequent career as a lawyer and advocate focused on improving the lives of people with disabilities, children, battered women, the poor, and the elderly. She assembled coalitions and coordinated litigation to help ensure the social safety net would be there for America's most vulnerable populations.
Just months before she died in 2006, Ms. Sweeney testified before the Senate Finance Committee on challenges facing the Social Security Administration. Representing a coalition of more than 100 national organizations, she urged Congress to ensure that the Social Security Administration (SSA) receive adequate funds to maintain and improve its work. She spoke with the authority one has after decades of experience.
Ms. Sweeney was a Senior Fellow at the Center on Budget and Policy Priorities (CBPP), where she directed the State Low-Income Initiatives Project. Her focus there was on Temporary Assistance for Needy Families (TANF), Social Security, and Supplemental Security Income (SSI) programs. Before joining the Center, she had been director of government affairs at the Children's Defense Fund for six years. She was a legal services lawyer at the National Senior Citizens Law Center (NSCLC) for 11 years, and worked at the Legal Assistance Foundation of Chicago for three years.
Writing and Speaking
During her long career, Ms. Sweeney wrote many articles and briefs, including:
Her research and writing are also cited in many books which address some of the more pressing issues in improving the social safety net, such as Living on the Edge in Suburbia: From Welfare to Workfare, Understanding American Government, The Rights of Women: The Authoritative ACLU Guide to Women's Rights, and Child Poverty in America Today.
Ms. Sweeney's expertise in the field was put to productive use through ongoing participation in conferences and committees. Organizations that were fortunate enough to have her participate included:
National Academy of Science committee that analyzed Social Security payment policies.
Consortium for Citizens with Disabilities, a national coalition (co-chair of Social Security Task Force).
University of Illinois's Disability Research Institute panel advising the SSA on software design to assist SSI disability beneficiaries interested in returning to work.
Committee on Income Security within the Administrative Law and Regulatory Practice Section of the American Bar Association (vice-chair).
Executive Committee of the Save Our Security Coalition.
Recognition and Awards
Ms. Sweeney received recognition for her work through various awards and prestigious appointments. She was asked by the Commissioner of Social Security to serve on the SSI Modernization Panel in the early 1990s. She played a key role in achieving the disability benefit reforms of 1983 and 1984, and in 1985 received the Reginald Heber Smith Award from the National Aid and Defender Association for her work on behalf of low-income people. Ms. Sweeney received the Commissioner's Citation from the Social Security commissioner in 2004.
Contributions to the National Academy of Social Insurance
Ms. Sweeney became a member of the National Academy of Social Insurance in 1990. Soon after, she joined an Academy policy panel that studied disability and work. She co-chaired the Academy's second conference on childhood disability and SSI in 2000.
Her dedication to just treatment for those who cannot fend for themselves inspired all those who worked with her or who benefitted from her work. As a tribute to her enduring legacy, the National Academy of Social Insurance, in partnership with the Children's Defense Fund and the Center on Budget and Policy Priorities, established the Eileen Sweeney Graduate Internship in Disability Policy.