Honoring Robert Greenstein & Kilolo Kijakazi
On November 9th, the Academy presented Bob Greenstein, founder of the Center on Budget and Policy Priorities, and Kilolo Kijakazi, Acting Commissioner of the Social Security Administration, with the 2021 Robert M. Ball Award for Outstanding Achievements in Social Insurance. Over two hundred guests participated in the hybrid event, joining via Zoom, or attending the reception held at The REACH at the Kennedy Center (and providing proof of full vaccination).  
2021 Honorees
Robert "Bob" Greenstein
Greenstein has dedicated his life to strengthening social insurance and other programs that enhance economic security. Bob's leadership built the Center on Budget and Policy Priorities (CBPP), which he founded in 1981 and led through 2020, into a major force for helping shape federal and state policy on public programs, from Medicaid to Unemployment Insurance to Social Security and more. Thanks to his leadership and CBPP's impactful work, millions of low-and moderate-income Americans have benefited from evidence-based policymaking.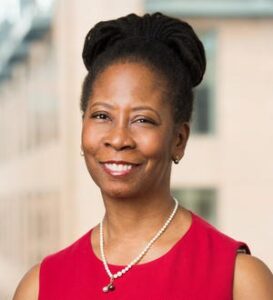 Kijakazi has been at the forefront of addressing economic and social issues affecting people of color and women, including structural racism and the racial and gender wealth gaps. Earlier this year, Kijakazi became Deputy Commissioner for Retirement and Disability Policy at the Social Security Administration (SSA), bringing her expertise on social insurance and retirement policy to lead the department's policy development and research activities. She has since been named Acting Social Security Commissioner by President Biden.
Reflections on the Honorees
Maya Rockeymoore Cummings