June 27, 2018
Join the Academy to honor Nancy Altman and Stuart Altman for their outstanding achievements in social insurance.
​​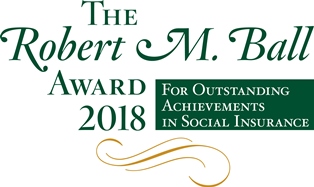 ​
Nancy Altman and Stuart Altman were each honored by the National Academy of Social Insurance in Washington, DC, on Wednesday, June 27, 2018, with the 2018 Robert M. Ball Award for Outstanding Achievement in Social Insurance for their distinct accomplishments and extraordinary record of public service, scholarship, and leadership.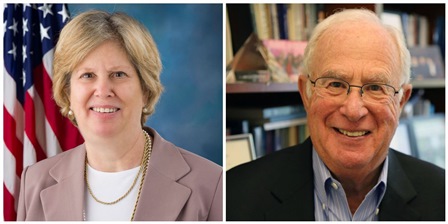 ​
Nancy Altman and Stuart Altman
Nancy J. Altman has a forty-year background in the areas of Social Security and private pensions and is widely recognized for her advocacy and deep commitment to social insurance. She is president of Social Security Works and chair of the Strengthen Social Security coalition. Ms. Altman was appointed to the Social Security Advisory Board by Democratic House Leader Nancy Pelosi for a six-year term, starting October 1, 2017. A Founding Board Member of the Academy, she recently completed two terms on the Academy's Board of Directors.
Professor Stuart Altman is an economist distinguished for his numerous contributions to federal and state health policy over the past five decades. He is the Sol C. Chaikin Professor of National Health Policy at The Heller School for Social Policy and Management at Brandeis University. A Founding Member of the Academy, Professor Altman has influenced countless other experts shaping today's health care landscape. He has demonstrated leadership in health care policy as a government official and through service on government advisory boards, as well as other non-governmental policy and research groups.
2018 Robert M. Ball Award Selection Committee
Robert Berenson (Chair), Institute Fellow, Urban Institute
Harry Conaway
Cecilia Conrad, Managing Director, MacArthur Foundation
Alexander Hertel-Fernandez, Assistant Professor, Columbia University
Chris Howard, Pamela C. Harriman Professor of Government and Public Policy, College of William and Mary
Shaun O'Brien, Assistant Director for Health and Retirement, AFL-CIO
Maya Rockeymoore, President & CEO, Global Policy Solutions
David Stapleton, Senior Fellow, Mathematica
Andrew Stettner, Senior Fellow, Century Foundation
Previous Recipients of the Robert M. Ball Award
William Spriggs (2016), Chief Economist to the AFL-CIO and Professor of Economics, Howard University
Karen Davis (2015), Eugene and Mildred Lipitz Professor, Department of Health Policy and Management and Director of the Roger C. Lipitz Center for Integrated Health Care, Bloomberg School of Public Health, Johns Hopkins University
Marilyn Moon, (2014), Institute Fellow and Director, Center on Aging, American Institutes for Research (AIR)
Alice M. Rivlin (2013), Senior Fellow and Director, Engelberg Center for Health Care Reform, Brookings Institution
Robert D. Reischauer (2012), President Emeritus, Urban Institute
John C. Rother (2010), Executive Vice President of Policy and Strategy, AARP
Alicia H. Munnell (2009), Director, Center for Retirement Research, Boston College
Peter A. Diamond (2008), Institute Professor Emeritus, Massachusetts Institute of Technology (MIT)
Henry Aaron (2007), Senior Fellow, Brookings Institution
Monroe Berkowitz (2006), Professor of Economics, Rutgers University (1919-2009)
Bruce C. Vladeck (2005), Senior Advisor, Greater New York Hospital Association
Stephen C. Goss (2004), Chief Actuary, Social Security Administration