Opening Reception (January 29, 2018)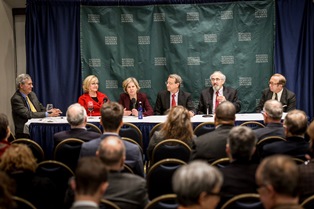 (Pictured Left to Right: Steve Goss, Suzanne Blouin, Nancy Altman, Larry Atkins, Eric Kingson, and Bill Arnone)
The Conference opened on Monday evening with a roundtable discussion on the National Commission on Social Security Reform (The Greenspan Commission). Academy CEO Bill Arnone moderated the discussion featuring panelists Nancy Altman (aide to Chairman Alan Greenspan), Larry Atkins (aide to Senator John Heinz, Commission Member), Suzanne Blouin (aide to Robert Myers, Commission Staff Director), Steve Goss (Social Security Administration liaison to the Commission), Eric Kingson (Commission Staff), and Bruce Schobel (aide to Robert Myers). Each shared their own perspectives on the Social Security Amendments passed in 1983 and whether or not the commission should be recreated in modern times. Although most discussion panelists thought a new commission was not necessary, they stressed the importance of more focus on the future of Social Security funding and the creation of policy for workers in alternative – or nonstandard – employment arrangements.
(Pictured Above: Jason Barabas, Professor of Politics at Stony Brook University, presents Daniel Sebastian Tello-Trillo with the 2018 John Heinz Dissertation Award)
The 2018 John Heinz Dissertation award winner Daniel Sebastian Tello-Trillo, Assistant Professor of Public Policy and Economics at the University of Virginia, was also honored at the Opening Reception. Tello-Trillo's award-winning dissertation, "Essays on Health Economics and Health Behaviors," was previously submitted to the Graduate School of Vanderbilt University for his doctorate in Economics. Tello-Trillo joins a distinguished group of over 40 scholars who have been recognized with the Heinz Dissertation Award for their research on social insurance since 1993. Read the full press release announcement about the 2018 John Heinz Dissertation Award.
Main Program Day (January 30, 2018)
On Tuesday, the main conference day commenced with an Opening Keynote from David Weil on how businesses have helped to shape the changing nature of the workplace from traditional employment to more nonstandard working arrangements.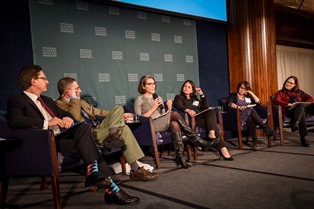 Speakers working in government, activism, business, and think tanks all participated in panels highlighting the risks associated with nonstandard employment arrangements. They discussed a host of improvements to Workers' Compensation, Unemployment, and Social Security which could better meet the needs of these workers, especially for paid leave and caregiving.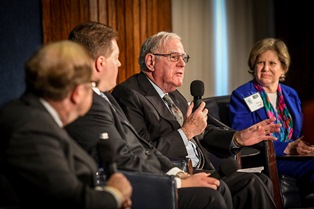 Founding Academy Member Henry Aaron gave the Luncheon Keynote address on Social Security proposing that funding for the social insurance program should be a policymaking priority. Henry Aaron's address was followed by a discussion on his proposal between Academy Members Nancy Altman and Jason Fichtner moderated by Academy CEO Bill Arnone.