June 23, 2015
This event is held in conjunction with the release of "Medicare and Medicaid at 50: America's Entitlement Programs in the Age of Affordable Care," edited by Alan B. Cohen, David C. Colby, Keith A. Wailoo, and Julian E. Zelizer

For fifty years, Medicare and Medicaid have stood at the center of a contentious debate surrounding American government, citizenship, and health care entitlement. From their origins in the Great Society era to the current battles over the Affordable Care Act – how have these programs evolved and what impact have they had on American society?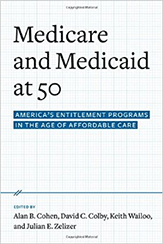 This event to commemorate the 50th anniversary of Medicare and Medicare was held in conjunction with the release of Medicare and Medicaid at 50: America's Entitlement Programs in the Age of Affordable Care, edited by Alan B. Cohen, David C. Colby, Keith A. Wailoo, and Julian E. Zelizer. (Oxford University Press, June 23, 2015). This new volume of highly accessible essays examines Medicare and Medicaid from their origins as programs for the elderly and poor to their later role as a safety net for the middle class. Along the way, they have served as touchstones for heated debates about economics, social welfare, and the role of government.
​
Program and Speakers
The Era of Big Government: Why it Never Ended
Keith Wailoo, Townsend Martin Professor of History and Public Affairs and Vice Dean, Woodrow Wilson School of Public and International Affairs, Princeton University (Moderator and Co-Editor)
The Road Not Taken: What Happened to Medicare for All?
Jonathan Oberlander, Professor & Vice Chair, Social Medicine and Professor, Health Policy & Management, University of North Carolina School of Medicine & Theodore Marmor, Professor of Public Policy, Management, and Law, Yale University
The Transformation of Medicaid From Poor Law Legacy to Middle-Class Entitlement?
Jill Quadagno, Professor of Sociology and Mildred and Claude Pepper Eminent Scholar's Chair in Social Gerontology, Pepper Institute on Aging and Public Policy, Florida State University
How the Courts Created the Medicaid Entitlement
Sara Rosenbaum, Harold and Jane Hirsh Professor of Health Law and Policy and Chair of the Department of Health Policy at the George Washington University School of Public Health and Health Services
Medicare Innovations in the War Over the Key to the U.S. Treasury
Uwe Reinhardt, James Madison Professor of Political Economy, Princeton University
The Missing Piece: Medicare, Medicaid, and Long-Term Care
Judy Feder, Professor, McCourt School of Public Policy, Georgetown University
Medicare in American Political History: The Rise and Fall of Social Insurance
James Morone, Professor of Politics, Brown University (invited)
This event is led by the Robert Wood Johnson Foundation Investigator Awards in Health Policy Research & Princeton University.
---
Throughout 2015, the National Academy of Social Insurance is commemorating the 50th anniversary of Medicare and Medicaid with a series of special activities, including this symposium. Working with a variety of partners, the Academy is committed to providing the public and the policy community with a platform for educational dialogue around the history and future of these two vital programs. Learn more about the Academy's celebration of the 50th anniversary of Medicare and Medicaid, and stay tuned for additional events.
The Academy's Medicare and Medicaid at 50 and Beyond Celebration Program is made possible thanks to support from
and the Robert Wood Johnson Foundation President's Grant Fund of the Princeton Area Community Foundation.