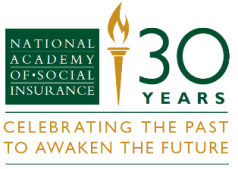 Policy Leaders
—By Gloria Kim, Interim Director of Member Relations
We all know Henry's a quick-witted fellow
(MacLaury & Guggenheim thought he excelled) – oh!
he can cut to the chase on policy matters:
"Without sound financing, all stability shatters."
Nancy's a warm-hearted expert on pensions.
For Greenspan & senators she's eased the dissensions
about Social Security's past-present-future.
What a go-get-'em pro and pension rights booster.
Internationally known writer and teacher, our Merton–
the arbiter-of-choice with great skills, it is certain.
Whoever thought that a guy from the Bronx
would talk on TV with policy wonks?
Now Eric knows Social Security works;
says interdependence has so many perks.
Thru the work of his hands he reveals something new–
academicians can be practical too.
Listen up, kiddos – it's Ted Marmor's turn.
Up there at Yale all his students have learned
everything about health care, from bottom to top.
He made the Academy take it on – the man doesn't stop.www.nasi.org | 11
Alicia knows all about systems of money–
to work at the Treasury's no joke. Ain't it funny
she's into art/science/medicine/Wheeling-Pittsburgh Steel–
but we all know her dedication to economics is real.
A man of the world is our much-traveled Larry–
SSA, the World Bank – his work places vary.
But what tickles him most is this little bit:
at GAO he got a plaque for his tact and his wit.
Alas Howard Young is a youngster no longer,
but his actuarial & labor work cannot have been stronger.
Presidential Advisor, methodology prof–
his great contributions have been more than enough.
One final word more – Bill can't be ignored
because we all know he was on the first Board.
A thinker about Social Security and retirement plans,
to staff he's a dyed-in-the-wool Dodger's fan.