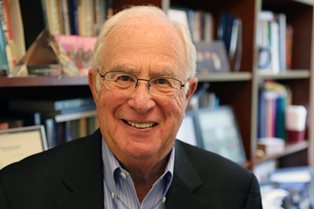 Professor Stuart Altman received the 2018 Robert M. Ball Award for Outstanding Achievements in Social Insurance on Wednesday, June 27, 2018. Professor Altman is an economist distinguished for his numerous contributions to federal and state health policy over the past five decades. He is the Sol C. Chaikin Professor of National Health Policy at The Heller School for Social Policy and Management at Brandeis University.
"For almost half a century, Stuart Altman has worked to improve American health policy," said Murray Ross, fellow Academy Member, Vice President at Kaiser Foundation Health Plan, Inc. and Director of the Kaiser Permanente Institute for Health Policy. "He has done so from multiple vantage points: within government at HHS (then HEW), as an adviser to the Congress, more than a few Senators, and the State of Massachusetts, and as a teacher of future leaders. I feel blessed to have had the chance to work for over a decade with one of the health policy pantheons."
Professor Altman has demonstrated leadership in health care as a government official and through service on government advisory boards, as well as other non-governmental policy and research groups. In November 2012, Governor Deval Patrick appointed Professor Altman to chair Massachusetts' Health Policy Commission. Between 1971 and 1976, Professor Altman was Deputy Assistant Secretary for Planning and Evaluation/Health at the United States Department of Health, Education, and Welfare (HEW). While serving in that position, he was one of the principal contributors to the development and advancement of the Administration's National Health Insurance proposal. Professor Altman also served in the Johnson Administration in the Defense Department (1964–66).
For twelve years, Professor Altman served as Chairman of the congressionally legislated Prospective Payment Assessment Commission. ProPac, one of the two predecessor Commissions to the current Medicare Payment Advisory Commission (MedPAC), was responsible for advising the U.S. Congress and the Administration on the initial adoption and implementation of the Medicare Inpatient Payment System, relying on Diagnosis Related Groups (DRGs). Professor Altman also served on the Clinton Administration Transition Team and on the National Bipartisan Commission on the Future of Medicare during the Clinton Administration (1997-1999). He was also influential in the formation and initial development of the National Association of Health Services Research, currently AcademyHealth.
Professor Stuart Altman has influenced countless other experts shaping today's health care landscape. In addition to teaching at Brandeis, Professor Altman has taught at Brown University and at the Graduate School of Public Policy at the University of California at Berkeley. He served as Dean of the Heller School from 1977 to 1993 and from 2005 to 2008. He also served as interim President of Brandeis University from 1990 to 1991. He was Chairman of the nonpartisan Council on Health Care Economics and Policy, a Robert Wood Johnson Foundation-sponsored organization. With the late Uwe Reinhardt, Professor Altman has been running the annual Princeton Conference, a convening of major health policy thinkers and policy makers, now in its 25th year.
"Few individuals can match Stuart's lifelong contributions to the development of health care policy in the U.S.," said William Arnone, Chief Executive Officer of the National Academy of Social Insurance. "Beginning with his role as Deputy Assistant Secretary for Planning and Evaluation/Health in the Nixon Administration in the 1970s, he continues to be a forceful voice for effective reforms."
Professor Altman has been recognized as a leader in the health care field by Health Affairs and by Modern Healthcare, which has named him among the 30 most influential people in health policy over the previous 30 years, and one of the top 100 most powerful people in health care. He has served on the Board of Directors of several for-profit and not-for-profit companies, and he is a member of The Institute of Medicine and chairs the Health Industry Forum at Brandeis University. He is the author of numerous journal articles and books, including Policies for an Aging Society. His most recent book, with David Shactman, is Power, Politics and Universal Health Care: The Inside Story of a Century-Long Battle (2011).
A founding member of the National Academy of Social Insurance, Professor Altman received his Ph.D. in economics from the University of California–Los Angeles.