For Immediate Release | March 18, 2016
Contact:
Jill Braunstein at (202) 452-8097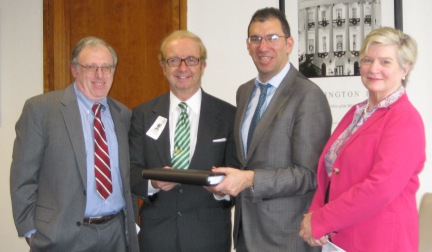 PHOTO (L-R) Edward Berkowitz (Professor of History, George Washington University), William Arnone (Chair, Board of Directors, National Academy of Social Insurance), Acting Administrator Andy Slavitt (Centers for Medicare and Medicaid), and Barbara Manard (Senior Fellow, National Academy of Social Insurance). 
WASHINGTON, D.C. – The National Academy of Social Insurance presented Andy Slavitt, Acting Administrator at the Centers for Medicare and Medicaid (CMS), a collection of 23 new nterviews with former administrators or acting administrators of the agency to add to its existing historical archive yesterday.
"We are pleased to be able to make this gift to CMS and the American public," said William Arnone, Chair of the Academy's Board of Directors. Arnone presented the materials to Slavitt, along with Professor Edward Berkowitz of the Department of History at George Washington University, who conducted the interviews and Barbara Manard, a Senior Fellow at the Academy, who organized the overall project. "This new set of interviews, which includes the time period of the passage and enactment of the Affordable Care Act, broaden our nation's fundamental understanding of Medicare and Medicaid by expanding the current archives to include the rich experience of recent CMS and HCFA leaders."
Produced as part of the Academy's celebration of the 50th anniversary of Medicare and Medicaid, the 23 new interviews bring the historical record up-to-date from an existing set gathered at the 30th anniversary of the programs. The new collection includes interviews with the four former administrators who have served since 2001, re-interviews of living administrators who served prior to 2001, and first-time interviews with 12 of the acting administrators. (See the full list of interviewees.)
"As you read through these transcripts, you can see how many of these leaders have been collaborating for years, whether Republican or Democrat, and before and after they served as head of CMS," said Arnone. "The stories present a unique account of how things got done in Washington. There are fascinating reflections on how American healthcare, and the overall political landscape, has evolved."
The Academy's Medicare and Medicaid at 50 celebration program was made possible with support from Anthem, Inc. and the Robert Wood Johnson Foundation President's Grant Fund of the Princeton Area Community Foundation.
The National Academy of Social Insurance is a non-profit, nonpartisan organization made up of the nation's leading experts on social insurance. Its mission is to advance solutions to challenges facing the nation by increasing public understanding of how social insurance contributes to economic security.