Anne Ramsey Somers was an author, professor, and health care expert with over five decades of experience in the field. During her extensive career, she focused on long-term care, consumer health education, financing of Medicare, and geriatrics. She was an active Member of the National Academy of Social Insurance until her death in 2008 at the age of 95.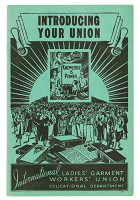 Ms. Somers studied economics at the University of North Carolina and shortly thereafter began working for the International Ladies Garment Workers' Union. The ILGWU was once one of the largest labor unions in the United States, and one of the first to have a primarily female membership. Ms. Somers worked there from 1936-1943 as director of its education department, which offered courses in union leadership skills, citizenship and the English language, law, and pattern-making.
Her work with the union led to a position at the U.S. Department of Labor, where she worked as a labor economist from 1943-1946. The first of many publications she would write was co-authored with her husband, Herman "Red" Somers, who was also an expert on health policy. Their book, Workman's Compensation: Prevention, Insurance and Rehabilitation of Occupational Disability, was published in 1954. Another book of theirs, Doctors, Patients and Health Care Insurance: The Organization and Financing of Medical Care, won the Elizur Wright Award in 1962.
Her work as an economist included: contributions to the creation of the Medicare Bill (working with the team headed by Wilbur Cohen) in 1965; advising Health and Human Services (HHS) on Medicare reimbursement as part of the Health Insurance Advisory Council; heading a task force on health promotion for the National Conference on Preventive Medicine.
She became an adjunct professor of medicine in the Geriatric Division of the University of Pennsylvania, and was adjunct professor at the University of Medicine and Dentistry of New Jersey and the Robert Wood Johnson Medical School. While there, she developed curricula and programs on long-term care and authored numerous articles published in the New England Journal of Medicine. Her book, The Continuing Care Retirement Community: A Significant Option for Long-Term Care? was published in 1992. Many of her papers are archived at Yale University and at the University of Pennsylvania.
Recognition and Awards
Her many awards provide evidence of the ground-breaking achievements that made a difference in countless lives. Honors she received during her career include:
Nomination to Health Care Hall of Fame by Modern Healthcare journal (1992).
Zubrow Award for Humanism in Medicine, Pennsylvania Hospital (1994).
First Charles H. Mann MD award for "exemplary dedication to care giving and contributions to our understanding of those in need" by the National Council on Aging (1996).
Distinguished Career Award from the American Public Health Association, Public Health Education section (1978).
Annual Achievement Award (shared with Herman "Red" Somers) from New Jersey Hospital Association (1981).
Annual Citizens Award from the Academy of Medicine of New Jersey (1983).
The National Academy of Social Insurance honors her memory with the Somers Aging and Long-Term Care Research Internship, which was established by Ms. Somers before she passed away, and which continues to be funded each year by her daughters, Margaret (Peggy) and Sarah (Sally) Somers.