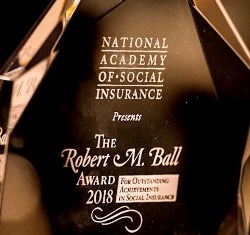 This year's Robert M. Ball Award gala was truly memorable. The Academy honored two extraordinary contributors to social insurance policy – Nancy Altman in the area of Social Security and Stuart Altman in the area of health care.
The evening began with Academy Vice Chair Renee Landers welcoming the over two hundred attendees on behalf of Board Chair Bill Rodgers. Each 2018 Ball Award recipient was then honored by a stellar array of speakers.
Sen. Bernie Sanders, Assistant Treasury Secretary and Acting Internal Revenue Service Commissioner David Kautter, Academy Founding Board Member Eric Kingson, and Bob Ball's son, Jonathan Ball, all paid tribute to Nancy Altman's contributions. Former Academy Vice President Virginia Reno read remarks from Bob Ball's former close associate and Academy Senior Fellow, Tom Bethell.
Video Tributes to Nancy Altman
A video tribute of Stuart Altman from former President Bill Clinton was introduced by Chris Jennings, President of Jennings Policy Strategies. Bill Clinton is a tough act to follow, but Karen Ignagni, CEO of EmblemHealth, held her own with a humorous tribute to Stuart's role as an educator. Chip Kahn, CEO of the Federation of American Hospitals, and Karen Feinstein, President and CEO of the Jewish Healthcare Foundation, added their reflections on Stuart's impact on the U.S. healthcare system.
Video Tributes to Stuart Altman
Following the Award presentation, each Altman delivered a stirring acceptance speech. Nancy issued a clarion call in support of the vital importance of Social Security and reminded us of the essential roles that civil servants, like Bob Ball, continue to play in our country. Stuart offered his wise and witty perspective on the development of health care policy over the last forty years, ending with a challenge to the Academy to bring together all points of view in a search for workable solutions to the continuing problems of coverage, quality, and cost.
Watch the acceptance speeches by Nancy Altman and Stuart Altman.
As an added bonus, all who attended received copies of Stuart's book on Power, Politics, and Universal Health Care and Nancy's brand-new book, The Truth About Social Security, which both graciously agreed to sign.
Five prior recipients of the Ball Award participated in the evening's festivities — Steve Goss (2004), Marilyn Moon (2014), Alicia Munnell (2009), John Rother (2010), and Bob Reischauer (2012). Remarks praising both Stuart and Nancy were read from a sixth – Henry Aaron (2007). Although they were not able to attend, two previous Ball Award recipients also participated as event sponsors – Alice Rivlin (2013) and Bruce Vladeck (2005).
Among those attending were: the Academy's first Chief Executive Officer, Pam Larson; Academy Board of Directors Members Larry Atkins, Bob Berenson (who chaired this year's Ball Award Selection Committee), Indi Dutta-Gupta, Jason Fichtner, Howard Fluhr, Douglas Holtz-Eakin, Kilolo Kijakazi, Shaun O'Brien, and Earl Pomeroy; and recent former Board Members Judy Feder, Bill Hoagland, and Larry Thompson.
Financially, the 2018 Ball Award was by far the most successful fundraiser in the Academy's history thanks to the dedication of a top-notch Event Committee, diligently supported by the Academy's Director of Development, Kristine Quinio. Proceeds from the event support investments across three core areas of our mission – policy research, educational outreach programs, and leadership development. We are grateful for the generosity of this year's diverse group of sponsors.
As I had the privilege of emceeing the evening's festivities, the event captured what makes our Academy unique from my perspective. We bring together, in a collegial atmosphere, thought leaders across the political spectrum to celebrate the rich heritage and objectively examine the critical future of social insurance in our nation.
On behalf of the Academy's Board of Directors and staff, we thank all of you who helped make this year's gala a tremendous success.
–Bill Arnone, Chief Executive Officer
warnone@nasi.org
---