June 21, 2016
Honoring the 2016 Award Recipient, William Spriggs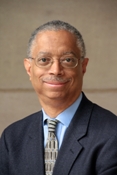 The National Academy of Social Insurance has chosen William Spriggs, Chief Economist to the AFL-CIO and Professor of Economics at Howard University, as the 2016 winner of the Robert M. Ball Award for Outstanding Achievements in Social Insurance.
Join the Academy in Washington, DC, on Tuesday, June 21, 2016, for a dinner banquet to honor Spriggs' extraordinary record of public service and effectiveness in maximizing equity, fairness, and inclusion through social insurance.
Members of the Academy recognize that social insurance plays an important role in a fair and just society that supports a strong democracy and a vibrant economy. This award ceremony was attended by hundreds of policy, research, advocacy, and business leaders who share a common passion for strengthening social insurance and reflecting on its important role in providing economic security for all Americans.
The 2016 Robert M. Ball Award Selection Committee:
Maya Rockeymoore (Chair), President and CEO, Global Policy Solutions
Karen Davis, 2015 Robert M. Ball Award Recipient, Eugene and Mildred Lipitz Professor, Department of Health Policy and Management and Director of the Roger C. Lipitz Center for Integrated Health Care, Bloomberg School of Public Health, Johns Hopkins University
Joan Entmacher, Senior Fellow, National Academy of Social Insurance
William Rodgers III, Professor of Economics, Edward J. Bloustein School of Planning and Public Policy, and Chief Economist, John J. Heldrich Center for Workforce Development at Rutgers University
Peter Edelman, Carmack Waterhouse Professor of Law and Public Policy and Faculty Director, Center on Poverty and Inequality, Georgetown University
Bill Arnone (ex officio), Chair, Board of Directors, National Academy of Social Insurance
Previous winners of the Robert M. Ball Award:
​About Robert M. Ball
No individual has done more to advance American social insurance programs than Robert M. Ball. From his early appointment in a field office to his selection as Commissioner of Social Security by President Kennedy in 1962, to advisory roles in each of the following presidential administrations, Bob Ball sought a balance between political pragmatism and his determination to protect the principles of social insurance. He was the single most influential individual in advancing American social insurance programs for over 60 years.
Bob Ball served as Commissioner of Social Security from 1962 to 1973. He also played a crucial role in the origin of Medicare in 1965, and then successfully carried out the ambitious task of implementing the program. Ball founded the National Academy of Social Insurance (NASI) in 1986 and continued to advise presidential administrations and policymakers and to write on Social Security, Medicare, national health insurance and welfare until his death in January 2008 at the age of 93. Bob Ball's greatest gift was his ability to persuade policymakers in countless contexts to put aside partisanship for the sake of posterity.