The Academy's Medicare and Medicaid at 50 and Beyond 2015 celebration program is focused on bringing together stakeholders and the nation's top experts in Medicare & Medicaid. We invite you to peruse the work of some of these top experts who have been part of the Academy's celebration across a number of event and activities. Materials are listed in chronological order by event or activity, below.
Medicare and Medicaid: The Next 50 Years – 27th Annual Policy Research Conference, January 28-29, 2015
Opening Keynote:
Session on "Medicare's First 50 Years"
Session on "The Changing Face of American Health and Health Care"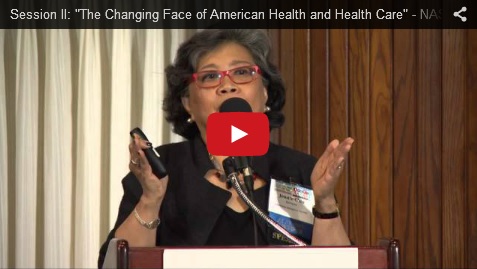 Jennifer Ortman, Population Projections Branch, Our Aging Nation
Marilyn Moon, Center on Aging Director, American Institutes for Research, Engaging Future Medicare and Medicaid Consumers
Jennie Chin Hansen, American Geriatrics Society, Changing Health Care Workforce
Luncheon Keynote Interview: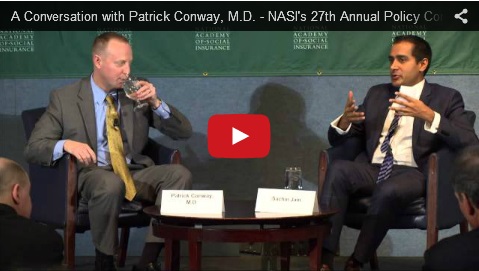 Patrick Conway, MD Centers for Medicare & Medicaid Services
Sachin Jain, MD Chief Medical Officer, CareMore/Anthem
Session on "The Coming Conflict between Scientific Breakthroughs & Cost"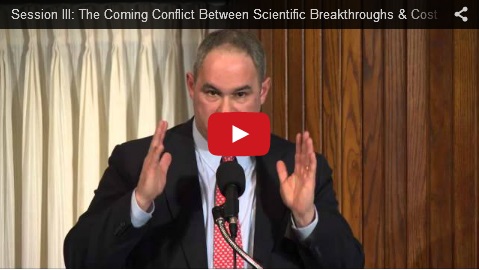 Lewis G. Sandy, M.D., Executive Vice President, Clinical Advancement, UnitedHealth Group, We Can Afford to Innovate! The Role of Big Data
Richard J. Hodes, M.D., Director, National Institute on Aging, The Impact of Alzheimer's Disease
Michael K. Gusmano, The Hastings Center, Technology and Cost: The Ethics of Health Technology Assessment
Julie Rovner, Kaiser Health News
Session on "Looking Behind Payment & Delivery Reform" [NO VIDEO]
Session on "Coverage over the Life Span"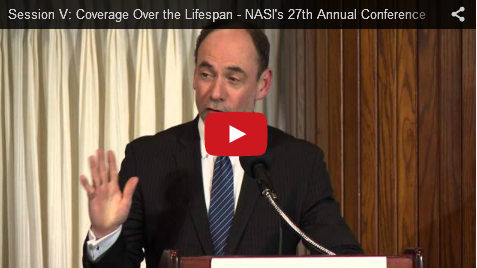 Session on "Medicare and Medicaid for the Next 50 Years: Insights from the Top"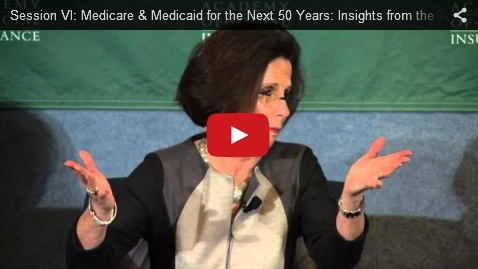 Leonard D. Schaeffer, University of Southern California
Thomas A. Scully, Alston & Bird, LLP
Bruce C. Vladeck, Nexera Inc.
Gail Wilensky, Project HOPE
Susan Dentzer, Robert Wood Johnson Foundation
Medicare Through the Eyes of Beneficiaries – Medicare & Medicaid at 50 Symposium, April 23, 2015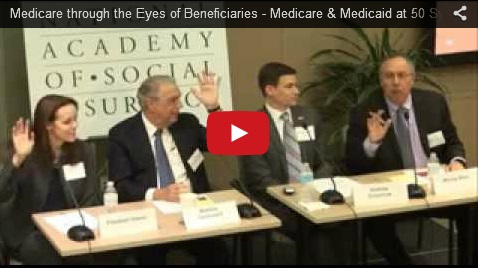 Opening Remarks
Lynn Friss Feinberg, Senior Strategic Policy Advisor, AARP Public Policy Institute, and Chair of the Board of Directors of the American Society of Aging
Setting a Beneficiary-Oriented Agenda for Medicare: Issues, Opportunities, and Challenges
Kevin Prindiville, Executive Director, Justice in Aging
Joe Baker, President, Medicare Rights Center
Judith Stein, Executive Director, Center for Medicare Advocacy
Tricia Neuman, Senior Vice President, Kaiser Family Foundation
What Beneficiaries Want for Medicare: Hearing From the Field
Elizabeth Hamel, Director, Public Opinion and Survey Research at Kaiser Family Foundation
Mathew Greenwald, President and CEO, Greenwald & Associates
Andrew Scholnick, Senior Legislative Representative, AARP
Murray Ross, Vice President, Kaiser Foundation Health Plan, Inc. and Director, Kaiser Permanente Institute for Health Policy
Working Together: An Initiative to Improve Services and Supports for Persons with Disabilities, May-June 2015
Advisory Committee Members:
Christine Baker, Director, State of California, Department of Industrial Relations
Lisa Ekman, Director of Federal Policy, Health and Disability Advocates
Merrill Friedman, Senior Director, Disability Policy Engagement, Anthem, Inc.
Andy Imparato, Executive Director, Association of University Centers on Disabilities
Sachin Jain, Chief Medical Officer, CareMore/Anthem
Gina Livermore, Senior Researcher, Mathematica Policy Research
Patricia Owens, Health and Disability Policy Consultant
Frank Neuhauser, Researcher, University of California, Berkeley
Jeff Price, President, National Association of Disability Examiners
Susan Reinhard, Senior Vice President, AARP Public Policy Institute
Kim Rutledge, Assistant Legislative Director, United Domestic Workers of America
TJ Sutcliffe, Director of Income and Housing Policy, The Arc
Rebecca Vallas, Director of Poverty to Prosperity Program, Center for American Progress
Joshua Wiener, Distinguished Fellow, RTI International
Gooloo Wunderlich, Senior Program Officer, National Academies, Committee on National Statistics
Edward Yelin, Professor of Medicine and Health Policy, University of California, San Francisco
Medicare Part D – A Beacon or a Warning Light?, June 10, 2015
Opening Keynote:
Competitive Dynamics in Part D and Trends Effecting Future Cost Control
Julie Goon, Senior Vice President, Public Affairs, Anthem Inc.
Kristin Bass, Senior Vice President, Policy and Federal Affairs, Pharmaceutical Care Management Association
Lori Reilly, Executive Vice President, PhRMA
Howard Bedlin, Vice President, Public Policy and Advocacy, National Council on Aging
Jack Hoadley, Research Professor, McCourt School of Public Policy, Georgetown University
Michael McCaughan, founding member, Prevision Policy LLC and editor, The RPM Report
Managing Care for Chronic Illness
Mark Fendrick, Professor of Internal Medicine in the School of Medicine and of Health Management in the School of Public Health, University of Michigan
Bruce Stuart, Professor, University of Maryland School of Pharmacy and Director, Peter Lamy Center on Drug Therapy and Aging, University of Maryland, Baltimore
Leigh Purvis, Director, Health Services Reseach, AARP's Public Policy Institute
Kim Swiger, Vice President Clinical Product Marketing, Mirixa Corporation
Jennifer Bryant, Senior Vice President, Policy and Research, PhRMA
Dan Leonard, President, National Pharmaceutical Council
Rising Medicare Beneficiary Costs and Declining Retirement Income, June 23, 2015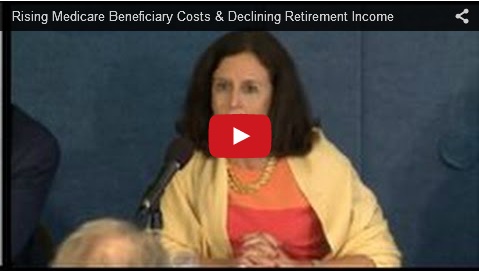 Panelists:
Welfare Medicine to Health Reform: Medicaid History and Innovation, June 23, 2015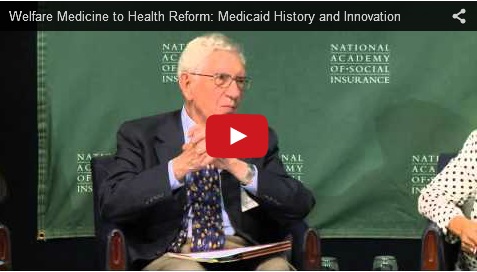 Diane Rowland, Executive Vice President, Kaiser Family Foundation and Chair, MACPAC
Cindy Mann, Partner, Healthcare Industry Practice, Manatt Phelps & Phillips, LLP and former CMS Deputy Director and Director of Medicaid and CHIP Services (2009-2015)
Cindi Jones, Director, Department of Medical Assistance Services, Commonwealth of Virginia
Henry Claypool, Claypool Consulting, and former Executive Vice President of American Association of People with Disabilities
David Smith, co-author of Medicaid Politics and Policy and Professor Emeritus, Swarthmore University
Judith Moore, co-author of Medicaid Politics and Policy, Health Policy Consultant and former Commissioner, MACPAC
Medicare and Medicaid at 50: America's Entitlement Programs in the Age of Affordable Care, June 23, 2015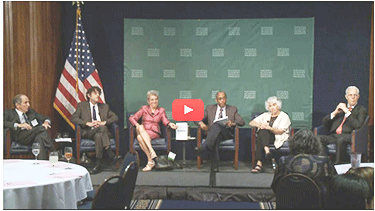 Keith Wailoo, Townsend Martin Professor of History and Public Affairs and Vice Dean, Woodrow Wilson School of Public and International Affairs, Princeton University (Moderator and Co-Editor)
Jonathan Oberlander, Professor & Vice Chair, Social Medicine and Professor, Health Policy & Management, University of North Carolina School of Medicine & Theodore Marmor, Professor of Public Policy, Management, and Law, Yale University
Sara Rosenbaum, Harold and Jane Hirsh Professor of Health Law and Policy and Chair of the Department of Health Policy at the George Washington University School of Public Health and Health Services
Uwe Reinhardt, James Madison Professor of Political Economy, Princeton University
Judy Feder, Professor, McCourt School of Public Policy, Georgetown University
The Robert M. Ball Award, June 23, 2015: Karen Davis on "Changing Beneficiaries, Changing Times"
View the event photo gallery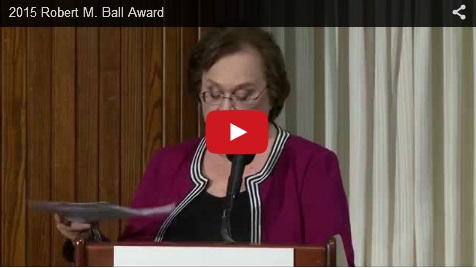 Demystifying Medicare: 2015 Summer Academy, July 23, 2015
View the event photo album on the Academy's Facebook page.
Opening Remarks
Elizabeth Hall, Vice President of Federal Affairs, Anthem, Inc.
Why is Medicare important?
Len Nichols, Director, Center for Health Policy Research and Ethics (CHPRE) and Professor of Health Policy, George Mason University
Medicare: How does it work?
Jane Sung, Senior Strategic Policy Advisor, AARP Public Policy Institute
Howard Shapiro, Director of Public Policy, Alliance of Community Health Plans
Stacy Sanders, Federal Policy Director, Medicare Rights Center
Medicare: How big is the financing problem?
Delivery and Payment System Reforms + Other Innovations Shaping the Future of Medicare
Kate Goodrich, MD, Director of Quality Measurement and Health Assessment Group, Centers for Medicare and Medicaid Services
Ted Eytan, MD, Medical Director, Kaiser Permanente Center for Total Health and Director, The Permanente Federation, LLC
Looking Ahead: Playing a role in the future of Medicare
Judy Feder, Professor, Georgetown University McCourt School of Public Policy
Daniel Maclauchlan, Director of Regulatory Affairs, UnitedHealth Group
Alex Keeton, Deputy Director, America's Health Insurance Plans (AHIP)
Paula Stannard, Counsel, Alston & Bird, LLP
The Academy's Medicare and Medicaid at 50 and Beyond Celebration Program is made possible thanks to support from

 
​and the Robert Wood Johnson Foundation President's Grant Fund of the Princeton Area Community Foundation.