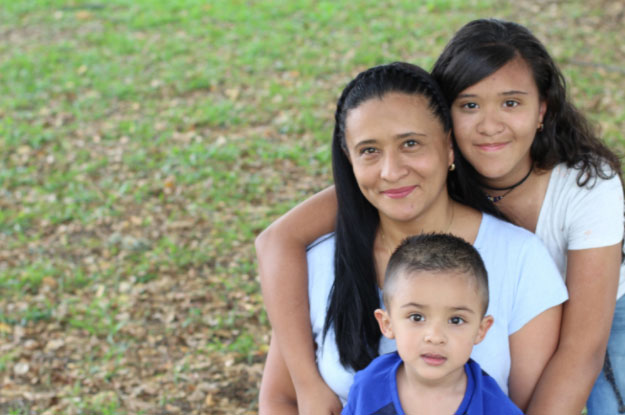 Children whose parents lack the resources to fully meet their needs suffer in multiple ways. They are much more likely to go hungry, to move frequently, to begin school unprepared to learn, and to develop chronic health problems. Social insurance and safety net programs, including Medicaid, Social Security, Supplemental Security Income, the Affordable Care Act, and nutrition and housing subsidies, provide important support. Still, they are not enough to meet growing need, which has been exacerbated by the COVID-19 pandemic.
Even before the pandemic forced tens of thousands of parents out of work, 34.5% of all U.S. children lived in low-income households – at or below 200% of the official poverty limit, in which parents often struggle to meet their basic needs.   Children of color are more affected, with 14.4% of Latinx families and 16.9% of Black families living in poverty in 2019 (compared to 8.5% of all families). The youngest children are also the poorest; as the Children's Defense Fund notes, "During the most critical stage for brain development, 3.5 million children under 5 were poor in 2018, with 1.6 million of those children living in extreme poverty." The problem is also particularly acute in rural communities, where it can go unnoticed and scarce resources are stretched thin.
These troubling statistics in the wealthiest nation in the world come with high societal costs and must be addressed with urgency.
The Academy is working to better support this community through a number of initiatives targeting the full range of the social insurance ecosystem.
Early Childcare and Education
While we know that quality early childhood care and education (ECCE) is critical to laying strong foundations for learning, the United States is unique among wealthy nations in treating ECCE as a largely private responsibility, putting it out of reach for most low-income families. Indeed, as of 2017, nearly one half of American children aged three to five were not enrolled in a preschool or prekindergarten program, with children from the lowest-income families least likely to access such programs.
The Academy's Universal Family Care report sets forth a comprehensive set of options that states can take to relieve the burden on families, enable parents with young children to work productively, and ensure that children have the foundations they need to thrive and that ECCE providers earn a living wage.
Income Policy
In its forthcoming report on policies to assure income in the United States, the Academy's Study Panel on Economic Security explores how adapting the Child Tax Credit to be fully refundable and distributed over the course of the year (as opposed to a lump sum when one files taxes) could increase resources for low-income children. In Canada, a similar program—the Canada Child Benefit—was implemented in July of 2016. By the end of 2017, poverty rates had decreased by nearly a third, from 17.1% to 11.6%.
Universal cash distribution programs, like an Assured Income, or 2020 Democratic presidential candidate Andrew Yang's proposed universal basic income, are also gaining traction. Momentum for cash-based assistance programs increased with the $1,200 stimulus payment and additional $600 in weekly unemployment benefits enacted via the CARES Act. The nearly universal nature of these programs better protects low-income families, who would otherwise fall through the cracks.
Overcoming Barriers to Health Security
As the dominant insurer in urban and rural communities experiencing elevated poverty and the associated health risks, Medicaid functions as a key economic engine, anchoring health care services in communities. Medicaid also serves as a front-line responder for the country's most challenging public health problems, including the COVID-19 pandemic. The Academy's recent nonpartisan study panel report,  Strengthening Medicaid as a Critical Lever in Building a Culture of Health
 , explores the ways in which Medicaid policy might evolve to more actively foster a Culture of Health through both its direct role as a funder of health care and its broader role in helping support services and programs aimed at promoting prevention and population health.
Contact: Griffin Murphy, Policy Analyst
The Academy's 2021 conference, Pathways to Economic Security: Bringing All Voices to the Table, will focus on policy options that may ensure an adequate income for all Americans. Conference will occur virtually, March 2 – 4, 2021. Registration is open; flexible rates are available.