The National Academy of Social Insurance invites outstanding graduate and upper division undergraduate students to apply for an internship in public policy in Washington, DC.
Interns receive a $4,500 honorarium to offset living expenses in DC, and academic credit may be arranged. The program consists of a 12-week full-time placement that usually spans May to August, depending on the student's schedule. All internship programs provide students with the opportunity to work with leading experts and policy developers.
To find out more about the specific internship programs, click on the links below or contact us at internships@nasi.org.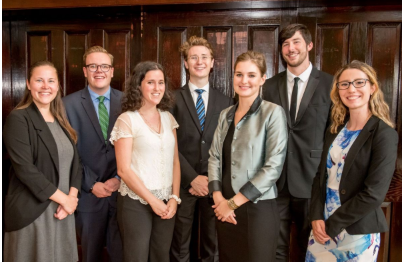 2019 Summer Interns
L-R: Claire Erickson, Tyler Welch, Mayana Bonapart, Cal Ernst, Roz Murray, Josh Clancy, Dani Benedict (Not pictured: Evan Avila)
This internship program spans all areas of social insurance (income, health, aging, and workforce issues) and welcomes students at all levels (undergraduate, graduate, and doctoral candidates). Students interested in policy research and analyses, public education, advocacy, and/or related projects are encouraged to apply.
This internship program focuses on long-term care (LTC) / long-term services and supports (LTSS) and aging research. Projects at LTC/LTSS-focused organizations will include policy research and related policy development activities. Graduate students are preferred; undergraduates with substantial research experience are also encouraged to apply.
This internship program is for graduate students aspiring to a career in social policy with a focus on disability issues. Students with a strong interest in disability policy (research, implementation, and/or advocacy) are encouraged to apply; prior experience in disability policy research is not required. This internship would also serve students looking to explore opportunities in the area of disability research and policy development.
Recently established, this internship is for graduate students interested in developing, advocating, and implementing in Congress and/or Executive Branch agencies legislation, regulations, and policy initiatives to improve health coverage and quality in the U.S. in an efficient, cost-effective manner. Students from all disciplines (political science, business, communications, public policy, social policy, etc.) are encouraged to apply. Projects will emphasize policy research and design, and/or related activities around current health care issues facing the federal government.
Established in 1993, the Academy's John Heinz Dissertation Award is designed to recognize outstanding doctoral research by new scholars addressing social insurance policy questions.
The Rashi Fein Internship in Health Policy seeks outstanding graduate and upper division undergraduate students interested in promoting equitable access for all Americans to high quality, affordable, cost-effective health care. Students pursuing courses of study in health policy, health economics, public policy, social policy, or related subjects are urged to apply for this 12-week summer semester internship in Washington, DC.