In Memoriam: Victor Fuchs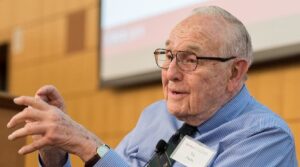 Victor Fuchs, a Founding Member of the National Academy of Social Insurance, passed away earlier this month.
Professor Fuchs was the Henry J. Kaiser Jr. Professor Emeritus at Stanford University. He also served as President of the American Economic Association and Vice President of the National Bureau of Economic Research. He was the author of many books and articles on health care. His books include: Who Shall Live? Health, Economics, and Social Choice; How We Live; The Health Economy; Women's Quest for Economic Equality; and The Future of Health Policy.
He was also a member of the Institute of Medicine, the American Philosophical Society, and the American Academy of Arts and Sciences, and  a senior fellow, emeritus, at the Stanford Institute for Economic Policy Research (SIEPR) and a Stanford Health Policy (SHP) faculty affiliate. He received numerous awards, including the John R. Commons Award. Professor Fuchs received his Ph.D. in economics from Columbia University. Every year the American Society of Health Economists presents a Victor R. Fuchs Award for Lifetime Contributions to the Field of Health Economics.
Academy Member Mark Duggan stated: "Victor Fuchs was a towering figure in the field of health economics. His contributions to our understanding of the inequities and inefficiencies of our health care sector and of the important role of social factors, such as poverty in influencing health, have been nothing short of extraordinary. He has been a tremendous inspiration to me and to health economists and many other scholars across generations."
A public memorial will be held at 3:00 pm PT on November 24, 2023, at Etz Chayim Congregation, 4161 Alma Street in Palo Alto, CA.
May he rest in peace.

–Bill Arnone, Chief Executive Officer