In Memoriam: William Spriggs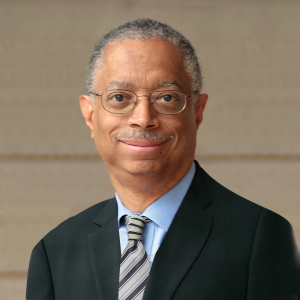 William E. Spriggs, former Academy Board Member and recipient of the 2016 Robert M. Ball Award for Outstanding Achievements in Social Insurance, passed away this week. Bill was Chief Economist of the AFL-CIO and Professor of Economics at Howard University.
Bill's illustrious career – spanning unions, public service, nonprofit think tanks, government, and academia – focused on maximizing equity, fairness, and inclusion through social insurance and related policies. Most recently, he served on the Academy's Study Panel on Economic Security and its Task Force on Unemployment Insurance. He also served as an advisor to the Academy's Kilolo Kijakazi Fellowship program.
In 2009, Bill was appointed by President Barack Obama, and confirmed by the U.S. Senate, to serve as Assistant Secretary for the Office of Policy at the United States Department of Labor, an appointment that he held until 2012.
Maya Rockeymoore Cummings, former Academy Board Member, said:
"Bill Spriggs was a trailblazer for economic justice. His commitment to ensuring economic equality, worker safety, and expanding opportunities for all Americans, has literally forged a path where there wasn't one before. I was humbled to call him a mentor and a friend. I would not have been a Member of the Academy if it had not been for Bill's nomination and his encouragement for me and other young social insurance scholars to stay involved in our field's premier professional association."
Acting Commissioner of Social Security Kilolo Kijakazi said.
"Bill Spriggs was a true scholar and dear friend. He recently participated in the Social Security Administration's Structural Barriers Forum. He created the Center on Race and Wealth at Howard University and mentored innumerable students and young professionals. Bill made an enormous difference during his life, especially for those facing the greatest barriers."
Bill had extensive experience in the nonprofit sector leading economic policy development and research as a Senior Fellow and Economist at the Economic Policy Institute (EPI) from 2004 to 2005 and as Executive Director for the Institute for Opportunity and Equality of the National Urban League from 1988 until 2004. He was also a Senior Fellow of the Community Service Society of New York, and served on the boards of the National Employment Law Project (NELP) and the Eastern Economic Association.
President Biden issued the following statement:
"I am deeply saddened by the passing of Bill Spriggs, a man who brought as much lasting brilliance to economics as he brought joy to his friends and colleagues.   Bill was a towering figure in his field, a trailblazer who challenged the field's basic assumptions about racial discrimination in labor markets, pay equity, and worker empowerment.   Bill will be missed for his kindness, warmth, and humility."
An ardent supporter of the Academy, Spriggs served on its Board of Directors from 2006-2009 and had been a Member since 1999.
One of the experiences I most relish is co-authoring this piece with Bill on social insurance and climate change: https://www.nasi.org/discussion/looking-at-climate-change-from-a-social-insurance-perspective.
We will provide more information about services in Bill's memory.
May he rest in peace.
–Bill Arnone, Chief Executive Officer