Jennifer Clark, National Academy of Social Insurance
The Center for Rural Strategies, an awardee of NASI's Improving Lives of Vulnerable Americans Through Social Security project, recently analyzed Social Security recipients by county in the U.S. The Daily Yonder (affiliated with the Center for Rural Strategies) used this breakdown of Social Security beneficiaries to find the counties most dependent on Social Security. The project found that 9.3 percent of total personal income in rural counties came from Social Security payments in 2009, compared to urban counties, where 5.0 percent of total income came from monthly Social Security payments. Social Security is particularly important to these rural communities because the money received from benefits is largely spent in the community.
Visualizing the importance of Social Security to local economies, the map below shows the percentage of total personal income coming from Social Security benefits for each county in the US. The darkest blue represents counties where Social Security makes up almost 10 percent or more of total personal income.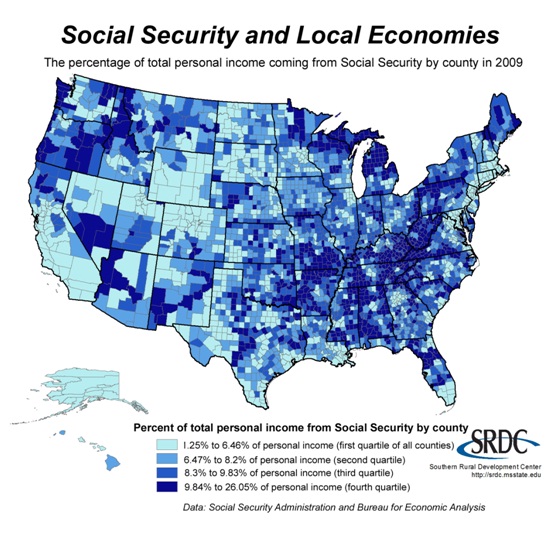 Click on the map for a larger view. 
While the map provides a visually arresting overview of how critical Social Security is to many regions across the U.S. (note the dark blue cluster around Appalachia), the numbers from specific counties present a deeper understanding of how Social Security benefits affects local economies. Here are a few examples from the project:
For more information on this project, the Center for Rural Strategies has data tables, maps, and charts available online, along with a description of the project on their website.