William Arnone, Chief Executive Officer
This is the first in a series of articles about the 2020 election, its aftermath, and implications for social insurance policy.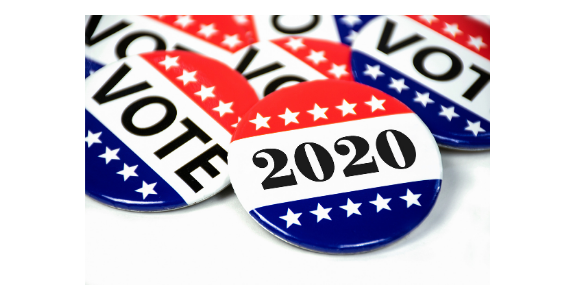 Despite a relentless attempt to undermine the results of the 2020 election, our nation is preparing for the start of a new Administration and the 117th Congress.
The National Academy of Social Insurance plays a valuable nonpartisan role in this process by providing policymakers, journalists, educators, other leaders, and the public with knowledge about the nation's social insurance programs. We work with Academy Members and partners to provide objective, evidence-based analyses, policy options, and answers to questions facing policymakers.
Below is a brief recap of social insurance issues addressed during the Presidential campaign, along with a review of policy areas that may receive more attention in 2021 and beyond.
Social Insurance issues in the 2020 campaign
Both campaigns made older voters a priority group in their targeting, in view of this demographic's historically high turnout rate and expectations of a "senior surge."
The Biden-Harris campaign focused on President Trump's executive orders on Social Security financing (which the Academy highlighted in August). Earlier in the campaign, Biden issued a proposal to lower the Medicare eligibility age. (The final report of our Medicare Eligibility Study Panel contains further analyses of policy design options and tradeoffs).
In addition, the Biden campaign made the nation's care infrastructure a priority issue, as it announced a bold plan for caregiving supports to be more accessible and affordable to all as part of a "caregiving economy." During his campaign for the Democratic nomination, as the first round of COVID-19 relief legislation was being developed, Biden immediately called for "emergency paid sick leave to everyone who needs it." (November is National Family Caregivers Month. The Academy continues to make Universal Family Care a focus of our "Main Street" virtual webinars.)
The Trump-Pence campaign ran ads noting that the Trump Administration had protected both programs from any cuts and pledged to continue to do so. Their campaign also resurrected charges made during the Democratic primary that former Vice President Biden had previously called for cuts in Social Security benefits as part of his past support for bipartisan legislation, including balanced budget amendments – charges that the Biden campaign refuted.
Evidence is still being reviewed, but it appears that the Biden-Harris campaign did better with older voters than recent previous Democratic tickets. In every presidential race since 2004, Democrats lost older voters by at least five percentage points. (Al Gore in 2000 was the last Democrat to carry the senior vote.) This trend appears to have continued in 2020, although the Republican margin among older voters was smaller than in 2016.
By and large, the two Presidential and one Vice Presidential debates were bereft of any substantive discussion of social insurance policies or programs, continuing a pattern that characterized the Democratic Party's Presidential debates in 2019. There were few references to Social Security, Medicare (other than "Medicare-for-All"), Unemployment Insurance, Workers' Compensation, or caregiving issues pre-dating the pandemic.
Social Insurance policy priorities in 2021 and beyond
The Democratic Party's Unity Task Force issued a comprehensive set of policy priorities in July 2020. (See table below for social insurance-related recommendations.)
While it remains to be seen how much progress will be possible in 2021 and 2022, there are a number of policy priorities where the Academy will be contributing. In 2017, the Academy issued its Report to the New Leadership and the American People on Social Insurance and Inequality, which highlighted key social insurance issues, challenges, and policy options. This report has served as an overall framework for our policy activities over the past four years. Four years later, many issues and challenges remain largely the same as outlined in our 2017 Report.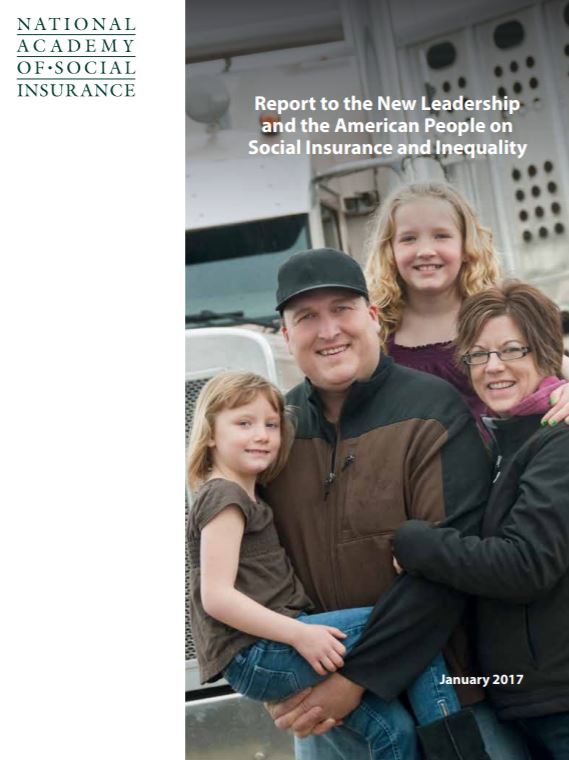 Going forward, our focus will be on various dimensions of economic security, the impacts of the pandemic on the overall well-being of the nation's population, and social justice for communities of color and low-income segments of our population. The final report of our Economic Security Study Panel will be issued early next year and will be featured at our (virtual) annual policy conference, March 2-4, 2021. In 2021, the Academy will also issue reports based on the work of three Task Forces:
Task Force on the impact of COVID-19 on the public, the economy, and social insurance programs
Task Force on Unemployment Insurance
Task Force on Older Workers' Retirement Security
The Academy continues to address critical issues in other areas of social insurance, including Workers' Compensation (check out the new annual report of our Data Panel on Workers' Compensation and brief on state disparities in coverage and benefits) and caregiving (state-level forums on Universal Family Care).
What's ahead?

Academy's Priority Areas
Unity Task Force recommendations related to Social Insurance

Social Security

Democrats are proud to be the party of Social Security, the most enduring thread in our nation's social safety net. We will enact policies to make Social Security more progressive, including meaningfully increasing minimum benefit payments, increasing benefits for long-duration beneficiaries, and protecting surviving spouses from benefit cuts.
Democrats will reject every effort to cut, privatize, or weaken Social Security, including attempts to raise the retirement age, diminish benefits by cutting cost-of-living adjustments, or reduce earned benefits. We will put Social Security on a path to solvency and strengthen it in perpetuity.
In light of weakened retirement security for unpaid caregivers and caregivers for family members, who sacrifice not only wages but Social Security benefits when they swap paid labor for unpaid care work, Democrats support Social Security reform which better accounts for the challenges facing unpaid caregivers— including incremental reforms to the benefit formula to mitigate the penalty for unpaid care.
Universal Family Care
Provide support for the childcare sector to prevent mass closure of child care providers and ensure families still have childcare options even during the crisis. That means expanding assistance to federal child care centers, individual care providers, and assistance to schools –particularly Title I schools – as well as providing support for remote education and remote activities normally done after-school.
Expand paid sick leave and family leave and enable 14-day emergency leave for COVID-19- related events/quarantines (and ensure employers do not bear any additional cost for this time away).
Health care and caregiving: Expand public and private "caring jobs" in health care, child care, and elder care while increasing compensation, benefits, bargaining power, and training as core requirements for these jobs.
Medicare, Medicaid, ACA, and other health policy
We will enable millions of older workers to choose between their employer-provided plans, the public option, or enrolling in Medicare when they turn 60, instead of having to wait until they are 65.
We will give all Americans the choice to select a high-quality, affordable public option through the Affordable Care Act marketplace. The public option will provide at least one plan choice without deductibles, will be administered by the traditional Medicare program, not private companies, and will cover all primary care without any copayments and control costs for other treatments by negotiating prices with doctors and hospitals, just like Medicare does on behalf of older people.
Democrats believe we need to protect, strengthen, and build upon our bedrock health care programs, including the Affordable Care Act, Medicare, Medicaid, and the Veterans Affairs system. Private insurers need real competition to ensure they have incentive to provide affordable, quality coverage to every American.
Health Disparities and Social Determinants of Health
Democrats are committed to eliminating health disparities by race, ethnicity, gender, and geography. We recognize it is not enough to have a commitment: We must have a plan. That is why Democrats will launch a sustained, government-wide effort, with leadership at the highest levels, to eliminate racial, ethnic, gender, and geographic gaps in insurance rates, access to quality care, and health outcomes. That includes tackling the social, economic, and environmental inequities—the social determinants of health like poor housing, hunger, inadequate transportation, mass incarceration, air and water pollution, and gun violence—that contribute to worse health outcomes for low-income Americans and communities of color.
Unemployment Insurance and Other Workforce Issues
The state unemployment infrastructure is broken and requires a complete redesign to provide easier access benefits and new models to keep workers connected to jobs. During periods of acute economic downturns, aspire to keep workers whole while also implementing reasonable automatic mechanisms to ensure that workers receive longer-duration benefits in periods of high local labor market distress. Reform the current unemployment insurance system to keep more workers attached to their jobs, including through work-sharing and payroll support. Expand the system to cover more workers and offer higher wage replacement rates for beneficiaries. Modernize the system and increase coverage and access to ensure that unemployed workers receive their benefits in a timely fashion without undue application burdens. Address inadequate unemployment insurance coverage through broader worker classification that would extend unemployment benefits to previously uncovered workers.
Economic Security and Racial Justice
Forging a new social and economic contract with the American people—a contract that invests in the people and promotes shared prosperity… A new social and economic compact that at last grapples honestly with America's long and ongoing history of racism and disenfranchisement, of segregation and discrimination, of economic exclusion and political suppression, and invests instead in building equity and mobility for the communities of color and Native American communities who have been left out and left behind for generations.
Visit www.nasi.org for more information
Source: https://joebiden.com/wp-content/uploads/2020/08/UNITY-TASK-FORCE-RECOMMENDATIONS.pdf
Other questions to consider
We invite Academy Members to submit articles addressing one or more of the questions below for posting to the Academy's website and for broader circulation:
What will the next round of COVID-19 legislation include and how will it differ from the CARES Act?
What is the likely impact of the pandemic and a prolonged economic recession on both revenues and benefits of current social insurance programs, and what policy options might address the impact? For example, to what extent will the impact greatly accelerate the depletion of the Social Security and Medicare Trust Funds?
Which dimensions of racism, social injustice, and inequality is social insurance an effective policy lever to address systemically?
Might certain social insurance policy options serve as harmonizing factors across the polarized political spectrum?
How does social insurance contribute to economic growth and political democracy, especially in times of social turmoil?
Is "assured income" emerging as a bold policy priority for the new Administration and Congress?
How do organizations of expertise like the Academy maintain trust among all segments of the U.S. population, especially those without college educations, and overcome disinformation and populist resentment of elites?
Which emerging risks, exacerbated by the pandemic and due to changes in the structure of work, most warrant a social insurance response?
Whether and when will the federal budget deficit and government debt return to the forefront of policymaking?
As always, we welcome your suggestions for other questions and issues to address. You can reach me at warnone@nasi.org.