William (Bill) J. Arnone, NASI Board Chair
In a blog post on the National Academy of Social Insurance's new public opinion study, the Committee for a Responsible Federal Budget (CFRB) asks, "Do Americans really favor a revenue-only approach to Social Security reform?"
The evidence indicates yes. Many surveys have found that Americans broadly agree on Social Security (in contrast to many polarizing issues) and do not want to reduce benefits. A recent survey from the non-partisan Pew Research Center, for example, finds: "Most Americans (67%) say that benefit cuts should not be an option when thinking about Social Security's long-term future."
Our study indicates that the American people understand that the purpose of Social Security is to help achieve basic economic security for workers and their families in retirement. Workers earn the right to benefits through their contributions. They are aware that benefits are modest, and clearly indicate a preference to maintain or increase benefits, not cut them.
The results of various parts of the study – focus groups, survey questions, and trade-off analysis – are consistent, and indicate that Americans across all ages, income levels and political affiliations prefer to balance Social Security's finances by increasing revenues, without cutting benefits.
First, in focus groups, participants volunteered concerns about the low level of benefits, and many expressed surprise that a tax increase they considered manageable would address the program's shortfall.
Second, the survey included direct questions that provide clear answers on Americans' preferences. Given a direct choice between raising taxes or reducing benefits, 8 in 10 prefer to raise taxes, as shown below.
Third, the survey asked Americans their views on a balanced array of policy options, consisting of four benefit reductions, four benefit increases, and four revenue increases. Within those categories, the options were among those most widely discussed or frequently proposed. The benefit-reduction options were raising the retirement age to 68 or 70; reducing the COLA; and means-testing.
In short, respondents had many opportunities to choose benefit reductions, if they wanted – and most did not. The benefit cuts are the least popular options; none has majority support. In contrast, large majorities favor gradually raising the tax rate (83%) and gradually eliminating the cap on taxable earnings (80%), as shown below.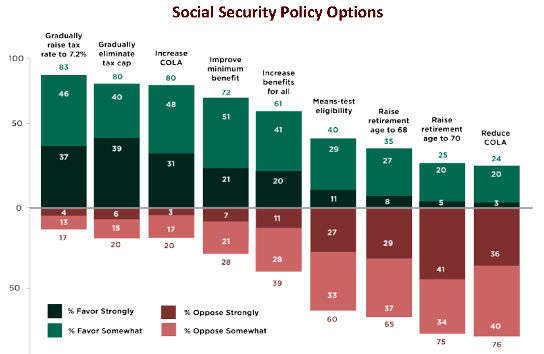 Finally, the trade-off exercise included the same balanced array of policy options, and found that large majorities of Americans prefer packages of changes that raise revenues and do not reduce benefits.
CRFB criticizes the study for not including large enough benefit reduction options, especially changing the basic benefit formula, to allow respondents to close the financing gap solely with benefit reductions. Given the consistency of the study's results, it seems odd to suggest that more Americans might have found benefit cuts appealing if the cuts had just been deeper. This study, along with many other studies over the years, finds a clear indication that Americans prefer to balance Social Security's finances with revenue increases and not with benefit cuts.
Brief responses to several of CRFB's specific comments follow:
With regard to reducing benefits for higher earners, there are two common approaches: changing the basic benefit formula (which looks at prior lifetime earnings) and means-testing (which looks at current income when the person receives benefits). Both options have been proposed by various groups. The means-testing option in this study was proposed by the Heritage Foundation, as noted in Appendix E of the study's report; it is not a "straw man policy that no one supports," as alleged by CRFB.
With regard to changing Social Security's cost-of-living adjustment (COLA), CRFB criticizes the study for not noting that many economists consider the chained CPI a more accurate measure of inflation. This was not an omission. While the chained CPI may (or may not) more accurately measure inflation for the general population, there is no evidence that it more accurately measures inflation experienced by Social Security beneficiaries.
With regard to a Social Security tax increase phased in over 20 years, the study described the increase as workers would experience it – in deductions from weekly earnings. Benefit cuts were appropriately described in percentages because dollar amounts would vary considerably, given the range of benefit amounts.
In short, the study included a balanced array of options accompanied by accurate descriptions, including cost estimates from the Social Security Administration. As with all Academy products, the report was reviewed by Academy member experts to ensure that it meets the organization's criteria for clarity, completeness, accuracy, and objectivity.
We appreciate feedback about this important survey, which did indeed find, as other studies have, that Americans across political, generational, and income lines value Social Security and would rather address its long-term financing gap by increasing revenues than by cutting benefits.