Stephen Wandner, Urban Institute and W.E. Upjohn Institute for Employment Research
"Unemployment compensation should permit such a worker, who becomes unemployed, to draw a cash benefit for a limited period during which there is expectation that he will soon be reemployed. This should be a contractual right not dependent on any means test."
— Report to the President of the Committee on Economic Security, January 1, 1935, p. 14.[1]
During the Great Depression, charitable contributions were insufficient to meaningfully assist needy unemployed workers. Charitable income support was both inadequate and demeaning to those who received it. Accordingly, President Franklin Roosevelt established the Committee on Economic Security to develop an unemployment insurance program, and the committee's recommendations became the basis for the unemployment insurance provisions in the Social Security Act of 1935.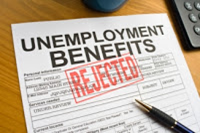 Unemployment insurance (UI) has long been defined as a form of social insurance that pays experienced workers who become unemployed through no fault of their own a portion of their former wages. Because it is a social insurance program, it is paid as a matter of right to eligible unemployed workers, regardless of the financial needs of those workers. There is no means test. Thus, social insurance is like private insurance where payments are made to policyholders of fire or auto insurance, with no test of financial need, to compensate them for losses from fire or collisions.
Unlike almost all other nations of the world, UI benefits in the U.S. are paid for by insurance premiums (i.e., a UI tax) paid for by employers. In other countries, the program is called "unemployment compensation" or "unemployment assistance," and is generally paid out of general revenue.
Experienced workers who have been laid off from their jobs receive UI benefits whether they are married or single, have children or not, have high incomes or low – as long as they meet state UI eligibility requirements.
Nonetheless, UI is subject to the same political pressures as any other public program. For example, in the mid-1970s, outrage over highly paid baseball players receiving UI benefits during the off-season resulted in a special federal statutory provision disqualifying this small group of workers from receiving benefits.
Today, the UI program is again under political pressure. The new effort, however, would fundamentally transform the system by implementing a means test, such that UI would cease to be a social insurance program. The Senate has just passed S.2149, a bill that provides for an extension of the Emergency Unemployment Compensation (EUC) program while denying such benefits to "Millionaires and Billionaires." Since the disqualification is for workers with an adjusted gross income of $1 million, the addition of language regarding "billionaires" is clearly political grandstanding; it has nothing to do with the substance of the provision.
Once again, politicians have chosen to focus on a perceived inequity, ignoring that the U.S. has an unemployment insurance program. Only as a non-insurance program could this issue be understood as a dangerous abuse by a few wealthy unemployed workers. Lawmakers are fomenting an emotional response to a problem that does not exist.
Do we want to terminate the UI program as insurance simply to prevent a few wealthy individuals who lose salaried jobs from collecting UI benefits like every other unemployed American worker? (I will ignore here the immense administrative burden of enforcing this provision and the likelihood that the cost would exceed any UI benefit savings.)
Do we really want to make UI a means-tested program? The key issue is: should our social insurance program for unemployed workers remain social insurance? No matter what we think about the top !% of the income distribution, why should we sacrifice an effective eight-decade old social insurance program to make certain that the 1% do not receive insurance payments for which their employers paid their premiums into the Unemployment Trust Fund? Why do we want to destroy the UI program as a social insurance program to punish a handful of affluent recipients who receive no more in UI benefits than a typical middle-income worker? Do we want to undermine the UI program for the 99% to deny the 1% the insurance payments to which they are entitled? Does this false-populism issue justify the loss of legitimacy of a major social insurance program that has helped hundreds of millions of unemployed workers from the Great Depression though the Great Recession?
---
[1]Report to the President of the Committee on Economic Security, January 15, 1935, United States Printing Office, Washington: 1935, page 14.
Stephen Wandner is a Visiting Fellow at the Urban Institute and a Visiting Scholar at the W.E. Upjohn Institute for Employment research.