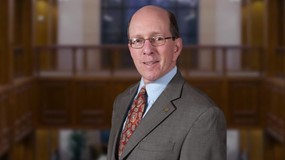 Jonathan B. Forman, an Academy Member since 1998, passed away this week. Professor Forman was the Kenneth E. McAfee Centennial Chair in Law at the University of Oklahoma, where he taught courses on tax and pension law.
Professor Forman was the Founding Co-Chair of the Alliance for Retirement Income's Retirement Income Institute. He also served as the Professor in Residence for the Internal Revenue Service Office of Chief Counsel for the 2009–2010 academic year. He was a member of the Board of Trustees of the Oklahoma Public Employees Retirement System (OPERS) from 2003 through 2011.
A prolific writer, Professor Forman's name appeared in over 300 publications. He authored Making America Work (Urban Institute Press, 2006). Academy Member Timothy Smeeding noted upon the book's publication: "Forman is a master at tapping American values and showing how government can help transform the way that society rewards our most widely held and cherished value: work."
Professor Forman was active in the American Bar Association, the American College of Employee Benefits Counsel, the American College of Tax Counsel, and the Association of American Law Professors. He lectured around the world, testified before Congress, and served on numerous federal and state advisory committees on pensions and tax policy, including the Employee Retirement Income Security Act (ERISA).
Jason Fichtner, the Academy's Treasurer, noted: "Jon was a true model of a gentleman and scholar. In addition to his many scholarly publications, Jon published op-eds in numerous newspapers and magazines, as well as a piece for the Academy's website on The Right Tax to Pay for Social Security (2005). He was a colleague and a friend who will be greatly missed."
May he rest in peace.