Kristen Arnold, National Academy of Social Insurance
A blizzard dropping nearly 28 inches of snow did not stop hundreds of social insurance experts from participating in the Academy's 28th annual policy research conference last week, Disparate Income, Wealth, and Opportunity: Implications for Social Insurance. Co-chaired by Kilolo Kijakazi of the Urban Institute, Maya MacGuineas of the Committee for a Responsible Federal Budget, and David Colby, the two-day conference – built upon two Fall convenings on the same topic – ushered in the Academy's new strategic focus on income and wealth inequality. Participants, including new and veteran Academy members, came together to share views from both sides of the aisle on income, wealth, gender, and racial/ethnic disparities and how social insurance and other public policies can play a role in mitigating them in fiscally sustainable ways.
New York Times economic columnist Eduardo Porter gave a provocative keynote address at the opening reception on challenges faced by the United States and other OECD countries over the past several decades which have led to economic inequality. Porter painted a vivid picture of the human cost of disparities, reflecting on how many indicators of the social and economic health of the United States have deteriorated since the 1970s. The path to shared prosperity, he argued, entails embracing the diversity of the American workforce, and improving social insurance programs to better meet the needs of this workforce.
Day 1 of the conference also encompassed a series of concurrent member-organized sessions on diverse topics including the financing of long-term services and supports; risks and strategies in achieving a sustainable retirement; the opt-out option in workers' compensation; social insurance support for parents and children; and the use of Census Bureau income and poverty data.
Acting Commissioner of the Social Security Administration, Carolyn Colvin, opened Day 2 of the conference with a keynote address detailing the importance of Social Security and its strong public support. Next up was a discussion of the data on income and wealth disparities, followed by a session on the consequences of social, economic and political disparities. Sheldon Danziger, of the Russell Sage Foundation, shed light on economic inequality and its very real impact on educational opportunities for today's students, from birth through college and beyond, eventually hindering intergenerational mobility. Academy Board member and Senior Vice President at the Bipartisan Policy Center Bill Hoagland addressed the trade-offs policymakers must consider when weighing allocation of budget resources in endeavoring to achieve both equity and promotion of economic growth.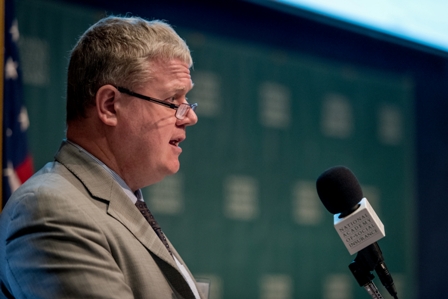 Mark Pearson, Deputy Director of Employment, Labor and Social Affairs at the OECD, reported the latest comparative data on a range of economic, social, and health policy indicators. While he noted the United States' generous survivor benefits, he also pointed to the comparative lack of nationwide paid family leave and long-term care programs here, suggesting this might help explain lower U.S. labor-market participation rates.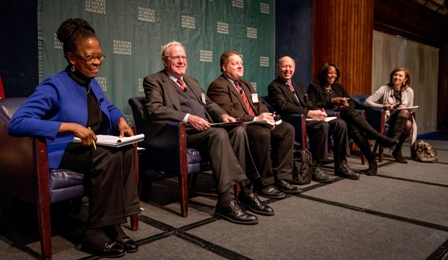 Henry Aaron of the Brookings Institution, Maya Rockeymoore from the Center for/Global Policy Solutions, Eugene Steuerle from the Urban Institute, Jason Fichtner from the Mercatus Center at George Mason University, and Ambassador Karen Kornbluh from Nielsen discussed social insurance solutions to growing disparities. Aaron underscored the importance and strength of current programs and the need to defend them, while Fichtner identified challenges facing the disability insurance program and the work capacity of persons with disabilities. Maya Rockeymoore and Ambassador Kornbluh articulated proposals for reformed and novel social insurance programs, which included support for children through paid family leave and baby bonds, and forestalling chronic disease through wellness insurance. Gene Steuerle probed the possibilities of adopting an opportunity – rather than income-maintenance – approach to social policy budgeting.
Materials from the conference are available: