Emphasizing stakeholder voices and new partnerships
The Academy's 33rd annual policy conference, Pathways to Economic Security: Bringing All Voices to the Table, was held virtually on March 2-4, 2021. Stakeholders' perspectives led policy conversations around economic security throughout the keynotes, panel dialogues, and workshops.
(While we are all stakeholders in economic security policy, for the purpose of the Pathways to Economic Security conference and campaign, stakeholders refer to groups that face significant economic risks and income insecurity, including: people living with disabilities; members of the immigrant community, the LGBTQ community, and BIPOC community; houseless persons; the formerly incarcerated; and agricultural workers.)
Since the beginning of our Economic Security Study Panel's work in 2019, the Academy has worked to elevate the voices of stakeholders whose experiences have been historically neglected in policy discussions. This goal is highlighted by the Academy's deliberate outreach to build a diverse set of partner organizations to participate in the conference.
The Oppression Economy
The conference opened with keynote remarks by Jeremie Greer, Co-Founder and Co-Executive Director of Liberation in a Generation, discussing the "oppression economy", his experience as a Black man growing up in the oppression economy, and policy solutions that will foster the freedom that is at the core of the United States' founding principles.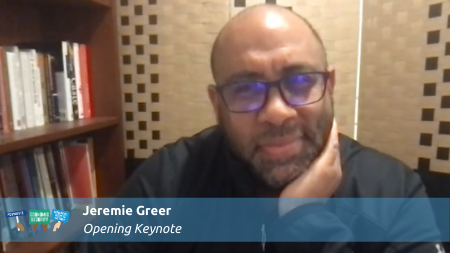 In the second keynote address of the conference, U.S. Senator Sherrod Brown (D-OH) spoke to the importance of social insurance, and the need for policymakers to stand up to special interests to provide policy solutions that meet the existing levels of need.
Panelists in the first session, Holes in the Safety Net and Goals Yet to be Achieved, including Sharon Dietrich, Litigation Director and Managing Attorney at Community Legal Services of Philadelphia illustrated the holes in the safety net. She vividly described the difficulties faced by low-income families in finding employment during "good" economic times and the many hurdles to receiving benefits when employment is not an option.
According to Daisy Gonzalez, Lead Member Organizer at Garment Workers Center in LA, on the Contemporary State of Needs panel, garment workers in California face harsh conditions and sub-minimum wages. These workers need equal enforcement of labor laws and revisions to the law so that piece-rate work will pay at least the minimum wage.
The needs of people living with disabilities and dependent on the Supplemental Security Income (SSI) program were discussed by Matthew Cortland, Director of Policy & Legislative Affairs at Be a Hero, and panelists in the third plenary session, Bolstering the Existing System for People with Disabilities and Direct Care Workers. Cortland shared his personal experience as a recipient of SSI, describing how his law degree was hardly sufficient to navigate the complex application and review processes. He stressed that the system requires vast changes to achieve the goal of a safety net that truly supports all, including:
Simplifications of the SSI and Social Security Disability Insurance (SSDI) application processes and annual disability reviews that will err on the side of inclusion;
An increase in SSI benefits to at least the federal poverty level;
Removal of marriage penalties in SSI benefits and asset limits
Ending the two-year waiting period for Medicare benefits following receipt of SSDI benefits; and
Ending the five-month-waiting period following one's disabling event to receive SSDI benefits.
Foundations for a New System
Darrick Hamilton, Henry Cohen Professor of Economics and Urban Policy at The New School, outlined a framework for economic rights, which include the rights to a job, to a basic income, to health insurance, to housing, and to quality schooling. Without these essential needs met, humans "lack authentic agency" that is necessary for participation in the free market. These rights are necessary in designing policy that addresses the wealth inequities described by William Darity, Jr., Duke University's Samuel DuBois Cook Distinguished Professor of Public Policy.
The shift of risk from institutions to individuals in recent decades was identified by John Taylor, Immediate Past President of the United Kingdom's Institute and Faculty of Actuaries. Taylor put forth the idea that, if we truly care about an inclusive society, policy interventions are needed to ensure that insurance systems do not leave individuals behind.
Aisha Nyandoro, CEO of Springboard to Opportunities, spoke on the fourth panel, Foundations for a New System, sharing how the distribution of $1,000 per month to families of low-income single Black mothers in Jackson, Mississippi brought newfound hope and stability. Nyandoro's story was coupled with remarks by Hope Huskey, an enrolled member of the Eastern Band of Cherokee Indians and Associate Director of The Sequoyah Fund, on the impacts of a bi-annual cash distribution (that varies with casino profits and has exceeded $6,000 in recent years) for her tribe. Huskey described individuals in her community finally being able to repair their homes, to lease a car, and, in the case of one young woman, to open a coffee shop (there was no coffee shop in her town prior to the dividend's launch in 1997).
The most recent research on the labor market and well-being impacts of cash transfers were shared by Ioana Marinescu, Assistant Professor at the University of Pennsylvania School of Social Policy & Practice. Notably, the Alaska Permanent Fund and the Eastern Band of Cherokee Indians program have had no effect on employment. While some people chose to work less, increased consumption spending drove employment increases which offset any decline. Data also show no increase, and often a decrease, in spending on drugs and alcohol. For the most disadvantaged youth of the Eastern Band of Cherokee Indians, health and educational outcomes improved significantly. Another positive outcome was an increase in civic participation.
On the fifth panel, Assuring Economic Security for All, Samuel Hammond, Director of Poverty and Welfare Policy at the Niskanen Center, described similar outcomes with the Canada child benefit, which is now over $564 per month per child under 6 years old, and $476 for children aged 6 to 17. Following its implementation, families have increased spending on both education related items, and "household stability" items such as rent and transportation. For never-married women, the benefit has increased work, as they have money to spend on childcare. Hammond noted that for, every dollar that the benefit increased, household consumption of alcohol and tobacco decreased by six cents.
In a lively panel on Financing Assured Income, Chye-Ching Huang, Executive Director at the Tax Law Center at NYU Law, and Jason Fichtner, Senior Lecturer of International Economics at the Johns Hopkins School of Advanced International Studies discussed options to raise tax revenue and their associated tradeoffs, including the federal income tax, capital gains taxes, and value-added taxes. Creating an equitable tax system that works for lower-income families was also highlighted as a priority by Joseph Leitmann-Santa Cruz, CEO and Executive Director of Capital Area Asset Builders.
Turning research into policy action
The seventh session of the conference, moderated by Academy Vice Chair Renee Landers of Suffolk Law School, focused on the unique role that foundations play in turning research into policy action.
Joel Eskowitz of AARP, Naomi Stanhaus of RRF Foundation for Aging, and Anna Wadia of Ford Foundation's Future of Work(ers) Program discussed their partnerships with the Academy in recent years, and how organizations may best collaborate with foundations to produce win-wins in advancing policy research, policy discourse, and legislation.
Each conference day culminated with workshop sessions hosted by conference partners. Participants expanded on the most pressing issues and pathways to economic security for their respective communities, including grandparents and other relatives raising children, members of the agricultural sector, and individuals facing fines and fees in the legal system. The set of problems presented across the workshops demonstrated strikingly how the root issue of broad economic insecurity erodes wellbeing for countless groups in the United States, and the need for policy solutions that will leave no individuals behind moving forward.
Pathways Forward: Our "Reconstruction meets the New Deal meets the Great Society" moment
In complementary closing keynote remarks, James Roosevelt, Jr., Attorney at Verrill LLP and grandson of President Franklin D. Roosevelt, and Dorian Warren, President of Community Change, highlighted the progress for income security policy that came with the New Deal and the simultaneous enormity of unmet needs in the United States.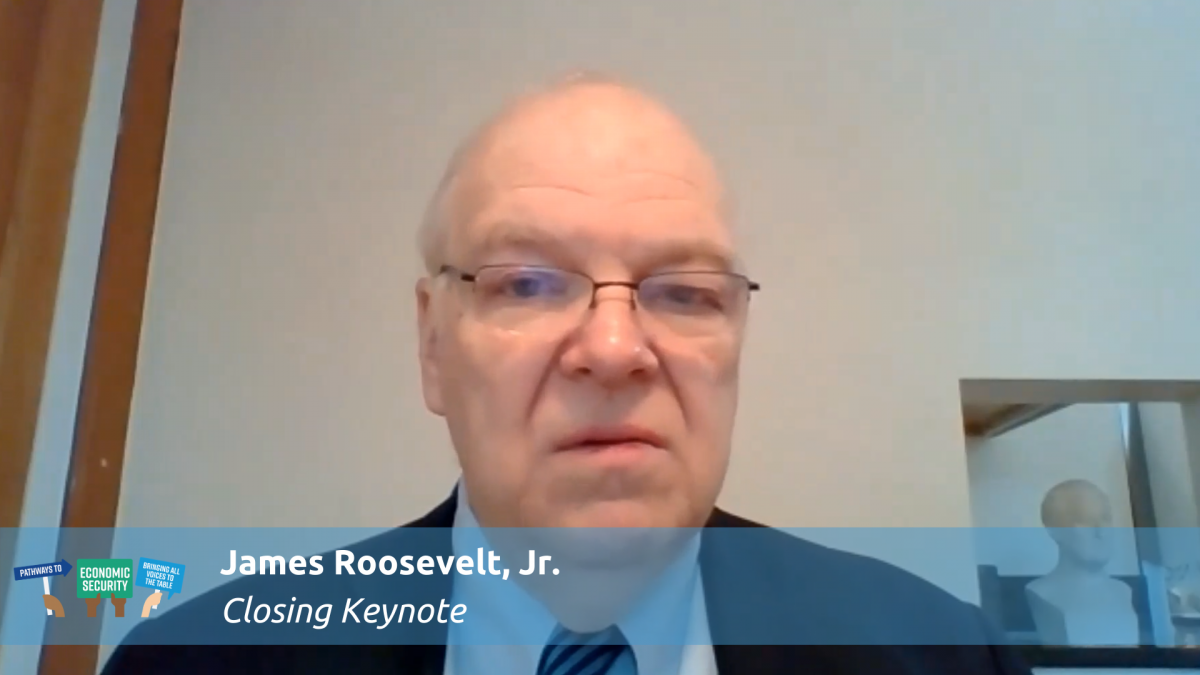 Warren noted the breadth of voices and conversations at the conference, and underscored the need for the policy community to collaborate with stakeholders to produce change.
This 2021 Conference marks the launch of the Academy's Campaign for Pathways to Economic Security. Stay tuned for more information about Campaign activities and how you can participate.
In the meantime, the Economic Security Study Panel's newly released working paper, Assured Income for the 21st Century, is now available for download. Please contact Griffin Murphy, Policy Analyst, by email at gmurphy@nasi.org with comments or questions about our economic security work, the working paper, or with other conference feedback.