Bill Arnone, CEO, National Academy of Social Insurance
There is only one National Academy of Social Insurance, but many reasons to support our work. Here's why you may wish to consider the Academy in your year-end giving:
1.  We tackle big issues.
Our Medicare Eligibility Study Panel of twenty-eight Members is just one example of how we organize expert perspectives to address a challenging topic like the current debate on health care reform. Medicare changes are front and center in the news, while Academy Members are behind the scenes studying what options exist and what the consequences of possible changes might be. Panel findings will be issued in 2020 and featured at our annual policy conference, Healthcare Coverage and Costs: Assessing Medicare-Based Approaches, on March 4-5, in Washington, DC.
2. We explore protections for Americans facing various economic risks.  
Today's social insurance and related programs are important in addressing many risks, but they do not adequately cover new and emerging risks, such as changes in work arrangements, underemployment, and student debt. Thirty Members are working together on our new Economic Security Study Panel to explore integrated approaches to fill the gaps in protection facing millions of Americans.
3. We focus on ways to strengthen Social Security.
Partnering with AARP, the Academy launched a Social Security Policy Innovations Challenge. Open to experts and the general public, this program invited ideas to address the income adequacy needs of older workers who need to claim retirement benefits early. A panel of judges conducted a blind review and selected four winning proposals, with each receiving an award of $20,000. These proposals offer innovative ideas to improve income adequacy for older workers who are no longer able to work, or cannot work full time, but are not eligible for Social Security Disability Insurance.
4.  We analyze the needs of modern families and workers and how they might be addressed.
Our ground-breaking report, Designing Universal Family Care, explores state-based social insurance programs for childcare, paid leave, and long-term services and supports. We partnered with Caring Across Generations to bring policy options to stakeholders across the country, including a webinar and seminars in DC, Oregon and California. Advocates are using our report as an evidence-based toolkit for state policymakers. More educational forums are planned for 2020.
5.  The Academy is the only organization that provides an annual picture of Workers' Compensation benefits across the country.
Our report, Workers' Compensation Benefits, Costs, and Coverage, is an invaluable tool for state officials, industry leaders, analysts, reporters, and actuaries. Published by the Academy since 1997, this data report is a non-partisan and free resource available to the public.
6.  We answer a question on young people's minds: Will Social Security be there for me? 
Our mission to educate is especially important for younger generations who often mistakenly believe that Social Security won't be there for them. Our 2019 policy conference on Regenerating Social Insurance for Millennials and the New Millennium tackled the topic head on. The conference program was led by a planning committee of emerging leaders and featured a number of spirited presentations.
7. We are committed to education and leadership development.
Robert Ball, the Academy's Founding Board Chair, believed that the future of Social Security required a new generation of leaders viewing the program as a topic worthy of research and study. Every year, we invite talented students from across the country to apply to our Summer Internship Program, now offering five tracks of internships. Interns work full-time in various organizations, attend weekly seminars, and enjoy social events with Members, making for a robust learning experience. (If you know students who might be good candidates, tell them about this opportunity! Applications are due by January 3, 2020.)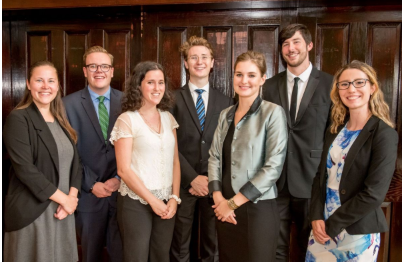 2019 Summer Interns
8. There's nothing "fake" about us.
The Academy provides non-partisan, independent analyses of social insurance and related programs to counter inaccurate news and polarized political positions.
9. We share our expertise widely.
In addition to the free content distributed across our network of Members and subscribers via emails (like This Month at The Academy), social media, and our website, journalists turn to the Academy as a source of reliable expertise AND "big ideas" to inform and inspire the public and policymakers alike. Our work is often cited in a range of major news outlets, such as the Associated Press, Forbes, the New York Times, and Fast Company.
10.  Our Members are a unique community
Only the Academy brings together a diverse group of experts – government officials, lawyers, actuaries, economists, sociologists and other academics, advocates, and more – to channel their collective experience into research and analyses for sound social insurance policymaking. The Academy is a hub for big picture thinking, as well as technical discussions, necessary (in our mission) to advance solutions to challenges facing the nation by increasing public understanding of how social insurance contributes to economic security.
Thank you for supporting the continuation and evolution of initiatives like the ones above. A gift of any amount by December 31 will contribute to our work in 2020. Or consider signing up to make a monthly recurring gift of $10, $25, $50, or more per month in 2020.
Sincerely,
Bill Arnone